Groomie BaldiePro Head Shaver
Groomie BaldiePro Head Shaver Reviews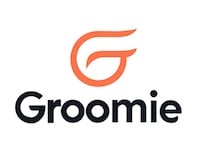 Reviewopedia is supported by our readers. This page contains links through which we may earn a small commission for purchases.
The BaldiePro from Groomie is a men's grooming product that the company claims delivers a close, smooth, and fast head shave.
The BaldiePro Head Shaver is currently being heavily advertised through a variety of online ads and promotions.
Below we take a closer look at what the company claims, the product specs, and analyze online reviews to see if this is worth a buy or is a good gift idea.
How Does The BaldiePro Work?
There are a variety of ways to shave your head and each method comes with its own set of pros and cons.
For instance, razor shaving may give you the closest shave but comes with the negative potential of nicks and scrapes and the possibility of visible razor burn.
It's also more time consuming and requires routinely purchasing new blades and maintaining a shaving kit.
Groomie claims the BaldiePro offers a solution that is quick and convenient, promising a full head shave in as little as 3 minutes.
The BaldiePro has the following features:
5 Blade design using their proprietary "SmoothShave" blades (up to 60 shaves)
10,000 RPM motor
Cuts hair right at surface to avoid bumps or cuts
Option for Wet & Dry Shave
Advanced Lithium Battery
90 min shave time per charge
Smart LED Display
IPX7 Waterproof
The full BaldiePro Shaving kit comes with attachments for a full grooming session including face, nose, and ears.
The full kit includes:
Accessory Adapter
Exfoliation Brush
Pre-Shave Scalp Massager
3-5-7mm Clipper Guards
Precision Clipper
Nose & Ear Trimmer
Groomie even states that this shaver can be used beyond just the scalp, stating that it can be used on the face and body as well.
Their website does caution users that if their hair has grown out 7-10 days past stubble then you should use a hair or beard trimmer first.
Cost and Price Plans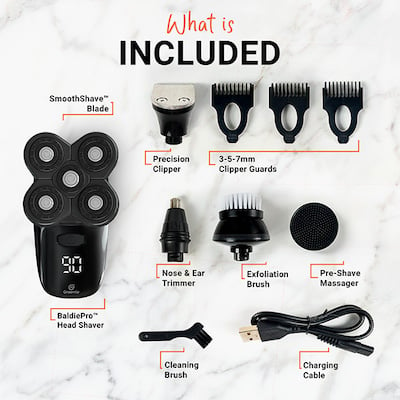 No Hair Don't Care Bundle - Base kit plus Groomies' Natural Pre-Shave Oil and Natural Aftershave. It costs $99.99 with free shipping.


Crispy AF Bundle - Includes everything in previous kits plus a Travel Case and Natural Deodorant. It costs $124.99 with free shipping.
If you're ordering from the official site at Groomie.club you also have the option of joining the Groomie Club, a subscription service that provides you with discounts and the ability to set up refill blade shipments on your preferred schedule.
You can choose to receive new shipments every 30, 45, or 60 days depending on your shaving habits.
Customer Service
Email: [email protected]
Contact form: Groomie.club/pages/contact-us
Groomie Club products come with a 30-day return policy. In that time period, if you are not satisfied with their products you can return them for a full refund or exchange.
The shaver also comes with a limited 1-year warranty. If you need to file a claim you can do so at Groomie.club/a/return/warrantyportal.
A few key points regarding returns:


Products must be returned in like new condition in the original packaging.


Shaving cream and other consumable products can only be returned if they are still sealed and unused.


The refund policy does not apply to refill replacement blades or subscription charges.


These terms only apply to shavers purchased directly from Groomie.club and not from other retailers.
Customer Reviews & Complaints
At this time there is not a lot of online feedback for Groomie as a company or for the BaldiePro Head Shaver.
The bulk of reviews are found on Amazon where the shaver currently has a 4.1/5 rating from 475 reviews.
On that platform the positive reviewers mentioned that it worked as described and that the users were able to get a close shave with a good final result.
Furthermore, those reviewers that talked about having issues with the BaldiePro described positive outcomes after bringing their cases to customer service, such as receiving refunds or product exchanges.
From the negative reviews on Amazon some customers reported having reliability issues, their reviews stated that the shaver stopped working after a while and some were no longer able to charge it.
One review describes issues with poor waterproofing of the shaver as well.
On the Groomie.club website there are almost 2,000 positive reviews, however it's difficult to say if those are 3rd party verified.
Where to Buy?
At this time you can purchase the BaldiePro directly from their website or through Amazon.com.
Competitors and Alternatives
Across most Men's fashion blogs and gear reviews sites there are a few consistently recommended options for quality head shavers.


The Skull Shaver Pitbull Pro - This model offers a unique ergonomic grip that lets you slide the shaver in between your fingers. It is also waterproof and offers both wet and dry shave capabilities.

It currently has a high rating of 4.5/5 from 11,392 reviews on Amazon. It costs slightly more than the BaldiePro at $109 for the Top Of The Line Gold Model.
Remington Balder Pro Head Shaver - Currently the "Amazon Choice" Selection has a rating of 4.3/5 from 4,300 reviews.

It claims to offer 100% waterproof technology, best of all shavers reviewed, and a close shave. It's also priced cheaper than many of the competitors at $59.98.
AidallsWellup Men's 5-in-1 Electric Head Shaver - This shaver features 6 rotating heads and a variety of add-ons for a total shave.

It has a 4.3/5 rating from 10,000+ reviews on Amazon and a similar price point of $52.99.
Is The BaldiePro Worth It?
There is a lot to like about this model and what the company is trying to achieve, however at this time there does not seem to be enough independent feedback to fully recommend it.
The subscription club makes it easy to always have a stocked shaving kit and the company does have mostly positive reviews.
The added money back guarantee from the website and ability to return through Amazon is also helpful when trying a new brand. It also seems like the company has an active customer support team.
So overall there is enough to like about the BaldiePro to warrant a try, however it lacks the reliability of a known and time tested brand.
If you have any experience with the Groomie BaldiePro Head Shaver, please leave your reviews below.
You may also be interested in
Groomie BaldiePro Head Shaver Customer Reviews

Alvin R
They do not reply to your request to cancel
The product is crap. Customer service is the worst. You tell them to cancel or if you opt out of additional products. They send it anyway and bill you. Keep an eye on your charge account.

Tim
Complete scam. Only rated 1 because 0 isn't an option. Mid level device. Company Is happy to take your money. They just won't deliver your purchase. Do not buy it. Find another option. When you question where you purchase is, they stop talking to you. Just don't do it. Company is complete garbage.

Rich P
Don't give the company your Credit card
The BaldiePro from Groomie Is so/so as a electric razor. Where you get taken advantage of. The company charges your credit card every six weeks and sends a new head. Canceled my membership and still more charges. No way to call the company. Had to call credit card and dispute the charge. It's a scam

James
Terrible customer service
The customer service is arrogant and rude