Gilt Reviews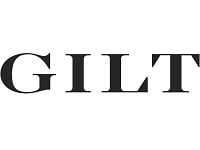 Gilt.com, part of Boston based Rue Gilt Groupe, is an online shopping site that offers steep discounts on top designer label, along with other services such as a person stylist program.
How Does it Work?
Membership to Gilt.com is free, and becoming a member of their community enables you to access all of their exclusive sales.
Each sale is only available for a couple of days, when factoring in the limited inventory and the number of members shopping on their site, it is easy to understand why there is urgency to buy an item you want as soon as you see it.
Not only can you take advantage of discounts offered for thousands of items through Gilt.com, but you can actually receive additional discounts.
With their credit point reward program you can earn points to save even more money on your purchases. Points are applied to your account when you order specially marked items from certain vendors or by simply referring new members to their site.
Online reviews regarding the Gilt Groupe's sales, products and customer service showed that many customers were satisfied with their experience. There were, however, other customers that did not share that same opinion.
Buying products on Gilt is easy. The hard part is waiting for your new purchase to arrive. Customers complained that they had to wait an extremely long time to receive their order. In fact, some of them waited over a month for their items to ship.
Other customers were unhappy with the quality of the clothing that was sent to them. They noticed that the merchandise looked worn and even discovered that what was supposed to be a designer piece was actually a knockoff.
Customer service seemed to be another factor that contributed to poor online reviews; this was due to the agents' lack of follow through and their careless attitude in response to customers' problems.
Another topic of complaint was the return policy. Although the site makes it seem as if you able to return an item easily, there are many conditions that make it impossible to get your money back.
Although it seemed as if a refund was easily obtainable, customers were typically issued store credits instead.
When there is a small window of time to make a purchase for something you see, the urgency is escalated and the product is more desirable.
Read all of the details outlined in the return policies for each item because they are all different. If you rush into an order without reading the fine print, it is possible to discover that an item is deemed as a "Final Sale."
If you have any experience with Gilt or their products, please leave your reviews below.
You may also be interested in
Gilt Customer Reviews