FreeScore360 Reviews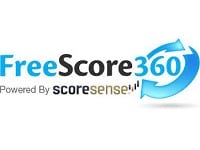 FreeScore360 Review: Is it Legit?
FreeScore360 is a financial services company that states it's aim is to help users get a better understanding and control of their credit score.
How Does it Work?
The first thing to know is that once you enter your personal information on FreeScore360.com you are enrolling in a free trial of their services.
The free trial gets you access to your credit scores from the three main credit bureaus, Experian, TransUnion, and Equifax.
You'll also have access to FreeScore360's features primarily their ScoreSense service, which provides you with services such as:


Daily credit monitoring and alerts,
Interactive tools
Learning center
Score Sense Dispute center
Monthly updates for all 3 of your scores
Plus $1M in Identity Theft Insurance


The idea being that, with the use of their data, you'll be able to use their resources to fix any issues with your credit.
The constant updates of your scores will also allow you to approach lenders from a position of strength once your score is in the top tier.
They also state that many credit reports contain errors that can go undiscovered costing you thousands in potential interest payments, and that having access to your credit reports could help you solve these.
It's important to note that FreeScore360 is not a Credit Repair organization, and they are not claiming to provide that service. They include the disclaimer that the credit scores provided to you are not FICO scores.
The parent company, One Technologies, LLC, also owns the following sites: FreeScoreOnline.com, ScoreSense.com, NationalCreditReport.com, and ScoreSenseBasic.com.
Customer Service
The customer service phone number is 1-800-972-7204, which you can use for any questions or canceling your account.
You can also live chat with a representative through their website. Live chat hours are:


Monday - Friday 8AM to 8PM CST
Saturday 8AM to 5PM,
Sunday Noon to 6PM.


You can also write to them at their address:


8144 Walnut Hill Lane, Suite 600
Dallas, TX 75231

Cost and Price Plans
Once your 7 day trial period expires you will be billed a monthly membership fee of $29.95.

If you wish to cancel your ScoreSense membership before the end of the 7 day trial, or any time thereafter, you may do so by contacting customer service.

There are no refunds offered for any of the months you were charged for but you should be able to cancel at any time.
Customer Reviews & Complaints
If you search online or read the reviews below you'll find many negative reviews about FreeScore360. There are two main sources of this discontent.
A primary reason is the monthly charge, which many customers didn't realize they were agreeing to or simply forgot to cancel.
The other reason is that after submitting personal information to the company, users stated they were inundated with spam offers and mailers from many additional companies.
In their terms and conditions FreeScore360 do state that they share your data with 3rd party companies offering related services. That is the price you are paying for your free credit reports.
FreeScore360 do state that if you contact them for the purposes of unsubscribing from promotional content they will share your request with their partners.
Further all their email content and promotions, as well as the promotions from 3rd party companies, come with the option to unsubscribe.
FreeScore360 has an A+ rating with the BBB, though with only a 1.77/5 customer rating.
An A+ rating with the BBB generally means a company is 'accredited' ( meaning they pay the BBB a fee) and respond to customer complaints on the BBB platform.
Competitors and Alternatives
There are many mainstream companies offering similar services, such as Credit Karma, CreditWise from CapitalOne, and Credit Sesame.
You can also find companies offering specific services that you may need such as credit repair or debt consolidation.
The Bottom Line
Banks and lenders rely on your credit score rating as a way to categorize you as an investment for them.
A high credit score means these institutions view you as a sound investment and thus are likely to lend to you at more attractive interest rates.
Conversely, a low credit score means the opposite and as a risky investment lenders will offset that risk by offering you higher rates and more rigorous screening.
FreeScore360 does do the job that they claim; to give you a better understanding of what your credit profile looks like and give you the information and tools to improve it.
This is especially useful if you're on a time crunch for this information or want to subscribe to the features offered by the ScoreSense program.
There are many alternatives and you also have the option to contact the credit companies individually to get your information.
However, be aware that Experian, for example, uses the same business model as FreeScore360, where you get your score in exchange for a trial period to their credit monitoring service.
If you have any experience with FreeScore360 or their services, please leave your reviews below.
You may also be interested in
FreeScore360 Customer Reviews