Founders Card Reviews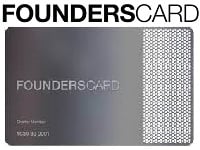 Founders Card is a company that states they are a membership community which provides customers with unprecedented benefits and networking opportunities.
How Does FoundersCard Work?
According to the website, FoundersCard provides their 20,000 members with a variety of benefits that they like to describe as Elite Status, Preferred Pricing, and VIP Treatment.
Their benefits are broken up into categories, including their Hotel Benefits, which provide special rates, amenities, and flexible cancellation privileges at hotel chains including Gansevoort, Omni Hotels, Kimpton, and many others.
Travel Benefits include elite status and preferred rates with companies like American Airlines, British Airways, Hilton HHonors, Hertz, Avis, and many others.
Their Lifestyle Benefits include discounts and opportunities with brands like Audi, Bang & Olufsen, BMW, SoulCycle, Bliss, and many others.
Finally, they also offer their members access to invitation only networking events, which they promise are held on a regular basis in cities around the world.
Reputation
It seems as though this card appears to have the same review no matter which company is doing the reviewing, and that is that even though this company provides such a wide range of benefits to their members, the truth is that there are simply not that many people who will benefit enough from this card to justify the $795 annual membership fee.
Many other reviewers have pointed out that discount and coupon websites almost always feature significant discount codes for first time members, which can bring your initial annual membership fee down to $395.
This is where some reviewers become divided, as some argue that this fee is low enough to make the card and its benefits worthwhile, and other reviews stand fast that it is still too expensive.
The bottom line seems to simply be that it will be up to each individual prospective customer to determine whether or not this annual fee is something they are comfortable with and whether their own personal travel habits indicate whether or not you can clearly benefit from this reward program.
Customer Service
Customers who would like to contact Customer Service with any questions, concerns, or complaints can do so by phone at 800-963-1988, by email at [email protected], or by submitting them directly to their website through their Contact Us link.
Cost & Price Plans
This website does not actually publish any of their membership fees to the general public.
In order to get information about membership, customers will need to provide this company with all of their personal contact information as well as information about who referred them to this program in order to have someone from their company contact them and provide them with information.
That being said, there are many different websites that specialize in awards and rewards programs which cite the cost of this membership as being a $95 initiation fee for the first year plus a $795 annual fee each year you are a member.
Refund Policy
Unfortunately this company does not appear to publish any information regarding refunds or cancellations to the general public.
Concerned customers who are considering membership will want to speak to their Customer Service team regarding what kinds of policies they have in place for new customers who might find that they need to cancel their membership during the first year.
Competitors and Alternatives?
Certainly there are many different cards, organizations, clubs, and memberships which provide their customers with access to rewards and loyalty programs, so customers who can't afford this particular card or who are looking for something slightly different will have other options available to them.
If you have any experience with the Founders Card or their services, please leave reviews below.
You may also be interested in
Founders Card Customer Reviews

Judd D
These guys are shady. Credits promised for AWS and Stripe I spent hours trying to have applied. They never provided a refund nor, to date, canceled my account. Just type their name in search with the word review. Need I say more?

Dr m
Did not sign up for founders card as it holds no value and cancelled over 8 months ago. Today they billed me over R 7000.00 ZAR ....tried to contact them, no answer still awaiting refund. This is a scam, how they got my credit card details god only knows...

Tom
All hype and NO Customer Service
Across the board, the initial fee to get the card was $395, not too far off from an AMEX account. But, unlike AMEX, which has superior customer service and works with you to resolve an issue you may have with a merchant, NOT the FoundersCard, just crickets. Plus, the constantly push and send e-mails about "upgrading" your account.
Also, in their Marketing stuff ie. "Crap", they talk about networking events, which are apparently only in major cities, like NYC & LA. When I called their NO customer service line, I asked if there were any events planned for the next year within a two hour drive from my business, there was a long silence, followed by a "NO". I stated that was not acceptable and asked for a refund of my remaining membership.
Not only did they not send me a refund my remaining membership fee, they tried to charge my AMEX for a renewal along with an "upgrade" account fee. My dispute with AMEX was handled properly by AMEX customer service and they reversed the "bogus" charge. I also reported them to the FTC for refusing to refund my outstanding membership fee, but still have not heard back from them.
Someone needs to start a "Class Action" suit against these scammers, and sign me up.

Sarah B
Better off with and Amex Card
Better rewards from my Amex card without the constant upgrade pitch from this worthless service. Offers a free trial and any time you try to access the supposed free benefits, you get a page to upgrade. I am not into bait and switch....

Bradley B
Don't waste time with "free trial."
The "free trial membership" comes with none of the stuff they mention on their homepage. And I'm not talking about making you upgrade to Elite status, but literally even at the "basic level" almost all of the good stuff is not available during your trial. And it isn't actually "free" if you are giving them your data and time. Don't waste your time.

John A
Absolute sham...
Cancelled my card after a few months of realizing that benefits were nothing compared to comparable credit card loyalty programs.
They didn't process or document cancellation of my membership (in December '19), charged me again for full elite membership in September '20 - total of $895 USD.
Contacted them when I got my annual credit card statement review and noticed charge. They refused to acknowledge my cancellation, and 'best they could do' was a prorated refund based on my most recent contact with them - for $537 USD.
Renewal was processed with zero chance for opt-out and no notification whatsoever.
Also lost over $300 on currency conversion to CAD$ from difference in exchange rates at times of charging renewal and when they offered prorated refund.
Absolute tire fire to deal with. DO NOT GET THIS membership.

Dave M
Great benefits IF you travel and spend money. Not for those who stay home.
So I guess I'm a little different when it comes to my opinion, but for the 395usd, it's been a great benefit for me. I've enjoyed that much in complimentary hotel breakfasts from Hilton alone, not to mention the lounge access, room upgrades, and free drinks. I guess it comes down to how much you travel, and if you'll use any of the bigger ticket items, like car discounts, private jet discounts, and airline programs.
The challenges for the card are great, and the benefits are easy enough to get a return of a couple of thousand a year on if you travel, and purchase goods for your company. Otherwise, it's a waste. So, that said, I vote that it's a great deal.

FC U
"Benefits" are less than you get with a premium credit card and they will not resolve issues with their or others service.

Solar C
You'll get more than your money back with the benefits
I personally love this card. The AT

Brad S
This company is an ABSOLUTE joke! Buyer/member beware, there are WAY better programs out there for their type of service. I would not even call it "SERVICE".

Jack G
I liked it better when it was Magnesis
I mean its no fyre festival yet, but at least i get to watch everything in google flooded out to hide negative news about it. This is the same scam Billy McFarland used on people not that long ago. Do your research, don't get fooled by fancy gimmicks meant to separate you from your dime.