EverythingKitchens.com Reviews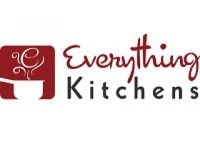 EverythingKitchens.com is a website which specializes in anything you would need for your kitchen and cooking needs, including bake ware, cutlery, appliances, barware and glassware, and more.
Established in 2001, this website says they are committed to providing top quality kitchenware and appliances at the lowest prices possible. The wide range of brands they offer include well known names like Amana, BlendTec, Viking, and many more.
If you have any questions or concerns regarding what products might be the best fit for your household or your needs, Everything Kitchens promises that each member of their staff has undergone extensive training with the products they offer on the site and are equipped to help you make informed decisions.
And to back up their claim that they provide the lowest possible prices, they offer something they call the Best Price Guarantee. This Guarantee promises that if you find a website with a lower price than the one you found on Everything Kitchens, they will match or beat the price even if you've already placed an order.
To make a claim on the Best Price Guarantee the website does provide a list of requirements that you must meet in order to successfully get your return, though they do promise that the price match promise is good for up to 7 days after your order is complete.
EverythingKitchens.com automatically offers free shipping on all orders which total more than $49.95, and no sales tax on orders that are shipped outside of Missouri, with no need for coupon or promo codes.
Customers who have complaints with any product or item they have received and are interested in returning their order need to look at the website to find the appropriate return policy, as the policies are different depending on what item and what brand name you have purchased.
If you have any experience with EverythingKitchens.com or their products, please leave your reviews below.
EverythingKitchens.com Customer Reviews

LISSETTE F
BUYER BEWARE!!!! If you order and it all goes well, consider yourself lucky. I ordered 99 of merchandise in early July for the first time and it WILL BE THE LAST!. Order was fulfilled but an item in it - an Empanada Churro Maker arrived cracked/broken (this was definitely sent to me this way because the goods were all well packaged). I immediately send a photo and a request for a refund. Still waiting 30 days later and I decided to dispute. Well because I did, customer service reached out to tell me because I disputed, they wont help me and I have to wait some more!!!!!! 14 days after - they tell paypal they will issue a refund - my luck the system freezes as I accept the resolution - it comes up as declined. NOW they hide behind the dispute again BUT THIS TIME THEY ARE INSISTING I HAVE TO SEND IT BACK BEFORE - despite their agreement to refund without me having to get this to a UPS store. I gotta wait some more and they send a return label without pick-up service.
Still out my money 9 weeks later - ALL BECAUSE THEY SENT ME DAMAGED GOODS!!!! DONT ORDER HORRIBLE

Deanna
100% Positive experience buying my KitchenAid mixer!
I had read some negative reviews but the price of the KitchenAid mixer I wanted was more than $100 cheaper than Amazon so I took a leap and ordered my mixer. I got an email immediately about my order, then another one the next day that it had been mailed. Two days later my mixer was hand delivered to my front porch!! I opened it carefully and out came a really brand new beautiful professional mixer! My mixer works great! I am so happy and pleased with the KitchenAid professional 7 qt mixer from Everything Kitchens. I wanted to leave a review because of the entire process was 100% positive!

M B
I ordered a 600 Series KitchenAid Professional Stand mixer as a gift as well as an attachment for my Bosch. The price on the KitchenAid was at least $50 cheaper than the next cheapest price I found anywhere!
Unfortunately, the person who packed the order put the Bosch box inside the KitchenAid box and did not wrap or cushion it in any way. In transit, the Bosch box scuffed the stand mixer. I was so disappointed because it arrived late on a Thursday afternoon and the Bridal Shower was the next Saturday morning.
I called Everything Kitchens first thing on Friday morning and explained the situation, saying that I needed to either return the mixer for a refund (I would buy a replacement locally) or they could overnight me a replacement. The rep needed to discuss the situation with Brett before acting which was totally acceptable to me.
As it turned out, I later spoke directly with Brett who was great! Attentive, professional and wiling to help in the exact manner that I needed. They sent me a return label and I went straight to the UPS store with the mixer. Just as soon as they received confirmation that it was in the system they sent out a replacement, overnight.
In the interest of Great Customer Service they immediately acted (at additional cost to them) to make sure that I had the right product, in perfect gift-giving shape, on time.
Great Customer service begets loyalty and I will be back!