Everything Kitchens Reviews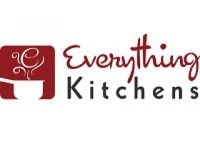 Everything Kitchens Customer Reviews

Jay
Everything for my Kitchen
I was shopping for this specific gift set The Hammer Stahl 2-piece Carving Knife & Fork set. Found the Everything Kitchens website read about them and was wanting to support small independent companies instead of corporate sellers. I am very happy with the selection and the service I received. I will be using them for Everything for my Kitchen!

Alan F
Reasonable priced, Quick shipping, good quality.
I called the company and asked a few questions and the lady was helpful. I ordered the Harvest Multi-Canner. It was priced reasonable and it shipped the same day and i got it in 2 days. It was very good quality. I have not used it because i have nothing to can right now, but i am confident that all will be well, and if something is wrong i think the company will make it good.

Deborah
I love the up to the minute selections of new products. The prices are great, fast shipping is great. The customer service is excellent so I can buy with confidence, I am very happy with Everything Kitchens and highly recommend shopping with them!!!

JUrban
Would order from Everything Kitchens again
Perfect service- item was well priced, shipped immediately and arrived when promised. A Trifecta in my book. I would definitely order from them again

Marilyn
Always a good deal and fast shipping!
Always a good deal and fast shipping.

Ross B
Everything Kitchens Rocks!
Excellent service, priced fairly, and delivery was super quick and as stated! No problems with the grain mill either! Packaged strongly, safely and works as advertised.

Dyrt
More wattage than KitchenAide
Periwinkle Blue Cuisinart Mixer has more power than my old KitchenAide. So Everything Kitchens had them on sale and within days. The cuisinart is lighter than the KitchenAide but I like the lift head better. The KitchenAide was always a hassle to liftzy the bowl. Like cranking up a Tin Liz

Uncle B
Fast shipping, packaged well, and looks to be a quality cutting board. So far, so good.

Lia
Thanks for nothing Everything Kitchen. Everything you've done so far is lame!
Yeah, sure, what great prices they have. Free shipping to boot. At what cost though. 10 days after I placed my order, it still has not shipped, 5 emails to the company for them to tell me they don't have a billing address, which is nonsense. I use autofill, and if something was missing, it would be flagged to be filled.
I tried canceling my order, to no avail. It is now going through, but these jerks don't work on weekends. Instead of waiting to respond to their emails on Monday, they send out an automated email saying to recontact them during business hours. No follow up email or anything.
Yeah, started by someone wanting to work at home... Great! The level of professionalism is not what I would call, well, professional.
Cancel my order means cancel my order, don't wait for two days and then process said order.
If you wanted my money this badly, someone should have reached out the first time I had asked them why my order was taking so long to process.
Here it is now nearly 2 weeks after I placed the order, no kitchen stuff I need for my business. I am out the money so far, but still no stuff!
Save yourself the time, buy local! Go buy from a place that will either do what they say they are going to do, or pick one up at a local shop.
This kind of customer service is why so many people do not like buying things online.
Thanks for nothing Everything Kitchen. Everything you've done so far is lame!

LISSETTE F
BUYER BEWARE!!!! If you order and it all goes well, consider yourself lucky. I ordered 99 of merchandise in early July for the first time and it WILL BE THE LAST!. Order was fulfilled but an item in it - an Empanada Churro Maker arrived cracked/broken (this was definitely sent to me this way because the goods were all well packaged). I immediately send a photo and a request for a refund. Still waiting 30 days later and I decided to dispute. Well because I did, customer service reached out to tell me because I disputed, they wont help me and I have to wait some more!!!!!! 14 days after - they tell paypal they will issue a refund - my luck the system freezes as I accept the resolution - it comes up as declined. NOW they hide behind the dispute again BUT THIS TIME THEY ARE INSISTING I HAVE TO SEND IT BACK BEFORE - despite their agreement to refund without me having to get this to a UPS store. I gotta wait some more and they send a return label without pick-up service.
Still out my money 9 weeks later - ALL BECAUSE THEY SENT ME DAMAGED GOODS!!!! DONT ORDER HORRIBLE

Deanna
100% Positive experience buying my KitchenAid mixer!
I had read some negative reviews but the price of the KitchenAid mixer I wanted was more than $100 cheaper than Amazon so I took a leap and ordered my mixer. I got an email immediately about my order, then another one the next day that it had been mailed. Two days later my mixer was hand delivered to my front porch!! I opened it carefully and out came a really brand new beautiful professional mixer! My mixer works great! I am so happy and pleased with the KitchenAid professional 7 qt mixer from Everything Kitchens. I wanted to leave a review because of the entire process was 100% positive!

M B
I ordered a 600 Series KitchenAid Professional Stand mixer as a gift as well as an attachment for my Bosch. The price on the KitchenAid was at least $50 cheaper than the next cheapest price I found anywhere!
Unfortunately, the person who packed the order put the Bosch box inside the KitchenAid box and did not wrap or cushion it in any way. In transit, the Bosch box scuffed the stand mixer. I was so disappointed because it arrived late on a Thursday afternoon and the Bridal Shower was the next Saturday morning.
I called Everything Kitchens first thing on Friday morning and explained the situation, saying that I needed to either return the mixer for a refund (I would buy a replacement locally) or they could overnight me a replacement. The rep needed to discuss the situation with Brett before acting which was totally acceptable to me.
As it turned out, I later spoke directly with Brett who was great! Attentive, professional and wiling to help in the exact manner that I needed. They sent me a return label and I went straight to the UPS store with the mixer. Just as soon as they received confirmation that it was in the system they sent out a replacement, overnight.
In the interest of Great Customer Service they immediately acted (at additional cost to them) to make sure that I had the right product, in perfect gift-giving shape, on time.
Great Customer service begets loyalty and I will be back!