EcoChip Fuel Saver Reviews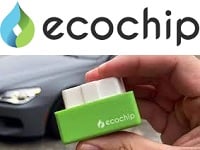 The EcoChip Fuel Saver is a portable tuning box that seller claims can improve a car's fuel efficiency by remapping its computer ECU
The EcoChip is just a recent version of a product claiming to save on fuel consumption, but looks very similar to products that have been marketed under a number of different names.
Below we'll take a closer look at the EcoChip and see if it is at all effective or comes close to doing what it claims.
How Does the EcoChip Work?
The company's advertising states that this device can reduce your car's fuel consumption by up to 55% ( after a simple plug-in) by reprograming the car's Electronic Control Unit (ECU) to more efficiently consume fuel based on your driving habits.
The device is inserted into your vehicle's onboard diagnostics computer (OBD2), which is traditionally used by mechanics to get data from the car and diagnose error codes.
The seller even goes on to claim that the EcoChip can boost a vehicle's horsepower and torque.
Outside of these hefty claims there's no useful information provided on the company website, such as the company's history or information about the creators of the product.
There are a number of common marketing gimmicks used to make the product seem credible and create a sense of urgency in the buyer. These are just a few of the red flags that immediately stick out.
Cost and Price Plans
The EcoChip fuel saver is sold at GetEcoChip.com for $39.99. There's a small discount applied if you purchase more than one unit.
Customer Service
The EcoChip website states that they offer a 30 day money back guarantee to unsatisfied customers. If you would like to initiate a refund you must first reach out to customer service.
You can do so by phone at 1 (832) 702-8599 or email at [email protected]. The website lists their address as:
EcoChip
Business Centre Dr
Miramar Beach, FL 32550, USA
According to the website's terms and conditions, the customer must provide them with photos and explain why they are returning the device. The product must also be in a "brand-new state" and in the same packaging as it was shipped.
The customer support team will provide a return mailing address to send the return. The address publicly listed on the website is not the return mailing address.
EcoChip states that the customer will be responsible for all return shipping costs.
Is the EcoChip Fuel Saver a Scam?
This isn't the first fuel saving chip that we have reviewed on Reviewopedia. A previous one was called the "EcoMax Fuel Saver" and it appears that that seller's website is no longer in service.
The website looked very similar to the EcoChip and made almost the same exact claims regarding the product's effectiveness.
We also found a number of different versions of this exact product rebranded and sold under different names. That's because this type of chip is available on overseas wholesale websites like Alibaba.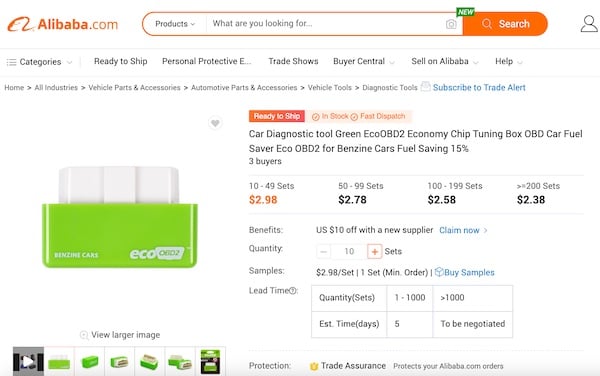 ( Generic unbranded fuel saver on AliBaba priced much lower )
The way the unscrupulous sellers of these rebranded products typically operate follows a similar pattern.
The seller orders generic units from China in bulk for a very small price and only rebrands the product with a new name (in this case 'EcoChip').
The seller then creates a basic sales websites, loads it with fake customer reviews, and then posts advertisements pointing to the sales page on popular sites across the web.
When the rebranded product name accumulates too many negative customer reviews, the seller shuts down the site and does it all over again using a different product name.
Many automotive bloggers have done in-depth reviews of previous versions of the EcoChip.
Their conclusions have been that there is no way this device is actually capable of communicating with your vehicle's ECU, let alone 'reprogram' it for a more efficient fuel consumption protocol.
After taking such a chip apart, what they found is that the chip only connects to the car's power supply in a way that enables it to run an LED light sequence, only giving the appearance that the chip is actually doing something.
EcoChip Customer Reviews & Complaints
Because products such as the EcoChip change names so frequently, it can be hard to find genuine customer reviews for the latest rebranded version of the product.
However, if you look around at the complaints for the previous versions you'll be hard-pressed to find a legitimate positive review.
Most reviews are from customers reporting that these devices simply don't work and detailing their difficulties in obtaining a refund.
Is the EcoChip Worth It?
There are legitimate chips out there that automotive enthusiasts may use for a performance tune, but these are not the same as the EcoChip.
These products cost much more and are installed by professionals who reprogram the car's ECU to boost horsepower and performance. They are manufacturer specific and require serious expertise to install.
Further, many organizations have tested fuel saving devices and have not found one that actually provides a measurable difference in fuel economy.
If you want to maintain optimal gas mileage for your vehicle the best things you can do are the following:
Follow the manufacturer's maintenance schedule for your vehicle
Drive conservatively
Remove unnecessary and heavy items from the vehicle
Check tire pressure for proper inflation at least monthly
Maintain a clean engine air filter
Minimize cold engine operation
Avoid the use of rooftop luggage carriers
Avoid driving in stop-and-go traffic
We do not recommend the EcoChip based on the numerous red flags we found in our review.
It's very hard to imagine that a generic $2 device (though rebranded and sold for a much higher price) can improve the fuel efficiency of a car.
If you have any experience with the EcoChip Fuel Saver, please leave your reviews below.
You may also be interested in
EcoChip Fuel Saver Customer Reviews

D A
Don't waste your hard earned money on this counterfeit piece of crap. My pickup truck averaged 19 mpg. I put in Ecochip as directed, filled my tank and checked the mileage next time I filled the tank. The results on 2 tanks of gas. 18 mpg the 1st time, 19 mpg the next time. The only purpose I found is it makes a nice nightlight in my truck.