EcoMax Fuel Saver Reviews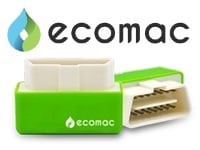 Gas prices are continually growing higher, and many individuals are looking for ways to lower the out-of-pocket cost associated with the rising cost.
Some households have taken to using public transportation or working from home as much as possible. However, some have started using devices such as the EcoMax Fuel Saver to increase their gas mileage.
Used in the same way that many insurance companies track driving patterns, the EcoMax Fuel Saver plugs into your vehicle's OBD2 port. Through there, it observes your driving patterns for fuel performance.
How Does It Work?
EcoMax claims to analyze your driving style and send instructions to ECU to allow your engine to perform at the appropriate level. When your engine is being used in the most efficient way possible, it uses less gas to operate.
However, it is essential to know that several companies claim to make these "highly successful" fuel economy devices. They don't tell you that there is no way to create a generic OBD2 plug (the company likes to call it a chip, but it doesn't qualify as one) that works on all cars.
An OBD2 plug that works correctly has to be formulated to the specific car make and model and the engine housed inside.
Additionally, the EcoMax Fuel Saver has no actual port that goes into the engine. Therefore, there is no way to send instructions to the ECU.
When considering the use of an EcoMax Fuel Saver, remember the following:
There are several different "official" websites for the EcoMax, including ecomaxfuel.com, buyecomax.com, discountfuelreport.com, and EcoBoxFuel.com
All of the sites listed above sell the same item under slightly different names
All of the domains above were bought on the same day or a few months apart
The domains are all owned by two different company names
One red flag that you will notice right off the bat is that the websites don't break down how the device works. Instead, a high-level description is provided, but nothing specific.
You will also notice, upon close inspection, that there is no connection between the device and the actual communication paths through the OBD. Without this, there is no way for the EcoMax to re-program within the engine or boost the fuel efficiency or torque, as they claim.
Lastly, Consumer Reports has tested many fuel-saving devices over the years and has yet to find one that works, along with the Environmental Protection Agency.
Is EcoMax Fuel Saver Legit?
No, the EcoMax is not an actual gas saver as it claims to be. It is impossible to have a generic OBD2 plug that can perform the same action on all vehicles. EcoMax claims that they are effective on all cars, even those with diesel engines, made after 1996.
This action isn't possible with the varied engine types and highly sophisticated technology.
According to the international auto company AAA, here are a few suggestions for appropriately increasing fuel efficiency:
Minimize cold engine operation
Drive conservatively
Shift gears efficiently
Anticipate road conditions
Observe speed limits
Use cruise control
Avoid excessive idling
Avoid rush hour
Remove unnecessary items from the vehicle
Perform regular car maintenance Make sure to use the proper type of oil in your car
Check the tires for proper inflation at least once a month
Make sure the engine air filter is clean
Always have a mechanic review your "Check Engine" light when it comes on
Try to avoid the use of rooftop luggage carriers
Park in the shade
Online Customer Reviews & Complaints
When you visit any of the EcoMax Fuel Saver websites, you will see a large number of positive testimonials from customers that found success with the product.
However, none of these reviews have been verified. If you visit Reddit or Amazon, you will see many negative reviews regarding the product and similar devices on the market.
Many that have purchased the product on Amazon refer to it as a "piece of junk" because it does not affect fuel efficiency as it claimed.
Although some have stated that they saw a difference, it is likely that other circumstances (highway driving, weather conditions, gas price) contributed to the change and not the device.
The company is not accredited with the Better Business Bureau (BBB).
Customer Service
If you would like to get more information on EcoMax Fuel Saver, you can try contacting the company via their phone number at 1-855-850-1270 or through Email: [email protected].
The business address is:
EcoMax Fuel Saver
PO Box 4219 Garden Grove, CA 92843
Cost and Price Plans
The cost of one EcoMax Fuel Saver is $49.99. However, if you choose to buy more than one device at a time, the price goes down. Therefore you can purchase them at $44.99 if you buy two at a time, $39.99 if you buy three, and $34.99 if you buy four.
Competitors and Alternatives
There are many brands that have the same design and color scheme as the EcoMax Fuel Saver on Amazon. Likely, they are all from one company with different labeling. Some of these companies include Eco OBD2, Nitro OBD2, and Banghotfire.
FAQ
Where to Buy?
You can buy the EcoMax Fuel Saver on ecomaxfuel.com or any of the websites listed above. Similar items are available on Amazon but not in stores.
What Is The Best Fuel Saver Device?
There is no fuel saver device on the market that has successfully increased fuel economy.
How Does a Fuel Saver Work?
EcoMax Fuel Savers work by plugging the device into the OBD2 port. The company claims that it can then communicate with the ECU to adapt the engine for optimal fuel efficiency.
Do Fuel Saving Devices Work?
Both Consumers Reports and the EPA have yet to test a fuel-saving device that is effective and successful at what they claim to do.
Is EcoMax Fuel Saver worth it?
Gas prices can be a huge burden to your budget, especially as they are continually changing and often on the rise.
Fuel-saving devices claim that they can help your engine operate more efficiently and help extend fuel economy. The companies utilize the OBD2 port to interact with the ECU and instruct your engine on how best to work with your personal driving habits.
However, multiple authoritative agencies have stated this isn't possible. To have a generic device for all car and engine types isn't feasible. Additionally, the technology that these devices use doesn't even communicate with the ECU as it says it does.
With that, we determine that the EcoMax Fuel Saver is not worth it. It is a better idea to follow the guidelines provided by companies like AAA on preserving gas by altering your driving in various ways.
If you have any experience with EcoMax Fuel Saver, please leave your reviews below.
You may also be interested in
EcoMax Fuel Saver Customer Reviews

Mr L
How come no active website no active phone number no customer service reply. No product has been received. Is this a big scam?

JRJ
This device is not ready, yet.
I installed the ecomax on my 2014 GMC Sierra before I traveled from Michigan to Mississippi. My truck broke down in Birmingham, AL. I have an almost 4,000 dollar repair bill pending right now.
Thanks!