Dr. Squatch Reviews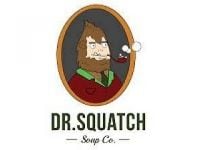 Dr. Squatch is a US based marketer of all-natural personal hygiene products including soaps, hair care, beard oils, and shave kits, all geared towards men.
How Does Dr. Squatch Work?
Dr. Squatch is a male-focused brand of personal care products that are made with natural ingredients, avoiding toxic chemicals that can cause common issues like dry skin, dandruff, and acne.
The company sells a wide variety of products, though their soaps are some of the most popular products.
Dr. Squatch soaps are made out of high-quality ingredients. While there aren't a lot of frills in these soaps, they are all-natural, including glycerin. The secrets are designed to appeal to meals and perfect for sensitive skin.&nbsp
&nbsp
Dr. Squatch is different from other brands of soaps because they are made with glycerin. Lots of soap manufacturers take glycerin out of the soap and replace it with detergents and foaming agents.
Glycerin is better at hydrating your skin and can combat issues like acne, psoriasis, rosaceae, and other dry skin-related problems.
The company offers multiple bar soap options for you to choose from, with scents including things like gold moss, bay rum, Area 51 soap, pine tar, and crisp IPA.
Major ingredients in Dr. Squatch soaps include saponified olive, palm, and coconut oil, shea butter, lye, and sea salt.
Some popular choices include the "forest bundle," which includes the pine tar, cedar citrus, and gold moss soaps, and the "fresh bundle," which contains cool fresh aloe, eucalyptus yogurt, and spearmint basil.
Cost and Price Plans
The cost of each Dr. Squatch product varies depending on what exactly you intend to buy. Each five-ounce bar will cost about $7 and will last one to two weeks.
You can buy the bars individually or in a bundle, depending on your desired scent. Shipping is not expensive- it only costs a couple of dollars.
If you spend more than $40, you can qualify for free shipping, too. Bundles are usually around $29 apiece.
Online Customer Reviews/Complaints
Read any real reviews of Dr. Squatch soap, and you'll be hard-pressed to find major complaints. There are a few negative reviews noted in some customer ratings, however.
For example, you might experience shipping and delivery delays pending on when you order, and if you are using the soaps regularly, they won't last longer than a couple of weeks (so the shipping delays can be a bit of a hindrance).
It can be tough to find Dr. Squatch soaps from other retailers, too, so finding a company that ships more quickly might not be possible. Plus, there aren't many options for women.
Customer Service
Dr. Squatch offers excellent customer service. You can get in touch by calling (844) 643-8347 or emailing [email protected]
The returns process is easy. You can get a refund if you aren't happy with your order by contacting the company.
Where to Buy?
You can purchase Dr. Squatch soaps from the company's website, or there are also a few products available on Amazon.
Competitors and Alternatives
Dr. Squatch isn't the only name to know when you're looking for organic soaps. Some other comparisons you will want to make are Dr. Squatch vs. Duke Cannon, vs. Dr. Bronner, vs. Every Man Jack, and vs. Dollar Shave Club.
Dr. Squatch vs. Duke Cannon - Duke Cannon Supply Co. makes soaps that are designed to last a long time, but it's not necessarily designed to be all-natural or better for your skin.
Dr. Squatch vs. Dr. Bronner - Dr. Bronner is a more gender-inclusive brand that makes all kinds of soaps and other cleaning products for the home. These are all-natural and backed by environmentally-friendly certifications.
Dr. Squatch vs. Every Man Jack - Every Man Jack makes men's grooming products with plant-based ingredients that are naturally derived. Some of the most popular products are aluminum-free deodorants.
Dr. Squatch vs. Dollar Shave Club - Dollar Shave Club doesn't intend to provide exclusively men's care products, but you'll likely find a good selection of all-natural options here regardless.
The Bottom Line
The benefits of Dr. Squatch soap simply cannot be overlooked. If you're looking for an all-natural soap but have found yourself frustrated by all the ads for expensive options, Dr. Squatch might be your best alternative.
This company offers affordable soaps that are not only good for your skin - but they're good for your conscience, too.
If you have any experience with Dr. Squatch or their products, please leave your reviews below.
You may also be interested in
Dr. Squatch Customer Reviews

Marty
Very poor customer service, damaged product and refused return
Do not buy from this company. All of the reviews they post are not real. They shipped me a box of soap that was for a gift and the product box was so damaged I would be embarrassed to give it as a gift.

Jerry J
My experience with Dr. Squatch soap.
A awesome smelling soap that doesn't last at all. As far as a daily driver soap it isn't worth the money, 7 bucks a pop they don't even last a week. A 6 pack of regular soap is cheaper then one bar and last 6-8 months not 6-8 days. If I were to recommend this soap it would be for special occasions like a date.

Adrian
Deodorant stained my shirts
Deodorant stained my shirts? I have been using degree prior and never had any problems. Recently ordered deodorant and hair shampoo and conditioner. They smell great just wished the deodorant didn't stain my shirts. I like to stock up so I ordered 7 deodorants and 3 conditioners and 6 shampoos. I sent an email to return the deodorants and still no response. The shampoo and conditioner is great and I'm keeping that but I just don't know what to do with 7 deodorants that I cant use. Wish someone would respond to my email.

Jason M
Soap add was only good thing
Ads great but wasn't happy with how long it lasted. was nothing like the ads. They had to of been paid actors. Don't waste your money

Steve M
May Cause Allergic Reaction.
I really wanted to like Dr Squach but it just wasn't in the cards. I ordered the beach bundle with shampoo and conditioner, shampoo and candle. After a month I still hadn't received my order. The tracking number said it was in New Jersey which was odd because it passed right past me in Maryland.
I will say customer service was helpful and surprisingly I had 2 orders at my door 2 weeks later. The very next morning I tried out the shampoo and conditioner along with the bay rum soap. The shampoo and conditioner left my scalp on fire and the soap had me itching for 2 days.
I switched back to my old soap for the rest of the week then tried the bar of bay rum again with the same results. Unfortunately it looks like I will be sticking to my chemical concoction from Axe since at least I don't end up scratching like a crack fiend for 2 days afterwards.

Alex
Here is my honest review of the soap bars I bought. I got two of the Cold Brew bars and I love them. The scent calms me, and the grit is good for taking off dry, dead skin. I didn't have any issues with shipping, too.
I plan on buying the minute I begin to run low

Ryan A
Dr Squatch Is The Real Deal
You can definitely say I was a non believer, but I've been using Dr Squatch soaps for 4 years now and do not regret the decision at all. Being in the military and then working in an engine manufacturing plant will give you lots of dry and cracked skin.
My knuckles would bleed like crazy, it didn't even seem like lotion was doing much to help. It didn't occur to me that my regular hygiene routine wasn't helping me either. The body washes and shampoos I used just made it worse. I noticed almost immediately after switching to Dr Squatch that my skin was much smoother and moisturized. It was amazing but I took it for granted, I didn't order any Dr Squatch soap for a while and went back to the regular soaps and shampoos you'd find at your local Walmart. Bam, the bleeding knuckles of dry skin came right back.
I'm not looking back anymore, so long as DS continues to make natural, made in USA soaps, I will continue buying. It's nice to know what I'm putting on my skin isn't gonna come around to haunt me down the road. Plus the girlfriend likes the scents, it's a win win. I give it US Army and United Auto Worker seal of approval.
As for people complaining about shipping issues, I can honestly say I've never had an issue or delay in shipping, even in the midst of covid19. Covid has severely severed the shipping and supply chain, in just about every possible way. Lack of employees, material etc. I guess what I mean is, if there were shipping issues, it's understandable.
Overall, great American made products, kinda pricey but you get what you pay for.

Nana W
Unless you enjoy MISERY, shop elsewhere!
DO NOT RISK YOUR MONEY...I placed two separate orders, on the same day going to 2 different Sons. A week later, no word on when the company will package for shipping. I emailed only to get an Automated Reply 3 TIMES... I called their phone only to get a recording saying ! "We aren't taking calls!"

Olita P
Wondering if this company is a sham
Do not order from this company. I ordered a month ago, supposedly my order was processed, and I never received 37 dollars worth of products. They blamed the holiday rush, but the delays I've experienced were nothing like this. The UPS tracking number I was given was proven invalid by UPS, which I have never experienced with any other company.

Kenneth A
No problem with shipping. I got my order in about a week with standard USPS. I wished Duke Cannon soaps were all natural. I will probabaly reorder. I am trying to be as chemical free as possible, avoid harsh detergents.
Do Not Buy From This Company
Myself and many, many others have ordered from Dr. Squatch and not received their orders. They are blaming the USPS for the delay when the item (at least mine) never arrived at the USPS. After my first contact with them via email and their canned response blaming the USPS, they refuse to respond to any further communication including not answer their phone. Check their Facebook page to see the complaints about them.
I along with many, many others have ordered from them and have not received our product and they are blaming the USPS for the delay when the shipment never gets to them. They have an F rating with the BBB and their Facebook page is filled with complaints. The first complaint was in 2012, so this is not a new problem.