Dr. David Williams Reviews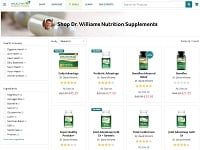 You may also be interested in
Dr. David Williams Customer Reviews

Robert S
Dr Williams research and advice is legitimate.
I had used Dr Williams advice, enjoyed his newsletter and used the recommended supplements for many years. I have also found that his advice and techniques are many years ahead of the medical research and findings. I stopped using supplements and such but am planning to start again and Dr Williams' products, newsletter and very useful advice are first on my list.
I have consistently seen "new" studies produced by the current medical community that had been observed and recommended by Dr Williams 20 plus years ago (which at the time were admonished by the mainstream medical community), but are now touted by "medical professionals". Dr Williams is real and his advice is sound (in my humble opinion.)

Barbara C
I have used Joint Advantage Gold for years and have always felt like they helped me quite a bit. On October 29th I decided to try the Joint Advantage Gold 5X and ordered three bottles at a cost of $95.20 and by ordering the three bottles I received a free bottle of supplements. I had taken the Joint Advantage Gold 5X for about a month when I realized it was not as good as the regular Joint Advantage Gold. My daughter returned the three bottles I had remaining of the Joint Advantage Gold 5X and requested they be exchanged for three bottles of the original Joint Advantage Gold. These were returned via UPS and were received by Dr Williams Return Department on January 22nd at 11:27 AM. We spoke to their customer service department today, February 5th in an effort to find out when the replacement supplements would be sent. Much to my disappointment we were told there was nothing they could do since we had ordered them last year. So needless to say I am not only out my $95.20 but I no longer have the supplements I returned.
Very disappointed in the customer service!
Dennis Wright

Florence R
Digestive Enzyme Advantage Auto-Ship Cancelled by Dr. Williams Staff
I snail mailed the following memo to Dr. Williams on 11/18/18. As of 12/18/18, I have not had a response to my memo. It's unfortunate that my auto-ship was canceled.
Dr. David Williams
P. O. Box 531
Montoursville, PA 17754
11-18-18 Personal

Steve G
Been following Dr. Williams several decades
Been following Dr. Williams several Decades. He is usually at least 5 years ahead of the medical community, as I see it. I do not get any of his formulations , but instead look at his advice on diet and do order from a good natural vitamin herbal site. His advice seems to be well researched . I have tried other newsletters , but find that Dr. Williams just seems more real to me.