Dr. David Williams Reviews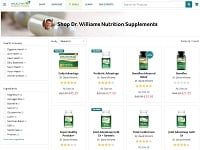 Dr. David Williams is a doctor and head of a dietary supplements brand selling it's products at HealthyDirections.com, which offers all natural supplements for many different health concerns and conditions.
How Does It Work?
According to the website, Dr. David Williams is a medical researcher, biochemist, and chiropractor who has "developed a reputation as one of the world's leading authorities on natural healing."
He has made a name for himself throughout the health and wellness community by travelling the world and investigating different natural treatments that are respected in different cultures and countries.
Using these special ingredients and formulas, his company has designed health and wellness supplements for Immune Health, Digestive Health, Heart Health, Mood & Brain Health, Bone & Joint Health, Weight Loss, Probiotics, and more.
Ingredients and Side Effects
As mentioned above, this company sells products that address many, many different health conditions, health needs, and health concerns, which means that there is no single ingredient or single set of ingredients that are being relied on by all of their products.
Instead, customers must go to the product page of the product they are considering purchasing, and click on the link available for that product's ingredients.
This will bring customers to a full list of this item's ingredients, including their proprietary or active ingredients and any other inactive ingredients which may also be included.
This gives customers the ability to evaluate all their ingredients to see how effective this product is likely to be, as well as to see whether you have any allergies, sensitivities, or negative reactions to any included ingredients.
Cost & Price Plans
Because this company offers so many different products for sale on their website, there is no real way to quote a single or static price range for the items you will find here.
Especially when you take into account sales, promotions, or the fact that this company should be regularly adding new products to their product line. Each product page will clearly display the price of the item you are considering buying.
Refund Policy
This company does say that they want their customers to be completely satisfied with any product they order from the Dr. David Williams website, which is why they provide a 90 day Refund Policy for any customers that believes that the product they ordered does not meet their expectations.
However, it is important to consider a few things. First, that certain non-supplement products are not always covered under this 90 day policy so customers must pay close attention when they are ordering certain products.
In addition, this website provides no information regarding how and when to return products you are unhappy with, or whether you must contact Customer Service before you return anything. Because of this, customers should contact Customer Service before returning any item, just to be safe.
Customer Service Contact Info
Customers who would like to contact Customer Service with any questions, concerns, or complaints can do so by phone at
1-888-349-0397, by email at [email protected], or by submitting them directly to their website through their Customer Service link.
Reputation
It's not surprising that this company appears to get many mixed reviews from their customers, as most health companies are unable to make everyone happy because not all customers respond well to the same products or ingredients.
However, there are some other issues with this company that customers may want to consider.
There are other health and medical related websites which are critical of this company, however, because they assert that this website and the Dr. David Williams newsletter is promoting medical advice and ingredients which haven't actually been studied in the US based medical community.
This is how many health related myths get started, and these can sometimes end up being extremely harmful.
Dr. David Williams Alternatives
There are many other companies out there that sell a variety of health care supplements and products intended to meet a wide range of people's health care concerns and conditions, so customers who are not satisfied with what they find on this website should be able to easily find something that better fits their needs.
If you have any experience with Dr. David Williams or their products, please leave your reviews below.
You may also be interested in
Dr. David Williams Customer Reviews

Robert S
Dr Williams research and advice is legitimate.
I had used Dr Williams advice, enjoyed his newsletter and used the recommended supplements for many years. I have also found that his advice and techniques are many years ahead of the medical research and findings. I stopped using supplements and such but am planning to start again and Dr Williams' products, newsletter and very useful advice are first on my list.
I have consistently seen "new" studies produced by the current medical community that had been observed and recommended by Dr Williams 20 plus years ago (which at the time were admonished by the mainstream medical community), but are now touted by "medical professionals". Dr Williams is real and his advice is sound (in my humble opinion.)

Barbara C
I have used Joint Advantage Gold for years and have always felt like they helped me quite a bit. On October 29th I decided to try the Joint Advantage Gold 5X and ordered three bottles at a cost of $95.20 and by ordering the three bottles I received a free bottle of supplements. I had taken the Joint Advantage Gold 5X for about a month when I realized it was not as good as the regular Joint Advantage Gold. My daughter returned the three bottles I had remaining of the Joint Advantage Gold 5X and requested they be exchanged for three bottles of the original Joint Advantage Gold. These were returned via UPS and were received by Dr Williams Return Department on January 22nd at 11:27 AM. We spoke to their customer service department today, February 5th in an effort to find out when the replacement supplements would be sent. Much to my disappointment we were told there was nothing they could do since we had ordered them last year. So needless to say I am not only out my $95.20 but I no longer have the supplements I returned.
Very disappointed in the customer service!
Dennis Wright

Florence R
Digestive Enzyme Advantage Auto-Ship Cancelled by Dr. Williams Staff
I snail mailed the following memo to Dr. Williams on 11/18/18. As of 12/18/18, I have not had a response to my memo. It's unfortunate that my auto-ship was canceled.
Dr. David Williams
P. O. Box 531
Montoursville, PA 17754
11-18-18 Personal

Steve G
Been following Dr. Williams several decades
Been following Dr. Williams several Decades. He is usually at least 5 years ahead of the medical community, as I see it. I do not get any of his formulations , but instead look at his advice on diet and do order from a good natural vitamin herbal site. His advice seems to be well researched . I have tried other newsletters , but find that Dr. Williams just seems more real to me.