Displate Reviews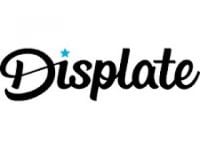 Displate is a company that manufactures collectible metal posters featuring unique and licensed artworks from artists in their volunteer art community who are supported when customers purchase their products.
How Does Displate Work?
A Displate is a metal poster that has been designed by one of the Displate.com artists to depict an artist scene, an iconic movie or pop culture figure, a clever saying or phrase, or anything else you could potentially come up with.
Displate posters automatically comes with a magnet that has an adhesive side that will be attached to the wall of your home where you'd like to display your metal poster, and the opposite side is what will hold your Displate.
Cost/Price Plans
With such a wide variety of products available on their website, there is no way to quote a set price range for the items they create, though many of their Displate are available for between $44 and $69.
Refund Policy
Customers who are unhappy with their purchase for any reason should contact them for assistance or for instructions on returning their product.
All Displate posters except those ordered via Create Your Own Displate are available to be returned and refunded 100% up to 100 days after purchase, as long as it is in its original state and has never been hung.
Customer Service Contact Info
Customers who would like to contact their Customer Service team with any questions, concerns, or complaints can do so by email at [email protected] or by submitting them directly to their website.
Reputation
There are not many user or customer reviews available for this item at this time, though there have been some third party reviews which seem positive about the type of products this company is offering.
Competitors and Alternatives?
There are many different companies and website that offer art and home décor products, of many different varieties and types, so customers who are looking for alternatives should be able to find something else that better suits their needs, if Displate.com does not.
If you have any experience with Displate or their products, please leave your reviews below.
You may also be interested in
Displate Customer Reviews