Colima Sea Salt Reviews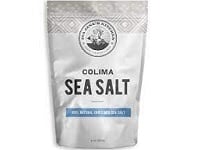 Colima Sea Salt was created by Ava Jane's Kitchen, also makers of a popular Avocado Oil.
The company founded by John Cawrse aims to dispel many modern health myths and develop products that help people live inline with the ancestral health/ paleo movement.
One such myth is that eating salt leads to hypertension and other cardiovascular diseases.
On his website John provides an explanation and links to research studies that claim this health myth was founded on shaky science and that in fact eating the right salt in healthy doses can be beneficial.
Product and Ingredients
John goes on to argue that the real issue with consuming salt is that most people buy cheap big brand options that have been highly refined.
This means that they contain no added minerals found in natural sea salt and are mainly pure sodium chloride.
On the other hand Colima Sea Salt is 100% All-Natural, Unrefined, and Hand-Harvested Sea Salt from the Cuyutlán Lagoon.
It also has over 80 essential minerals including:
Maganesium
Sulfur
Carbon
Silicon
Calcium
Potassium
Iron
Aluminum
Praseodymium
Strontium
Zinc

Copper
Erbium
Tin
Bromine
Titanium
Boron
Gallium
Rubidium
Fluoride
Cerium
Manganese
According to John it's critical to consume salt with a mixture of trace minerals as they all interact together for optimal absorption and nutrition.
Furthermore traditional salt is treated with anti-caking agents and even if it's labeled "sea salt" it can still be refined and stripped of its minerals.
So what Ava Jane's Kitchen is offering with their product is pure Colima Salt that is harvested in a traditional manner by migrant families working the dry season in Mexico.
Cost
A 1/2 lb. bag of Colima Sea Salt costs $19.99. They also have a buy one get one free promotion going on.
You also need to use less of Colima Salt than typical table salt as it is more potent and flavorful.
Customer Service
Colima Sea Salt comes with a lifetime money back guarantee and if you do not enjoy the product you can send it back for a full refund.
If you have any questions you can read through the FAQ page on their website or contact them directly at [email protected].
Customer Reviews & Complaints
Colima Salt has positive reviews online with customers really enjoying the flavor of it and how they feel after consuming it.
The product also has the endorsements of popular health and diet bloggers and fitness specialists.
Competitors and Alternatives
There are many high-end salt products on the market and as long as you do your research you can find whatever you are looking for from regions all over the world.
Just make sure you look for the right criteria of unrefined pure sea salt.
Where to Buy?
You can purchase directly from Ava Jane's Kitchen or through additional online retailers.
If you have any experience with Colima Sea Salt, please leave your reviews below.
You may also be interested in
Colima Sea Salt Customer Reviews

Ruth B
Best salt ever!!!!! I love the crunchiness of this salt and the flavor is simply the best. I even gave a bag of salt as a gift and it was very well received. This sea salt does not come from sea water…so no microplastics. It might be a little pricey but you get what you pay for! It goes a long way! Give it a try. You won't be sorry.

Holli D
I'm so glad I took a chance and bought three bags. I had been using Dr. Mercola's Pink Himalayan Salt for years (now discontinued) and thought nothing could be better but Ava Jane's Colima Sea Salt is better!
Now I put it on everything for that extra flavor snap!

Marcella
I love the consistency, flavor, and that this is microplastics free.

no
i can't even get out of the check out line....geez, i only wanted to try the stuff, if i want more i will come back for more.....i really hate this kind of service that makes you jump through hoops just to check out with their 1st offer. i'm considering not trying.why not just make these offers after the sample offer is tried?

Kelly
Got the salt. It tastes like salt, lol. Not real worried about the plastics thing. But I bought three and got 2 free, plus one more, I think. But it is rock hard NOT soft like they state. I was not happy because I was excited to be able to use it without a grinder. It's in my Celtic sea salt grinder. They say to dry it in the oven for this but I didn't bother. The magnesium/ sodium ratio is about even so that's good for me. I also have used a mortar and pestle to smash it to put it in a covered sugar bowl by the stove so I can just use my fingers to sprinkle while cooking. This stuff is in relatively large chunks[for salt] that will scratch your throat. Buyer beware in this regard.

Risé J
Iodine for Thyroid health
Tastes delicious and love the texture. But sea salt should contain pretty high amounts of natural iodine. Our thyroids need iodine to produce hormones. If it contains natural iodine, then I think it is the best salt I've ever tasted but I must have iodine to continue to use this brand.

Laurie
This salt is the best I have ever tasted bar none! I will cook veggies just so I can eat this salt, it is the best on Broccoli. Glad I found it!!! Plus after reading the comments, I will gladly pay more to make sure there are no micro-plastics in my sea salt. One really has to try it to understand how good it tastes!!

Sharon
I haven't purchased this product yet but I have been researching and comparing prices. I read the entire article as I find health related articles very interesting. He makes good points that are understandable and seem valid. While i am willing to pay a little more for a product that is superior my calculations showed that a half bag for $13 or so is about four times what I could pay for a comparable quantity of Himalayan salt which might be the next best comparison. So I am willing to pay more for a better product but not four times more. At that point I feel that I am giving a donation to someone's personal pocketbook. How much of this profit really goes to the salt farmers that he claims to support? I'm sorry to be so brutally honest, but without spending the time to do a little research I would not be aware of the price discrepancy. This is not to say that the quality is superior. Bottom line, what is a justifiable price increase for a superior product?

Mickey
I just did a taste test between this Colima salt and some unrefined Himalayan pink salt I have. Both were good, but I did find the Himalayan salt somewhat stronger. However, the Colima salt is good and they do say it has no microplastics in it, which is a good thing. My best guess though is that the Himalayan salt is equally pure. (And I love the Himalayan pink salt lamps.)

Craig W
Salt percolating with flavor
I purchased a promotional buy 3 get 2 free bags of Colima salt from Ava Jane's Kitchen. I see the reviews about their slightly deceptive sales practices, and agree with them although I am very happy with the product and anticipate reordering. I initially was only going to purchase one bag for <$10US, at checkout they posited an additional opportunity that is clicked was purchased. I clicked. So be careful while ordering or you'll get more than you initially intended.
I had avoided salt most of my life because of perceived blood pressure effects, but have learned that the bad properties are mostly from refined salt, not naturally harvested sea salt. I have tried several different types of natural salt, such as Himalayan, Sel Gris from France, Black Lava salt from Hawaii, Maldon Sea Salt from Great Britain, and other Aztec unrefined sea salts. Though I find each of these to have distinct characteristics, this is my absolute favorite without a close competitor.
This salt is unlike any other 'sea salt' or Himalayan salt that I've tried. I have to use a mortar and pestle to grind this salt, its moisture clogs up my salt grinder. A pinch of salt really enhances the flavor. I love the consistency and the moisture in this salt.
Ava Jane's Kitchen also provides many other naturally produced products. They include nice, homey newsletters about ways to use their salt, spices, and oils. This is a pretty well thought out company. I am impressed. (If they'd only fix the ordering concerns voiced here.)
I recommend this salt to anyone looking for an enhancement that is a far cut about what they have previously experienced. Life's all about the enjoyment, right?

Scherie
they offer a barrage of products before checking out for the one time free offer. I clicked on the one of save $99 on sale .. I assumed there would be a button to confirm order and It just went thru ... phone # for customer service was a recording not available . . and to sent them an email.
I sure hope they respond ! not happy about this way of doing business at all.

anne b
IT DOES TASTE BETTER...only use a little