Cody Sperber Reviews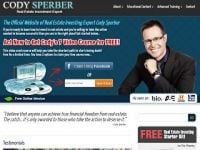 Cody Sperber is the man behind the video presentation The Real Estate Millionaire Mindset which is an explanation of how he went from a normal guy with nothing to a millionaire using a set of specific principles.
The website describes Cody Sperber as one of the nation's leading real estate investors and educators, saying that his ability to go from someone with nothing to his current place in real estate earned him the nickname "The Clever Investor."
According to Sperber, anybody has the ability to be extremely wealthy. The biggest thing standing in their way is their mindset; he says that "dreamers are broke," and you have to be willing to take action if you want to make money.
But he says you can change your mindset with just a few basic changes. First you must know that wealthy people are ambitious, and that knowing about real estate is not enough to be successful – you must also be bold.&nbsp
&nbsp
Next, you must be able to both prepare and execute your game, while not being afraid to make mistakes. Everyone makes mistakes, and everyone can start over. You must be willing to take risks and make mistakes.
Finally, you have to be able to make quick decisions, because "speed in real estate is everything." And while you must be willing to do everything yourself, you will have a better chance at success if you surround yourself with mentors and associates who want you to be successful.
These are the basic tenets of what Cody Sperber has to teach, but he goes much further in his other training courses and webinars. You can choose to watch his webinar How to Get on the Fast Track to Real Estate Success, hosted with TV's Shark Tank host Barbara Corcoran.
Or you can sign up for personal coaching at CodySperber.com and you will be alerted when he has available openings. In addition, he has other training programs, like Fast Track Profit System. But again, all these programs are only available on a first come, first serve basis.
If you have any experience with Cody Sperber or their products, then please leave your reviews below.
Cody Sperber Customer Reviews

Val A
Cody and his Team are Legit
Cody and his team go above and beyond for their students. The mentor program and the community they provide has given much success. I really do enjoy them because they are down to earth people that will take the extra step to help you. But with any program you buy into you have to take the necessary actions to be

Chris D
The best place to learn about real estate!!
I started my adventure in real estate with the Clever Investor mentoring program in 2014 and couldn't be happier with the outcome.
Cody Sperber and his team have helped me, and continue to help me learn ways to use real estate to work my way to financial freedom and have more time with my family.
I have also participated in helping teach others how to do this at the Clever Labs and share my experience with how I did it and what it took to get where we are today.
This is not a get rich quick program unless you work as hard as you can in your business and make it happen for you, but they are there for you every step of the way to provide the best opportunity you can have at becoming the real estate investor you want to be.
It isn't always easy but if you want it they will help you and give you all the information and tools you need to get there.

Jennifer W
There's nothing like this out there. If there is, they are just copying Clever Investor!
My husband and I have been through their mentoring program and have been helping out with Clever Labs now for nearly 2 years. In the beginning, I just thought my husband had found another one of those mentors that just happen to catch his eye the right way, and we would just be gaining more books/training materials sitting on a shelf in the house gathering dust. He had already spent a TON of $$$ on all those big name mentors, just to find out they weren't really there for you (just your money) or had been out of the game for a while (so really didn't know what was going on in the market today, or how to work it). Before we signed up, my husband scoured the web for negative feedback or looking for some sign of it being a scam. Truly he couldn't find anything besides a couple of small negative comments (mostly small complaints that seemed like they just didn't really communicate the issues correctly or those staged negative comments, most likely from competitors). So he signed up, and honestly I just let him do the program at first, until I kept hearing him laugh while watching some of the videos, after watching a couple of them with him, I was hooked. Clever is one of the few groups/programs out there that has a genuine family feel, where it doesn't feel like competition, but where everyone can come together and make some money! Between the family atmosphere and simple ethics and morals they stand behind, that's why we have been with Clever so long!

Michael W
CleverInvestor Systems and Mentoring
Cody and his team have exceeded our expectations. We have used the fast track system, Deal Automator and been a part of their hands on mentoring program. From start to finish Clever has been the real deal and a true pleasure to work with. Cody and his teams have systems in place to provide a novice or expert with powerful tools to take your business to the next level. Plus their mentors and ongoing support team is second to none. They took us from being good real estate investors to doubling our business and making us great real estate investors. Our profit alone has paid for the cost multiple times over!!! Thank you Cody and team! ~ Michael W.
Feedback Revision about Cody Sperber
I wish to retract a negative comment I made earlier. After writing my original review about Cody Sperber I realized that I may have overreacted and said some things that went way overboard. I have had some bad experiences in the past with other coaching programs and I allowed my past to effect how I felt about Cody and his team.
After getting to know them I realize that they are actually pretty genuine people that really do care about their students and their success. I was trying to do wholesaling in the U.S., but from Europe where I live and this was much more difficult than I originally thought it would be. They did everything they said they would do and have some of the best training I have seen online.
I feel bad that I took out my frustrations on Cody Sperber by saying some of the things I did. He immediately reached out to me and we resolved our differences. He stepped up and made things right and I truly do apologize for saying some of the things I did about him online.
At the end of the day I believe that Cody is very knowledgeable about real estate and that the Clever team works hard to teach their students to invest in real estate the right way.
Bridget Smith

Saleh
Here is the summary of their coarse,
Undelivered promise
Outdated material
Irresponsible mentors
complete waste of money
you can find a lot more material in free websites such as bigger pocket. Go to your area meetings(be careful they are trying to sell you something too). Just go there to meet people.
I think these guys made their money in the real state crisis and now they are trying to use the reputation to ripoff people.
Go register for Phill Grove website and you can get a ton of free training.
Biggest Ripoff - Empty promises
Be careful. Don't do any training or business with them. You only lose your money and get a lot of empty promises. You won't see any deal. And don't believe what's written in the Rippoff report. It
seems they work together with Cody Sperber. It's everything else than high quality. Only your cash counts, nothing else! You'll regret it.