Chef's Foundry P600 Reviews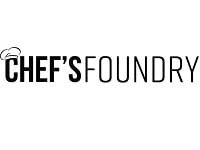 Chef's Foundry is a US-based company that aims to provide high quality kitchen tools at competitive prices.
Having the P600 ceramic knives as the company's cornerstone, Chef's Foundry aims to improve customer experience in the kitchen.
Products
Chef's Foundry offers three different kinds of kitchen knives that will serve suitable for most culinary situations.
All being made of the same ceramic material, the three kinds of knives being offered are the 8-inch chef's knife, the 6-inch utility knife and the 4-inch paring knife.
The 8-inch chef's knife is meant to be the chef's primary tool of choice because of its versatility in the kitchen and food preparation.
On the other hand, the 6-inch utility knife is also a versatile cutting tool that can practically be interchanged with the chef's knife, depending on the food item that needs to be cut.
Although the chef's knife is still preferable for large pieces of meat, the utility knife can still be a handy tool in the kitchen.
Lastly, the 4-inch paring knife is reserved for situations that need more precision, such as carving, peeling and other meticulous processes.
How Does It Work?
The main feature of all the knives offered by Chef's Foundry is that they are all made of zirconium ceramic, which is advantageous for knives for a couple of reasons.
Firstly, zirconium ceramic is definitively stronger than ordinary steel by tenfold. This significant increase in hardness means that these knives dull much slower than ordinary steel blades.
Another reason why zirconium ceramic is an advantageous material for kitchen knives is that even though they are ten times stronger than steel, the ceramic knives are still lighter than steel blades.
Thus, the lightweight nature of these knives tends to make them faster at cutting and chopping.
Cost And Price Plans
One can purchase the ceramic knives separately, since each knife is priced individually: the 8-inch chef's knife is priced at MSRP $139, the 6-inch utility knife is priced at MSRP $99 and the 4-inch paring knife is priced at MSRP $38.
When summed together, the total price of the set would cost $276. However, Chef's Foundry is offering a discounted price for the purchase of the complete set for an affordable $69.
Additionally, shipping is free within the US, but the shipping price would differ for locations outside the US.
Customer Service
You are able to contact Chef's Foundry in two different ways: via phone (855) 536-7538, or via email, which is [email protected]
Chef's Foundry is extremely confident with their knives that they are offering a 30-day guarantee, where you have 30 days to return the knives if unsatisfied. All the company asks is that you send the knives back before they give you a full refund.
Online Reviews & Complaints
Across the internet, reviews for the P600 ceramic knives are generally glowing with praise. Customers are generally amazed at how sharp the ceramic knives are and many have admitted to buying more than one set due to the extremely affordable price.
The P600's have also been commented to remain sharp for numerous years without needing to be sharpened.
Competitors And Alternatives
Chef's Foundry is not the only company in the market to offer ceramic knives, though. Companies that are also renowned for selling ceramic knives include Solutionelle, Kyocera and Dalstrong.
Where To Buy?
If you are interested to own your own set of ceramic knives, knives that are stronger, lighter and will remain sharp longer than steel knives, then a purchase can be made simply through the Chef's Foundry website.
The website will simply ask for personal information for shipping and purchasing it online might be the most effective for US citizens, since shipping within the US is free.
Chef's Foundry P600 Customer Reviews
It's been a month and half. Product never received or response to my multiple emails.

Steven M
I'd give a zero if I could. Terrible. Do not waste your money like we did. I don't leave reviews but just had to after our experience. The pans stain, chip and have worn so quickly within just one year of purchase. Handles are removable which is just stupid. And now they have worn and don't stay locked which is a safety hazard. My wife asked for a full refund almost immediately after purchase and the company declined a full refund and gave her a fraction of the cost back so we are stuck with these. We were really excited about buying a nonstick non toxic pan set but there just isn't anything out there. Straight up, these pans suck.

Debbie
I ordered 4 sets of the cookware for Christmas gifts. I was supposed to receive them in about 7 days. Now it's been over 2 weeks and nothing. I've tried sending emails to their support and also calling. The foreign woman on the phone said they were sending me $100. Gift voucher but I had to give her my credit card # to mail it. Since I would not do this she said she couldn't help me. I'm so upset because I think this company is a sham. Don't order from them.

Jeff M
Have a set of 3. Pretty good at cutting. Initially trouble cutting through skin of tomato. Harder vegetables cut very well. After 3 months found small chips in blade and have been taken excellent care. Don't seem durable and prone to easy damage.

Dale
Ordered 2 sets haven't received any after 2 weeks
Ordered 2 sets of knives. Have not received any response. Try calling and get wall mart scam cards.

Joann R
Ok quality for an inexpensive knife set
Let's face it, the set of three is much less expensive than one high quality chefs knife so don't expect high quality. They are sharp and lightweight, I've been using them for about one year with no problems.
I did buy my step daughter a set also, her large chefs knife blade came loose from the handle and it's out of warranty. Next knife purchase will be higher quality than this set, and most likely much more expensive.

bill A
i purchased 1 complete set of knives ( 99.95 )

lisa c
If I could leave less than 1 star I would. Within days, one of the knives got a chip in the blade with just normal use. This did get replaced because it was within 180 days. Later a 2nd knife broke out of the handle.
Then the replaced knife broke at the handle. Now because it is past the 180 days, Chefs Foundry won't replace either knife.
You would think that this company which raves about their quality of knives would be willing to stand behind that claim. Will NEVER purchase anything from this company again.

James H
About 2 years ago I returned my knives from Fairfield, California, because the blade broke. I've tried calling but no one answered or returned my call. I mailed the knives back but no body responded or made any attempt to communicate.
Almost a year ago I received a call after having moved to Georgia. I explained my concerns and was assured that someone will contact me. Mind you almost a year ago and I am still waiting.
If I am ever asked about your knives I will tell them my experiences. I want some one to contact me at (619)995-1034. If not then I will ask anyone about their thoughts of your P600 knives and provide my experience.
James Herron