Chef's Foundry Cookware Reviews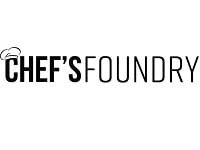 Chef's Foundry Cookware Customer Reviews

Charlie P
I purchased the set from Chef's foundry and the fry pan kit came first. The items worked great and met all my expectations.
The Second box was significantly later by about 3 weeks and when I opened the package there was significant shipping damage.
I contacted them of the issue and they requested pictures which I gladly sent without hesitation. Their reply was that they felt the damage was not significant and they would not replace the product even though the ceramic was chipped free of the base metal on 2 pots and one of the lids was bent.
I politely expressed my dissatisfaction with their offer in a reply mail and since then I have not heard from them since in any way. I am assuming this would be the same for any and all warranty claims.
This is truly unprofessional and bad business. So I paid full price + shipping for damaged goods.

W C
It's been a month and half. Product never received or response to my multiple emails.

Steven M
I'd give a zero if I could. Terrible. Do not waste your money like we did. I don't leave reviews but just had to after our experience. The pans stain, chip and have worn so quickly within just one year of purchase. Handles are removable which is just stupid. And now they have worn and don't stay locked which is a safety hazard. My wife asked for a full refund almost immediately after purchase and the company declined a full refund and gave her a fraction of the cost back so we are stuck with these. We were really excited about buying a nonstick non toxic pan set but there just isn't anything out there. Straight up, these pans suck.

Debbie
I ordered 4 sets of the cookware for Christmas gifts. I was supposed to receive them in about 7 days. Now it's been over 2 weeks and nothing. I've tried sending emails to their support and also calling. The foreign woman on the phone said they were sending me $100. Gift voucher but I had to give her my credit card # to mail it. Since I would not do this she said she couldn't help me. I'm so upset because I think this company is a sham. Don't order from them.

Jeff M
Have a set of 3. Pretty good at cutting. Initially trouble cutting through skin of tomato. Harder vegetables cut very well. After 3 months found small chips in blade and have been taken excellent care. Don't seem durable and prone to easy damage.

Dale
Ordered 2 sets haven't received any after 2 weeks
Ordered 2 sets of knives. Have not received any response. Try calling and get wall mart scam cards.

Joann R
Ok quality for an inexpensive knife set
Let's face it, the set of three is much less expensive than one high quality chefs knife so don't expect high quality. They are sharp and lightweight, I've been using them for about one year with no problems.
I did buy my step daughter a set also, her large chefs knife blade came loose from the handle and it's out of warranty. Next knife purchase will be higher quality than this set, and most likely much more expensive.

bill A
i purchased 1 complete set of knives ( 99.95 )

lisa c
If I could leave less than 1 star I would. Within days, one of the knives got a chip in the blade with just normal use. This did get replaced because it was within 180 days. Later a 2nd knife broke out of the handle.
Then the replaced knife broke at the handle. Now because it is past the 180 days, Chefs Foundry won't replace either knife.
You would think that this company which raves about their quality of knives would be willing to stand behind that claim. Will NEVER purchase anything from this company again.

James H
About 2 years ago I returned my knives from Fairfield, California, because the blade broke. I've tried calling but no one answered or returned my call. I mailed the knives back but no body responded or made any attempt to communicate.
Almost a year ago I received a call after having moved to Georgia. I explained my concerns and was assured that someone will contact me. Mind you almost a year ago and I am still waiting.
If I am ever asked about your knives I will tell them my experiences. I want some one to contact me at (619)995-1034. If not then I will ask anyone about their thoughts of your P600 knives and provide my experience.
James Herron