Cheaper Than Dirt Reviews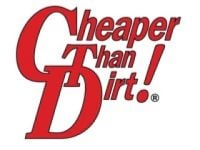 Cheaper Than Dirt, located online at CheaperThanDirt.com, is a digital marketplace dedicated to selling survival materials, including items like guns and ammunition.
How Does it Work?
While it may seem a little unorthodox to sell items like guns and ammo over the internet, it is actually not at all uncommon, with other websites such as MidwayUSA and Bud's Gun Shop enjoying similar popularity to Cheaper Than Dirt.
Of course, they don't only sell firearms. They also sell Gun Gears and Parts, Backpacks and Bags, Camping Equipment, Fishing Equipment, Water Sport Equipment, and much, much more.
Cheaper Than Dirt promises that each purchase you make is protected and safe, with maximum security encryption. This protects you not only against credit card fraud but also from people accessing your order information.
If something you order has a defect or a warranty issue, you should always contact the manufacturer directly because they have the best ability to help you fix your issue. If you have a separate issue with an order, you can contact Cheaper Than Dirt as long as it is within 90 days of purchase.
Firearms, ammunition, and food are not returnable or refundable, but items other than these are eligible for refund, credit, or replacement as long as you follow the website's return protocol. Products must be returned in original packaging or they are subject to a restocking fee.
Surprisingly, you do not need any special licenses to purchase items including guns from their website. However, buyers must be at least 21 years of age and willing to provide waivers and age statements when purchasing products such as ammunition.
Taxes will be added to any orders being shipped to Texas, but otherwise purchases will not subjected to sales tax.
Customers who look may be able to find coupon or promo codes that will offer free shipping, which can be important since many of these items will need specialized shipping.
If you have any experience with Cheaper Than Dirt or their products, please leave your reviews below.
Cheaper Than Dirt Customer Reviews

Vince
I would buy from them again
I bought two items from them and they were shipped in less than a day and came before the due date. No one else had these products in stock. I think that justified a bit higher cost.
When I received the products I realized they were not compatible. This was my fault. I didn't know Daniel Defense lowers had a different grip.
I called them and they answered the phone quickly. They sent me a return label and refunded my money.
I myself would buy from them again. Thanks

Justin
Buyer beware, the name is def misleading. Do your research first. Ammo is outrageous compared to other companies.
Magpul clips are $19.95 here compared to $14.95 other places. Company is a rip off!! False name, def not cheaper. Order wasn't even processed yet and wouldn't cancel my ammo.
What customer service they have as well, won't even give me a veterans discount. True joke.

chad
Better people to buy from with more integrity
They have fast delivery and good products, but they ripped me off. I bought the Springfield SAINT Victor Pistols with SB Tactical. After purchasing from Cheaper than Dirt numerous times before, I thought they had good prices. I was wrong. The retail of the gun I bought from the manufacturer is $1,125 MSRP.
Cheaper than Dirt charged me $2,000 with no option to return item. I was naive and taken advantage of. I spoke with their customer support, and he bragged about having 7 warehouses. In addition, they are enjoying the higher demand for their products right now.
He called it a market economy and they are taking advantage of it and those who buy from them. There are better people to buy from with more integrity in this world.

Mike S
Magazine Policy punishes Coloradans
I live in Colorado. Colorado limits the sale of magazines with a capacity greater than 15 rounds. Many of us are trying to get this changed. Cheaper than Dirt for no reason other than "their policy" limits the capacity to 8 rounds for residents of Colorado making our situation worse. This is hardly a 2nd Amendment friendly policy.

Shannon
My husband really wanted a gun case that was in his cheaper than dirt magazine. I pretended not to notice and ordered it for Christmas. I thought he would never guess and was sure it would be a surprise. I filled out my billing information as I do on all online sites I order from. I do most of my shopping online.
Everything seemed to go through fine, on Sunday the phone rings and my husband answers it, the woman on the phone tells him she's from cheaper than dirt and needed to confirm our billing information for an order I placed. When I got on the phone I told her it was a Christmas surprise and asked what was wrong with the billing information I had submitted online? She said they don't process any orders until they call you and confirm your billing information.
I think they should have this information on their website when you order! ! Especially being being close to Christmas. She was very rude and told me no one else ever cares when they call like that. I only tried to explain to her that they should post this on their website. She wasn't hearing it and instead of being nice and saying " sorry, I will suggest that to management" all she can do is get an attitude and tell me no one else cares.
That was the first and last time I order from them. Good customer service is everything.

David