Cardone University Reviews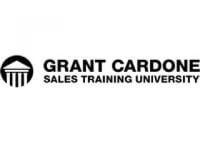 The Cardone University, found online at CardoneUniversity.com, is an online educational training company headed by Grant Cardone specializing in business training in concepts such as sales, negotiation, and motivation.
How Does It Work?
The Cardone University and their courses were created by Grant Cardone, the man behind the television reality series "Turnaround King," which featured Cardone helping struggling businesses find a way to restore their profitability.
Grant Cardone started his career as an accountant, but quickly moved into sales, beginning with car sales and eventually creating three different companies including Cardone Acquisitions, Cardone Enterprises, and the Cardone Group.
His newest venture, the Cardone University, provides individuals and business with access to some of the highest quality training courses on a variety of subjects, including Selling Basics, Understanding the Buyer, Prospecting, Following Up, Closing Strategies, Internet Lead Response, Handling Objections, and much more.
Customers who subscribe to this website will be able to "learn what you want, when you want to, 24 hours a day, 7 days a week" by accessing all their training programs through any device that has internet access, including your computer, tablet, or mobile device.
They offer more than 1,500 individual courses that are comprised of "concise videos and quick questions" whose goal is to make sure that you can get an important amount of information in a fast and manageable time frame, all while still retaining the information you've been given.
Cost & Price Plans
Customers don't purchase a single course from this website like they might at other online educational companies.
Instead, you can subscribe to the Cardone University and you will get unlimited access to all the courses they offer, for just $1,995.00 per year, which can be broken into three individual payments of $799 if you choose.
You can also choose to sign up for access to their free information and purchase access to a single area of their website for a different, published price.
Businesses who are interested in subscribing to this company in order to provide training materials to their employees will need to contact this company directly for custom pricing.
Refund Policy
Unfortunately this company offers neither a published set of legal Terms & Conditions nor does it provide any information on a published Refund or Cancelation Policy.
This is a significant concern when dealing with this company, especially if you are someone who is considering signing up for a year of service which costs nearly $2,000.00.
Concerned customers should speak to someone on their Customer Service team before they finalize their purchase.
Customer Service Contact Info
Customers who wish to contact their Customer Service team with any questions, concerns, or complaints can do so by phone at 310-777-0255, by email at [email protected], or by using their website's Online Chat feature whenever it is available.
Reputation
It is difficult for new, prospective customers to know what to think of this company and their programs because it appears that they only reviews currently available are from partner and affiliate websites.
However, it is clear that the materials on this website are very expensive when compared to other trainings and services, so customers should definitely make the time and effort to take advantage of all their free information before committing to purchasing a course or a full year's subscriptions.
Competitors and Alternatives?
Certainly there are many different online educational companies that provide their customers and subscribers with training videos on all kinds of topics, sales techniques included, so if you dislike Cardone University or are unable to afford it, there are other programs or websites that could better suit your needs.
If you have any experience with Cardone University or their products, please leave your reviews below.
Cardone University Customer Reviews

Geo
Do not fall for this scam!
It is a scam! Repetitive content for which they overcharge and do not care about the customer! Do not fall for it!

Al
Shady sales practices to wrap you and your team into lack luster sales training you can get for free
Highly recommend going other routes

Kara L
Terrible customer service. I have a special needs teenage son. He can't manage his own money so I have to monitor his checking account. He was suckered into signing up for grant Cardone and paid them $297, which was to be billed quarterly.
My son does not have money for this, so I called them to cancel the subscription. They canceled it, but refused to refund the $297. He had the service for 9 days.
I then asked them if we could pay for the 9 days and be refunded for the remaining quarter. Again, they refused. Grant Cardone is unreasonable and will not refund my special needs kid after he made a mistake by signing up. Total scam. Do not be fooled.

sharon
Grant Cardone --- "Last 12 hours to get this deal!"? It's a constant trap/Lie
Their sales team treats their customers like crap. All they care is their revenue!
I bought two certificates on Cardone university, each at $297. On the transaction page, they didn't say no return , but they say if you have any questions or satisfactions, contact xxxx.
Less than a month later, they sold a package with all 5 certificates with a general admission ticket to the 10X conference for $697 at real estate wealth expo.
I called to ask for refund for the two certificates I bought. Their accounting team relies e-mail like every 1-2 weeks, and after about a month and half back and forth with E-mail, they told me because I have access to both of the program, I could not return them.
Excuse me, you spent $600 on programs that will expire in 12 months, and you just let them sit there without accessing the material?? I asked them to reconsider their decision, no response for a week, I decided to call them, and of course, they said no, blah, blah, blah.
And after asking to speak with their decision maker twice, they finally connect me with their "upper management team" -- A gentleman who claimed himself as the company CFO. And what he told me was, "you should have read the policy before you made the purchase. We constantly have different deals on the internet in different times to boost up our sales. My job as a CFO is to increase our revenue, not to deal with refunds." And then he said I got to go, and hung up the call.
WHOA! I thought Grant Cardone said take care of your EXISTING customer in his book "Sell, or be Sold". When they are selling you something, they take your payment instantly, but after that it's completely out of their business. The team is only there for your money, not you, nor any other customers. Now you know their company's mission and attitude.

Cee G
Grant Cardone is a complete scam
Don't fall victim of these self help douche bags. they sell you a product that isn't as they describe, they give you certainty that if you don't like what they sold you you get a refund but when you request refund they patronize you and never get the refund you were promised. Total scam

Josh A
I feel like the reviews on this page must be paid reviews, or reviews by employees of this company.
I have been watching these videos for a couple months now, for work, and the only thing that seems to make Grant successful in sales, is the fact he was able to scam people and companies to purchase this....
His latest video told me to challenge myself, in ways such as parking in spots that say "no parking".. How is telling people to break the law, a positive and meaningful message?
Am I the only one that thinks right before he films these videos he gets high on some drug to hype him up?
This is a fraud and I am shocked it is allowed to be sold!

Vaughn R
My life has been changed by this University. Doubled my income in a year. Earning more than ever and allowing myself to take care of my family. Truly a blessing.

Emilie
I am currently in the follow-up section of Cardone U and this chapter helped me a lot.
Very detailed etc…
I think what would have helped me expend my business would have been the same chapter (type of calls for owners follow-up)
but about people who haven't sign yet. Those are the one you also need to follow-up very closely.
I sell Kitchen cabinettery in a market where there is so much competition and people do up to
4 /5 different places and see all kind of different materials and designs. We work a proposal for about
7 hours each before anything is sign or any money have been made…
This year been particulary rough for me since my business is only 3 year old and the market was really slow.
I feel like the following up prospect who haven't sign are the target to expand my business.
It would be a big help to know how to follow them up proprely
Thank you and sorry for my english, Iam french!

Emilie

Katie
Love the content in Cardone University. The video content ranges from sales, motivation, handling objections, finances, goal setting, Books on MP3, Webinars, and tons more!
This program is the mack daddy of all Grant's programs! My confidence in life and business has increased! I have been able to massively increased my income!!