BuzzBugg Reviews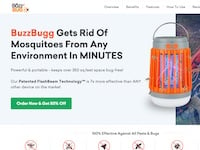 BuzzBugg Review: Legit or Scam?
BuzzBugg is a portable bug zapper and camping lamp that the seller claims is effective at attracting and eliminating mosquitos and other bugs.
Below we take a closer look at BuzzBugg to see if it works as advertised.
How Does BuzzBugg Work?
The seller claims the device works by luring flying insects with a 360 degree UV wavelength.
Once they fly into the BuzzBugg a low-voltage mesh shocks them instantly.
The seller states that BuzzBugg works on all common pests such as:
Mosquitoes
Fruit Flies
Moths
Gnats
Flying Beetles
No-See-Ums


The BuzzBugg is also designed with extra features intended to make it outdoor friendly, such as being solar powered and doubling as a camping light.
The seller states it uses patented "FlashBeam Technology" (a safe blue light of 365nm wavelength) and has shock-resistant 7mm microplastic bars around the mesh wire to ensure safety for pets and children.
In addition to solar power the BuzzBugg can also be charged via a USB connection.
Is BuzzBugg an effective mosquito solution?
There has been a lot of research done on mosquitos as they are a huge vector for disease spread.
The WHO estimates that almost 700 million people contract a mosquito-borne illness every year, resulting in over 1 million deaths.
There is also a huge business interest in providing effective solutions for killing mosquitoes for their role as nuisance insects.
While some research has shown that mosquitoes are attracted to UV light, there are many more factors and nuances at play.
For instance, one study found that the type of light mosquitoes are attracted to varies across species and that the intensity of light may play a bigger role than the wave spectrum.
Furthermore, new research has found that carbon dioxide and human odor are the key signals mosquitos use to locate and bite people.
Mosquitos can detect the pulses of air caused by exhaling, with those same receptors also working to pick up on human odors.
A study of electric bug zappers found that they were very inefficient for killing mosquitoes, but were devastating for other non-target insects.
Ultimately, if mosquito eradication is your main goal, purchasing a BuzzBugg it is not the best solution.
Potential Red Flags
Below are some potential issues with the BuzzBugg that should be noted.


Website does not clearly outline their return policy
Misleading advertising
Company address is for a distribution/fulfillment center
Same address has been used for other cheap quality products reviewed on Reviewopedia
Customer Reviews & Complaints
At this time there is not much legitimate feedback from users.
There are lots of generic bug zappers like the BuzzBugg on the market that tend to get mixed reviews. They usually have issues with reliability and effectiveness.
Below is an example of one such company, it is selling the exact same product as the BuzzBugg under the name of ZapTek.


( Another bug zapper that looks identical to the BuzzBugg, sold under a different name )


Another bug zapper that we have previously reviewed is the BuzzBGone, which has a 1/5 rating from over 50 customer reviews.
Effective Mosquito Control
Experts recommend using a multi-pronged approach to ridding your property of mosquitos and protecting yourself from bites.
This includes:


Using skin repellents
Landscape cleanup - removing natural yard debris and any standing water
Larvicides - can be placed in areas of standing water such as ditches or bird baths to prevent larvae from developing
Adulticides (what pest control companies spray)
Mosquito control devices - more expensive but carbon dioxide traps can be an option
Mosquito nets


Customer Service
If you have any issues and need to reach someone, you can do so at the company's email: [email protected] or phone number +1 (888) 973-0764.
Their terms of service page lists an address of:
BuzzBugg
2345 Vauxhall Rd,
Union, NJ 07083
They do not post a return policy on their site but the terms state that they reserve the right to charge a 15% restocking fee to process returns.
Competitors and Alternatives
There are many highly rated products on the market for addressing mosquito and bug issues.
In addition to the preventive methods mentioned about, some popular alternatives include:


Thermacell
Thermacell uses heat activated repellent technology to create scent free zone protection of 20ft. Their technology is designed to disrupt and irritate mosquitos' sensors to keep them outside the protection zone.
It is the #1 seller on Amazon and has a rating of 4.2/5 from 17k+ reviews. It only costs $32.99 but does require refill cartridges.
FlowTron
A heavy duty bug killer, the FlowTron uses a 15 watt high intensity ultraviolet bulb to attract flying insects into its electrified grid.
For best results add the Flowtron Mosquito Attractant. Covers up to a 1 acre area.
The FlowTron has great reviews on Amazon with a score of 4.5/5 from 23k+ reviews.
It costs $54.94 + $11.59 for the attractant on Amazon.
DynaTrap
This top of the line product targets mosquitoes, biting flies, house flies, moths, no-see-ums, June beetles, wasps, yellow jackets, stink bugs, gnats, and biting midges.
It can be placed 20-40 ft away from people and works in 3 ways. It uses a UV light and Titanium DiOxide coating that releases CO2 to lure insects into its trap. A fan then sucks them into the basket.
It's an 'Amazon's Choice' product and has a rating of 4.1/5 from almost 6,000 customer reviews.
However, it is more expensive than the other options. The DynaTrap costs $145 on Amazon.
If you have any experience with the BuzzBugg, please leave your reviews below.
You may also be interested in
BuzzBugg Customer Reviews

Josh I
Total trash. Had it on next to me for hours at night in Texas heat, mosquitoes ate me alive and it recorded zero kills. Could not get a return.

Not i
I got scammed. Ordered three. NONE of them worked! Literally, none of them remained on for more than a few minutes. Called to return and get refund. They keep a percentage!!!

Robbie
Misrepresented product of Extremely Bad Quality
Worst internet product I've ever purchased. Returning having been promised "30 day guarantee" was the worst, most in-cohesive experience I could possibly imagine, and the reason for returning in the first place is because the product is of the poorest quality imaginable. It was entirely misrepresented and in no way performs as it is sold. None of my questions to customer service were directly answered, and all of it felt like no more than a sales joke of a never ending run around of nonsense.