BookBub Reviews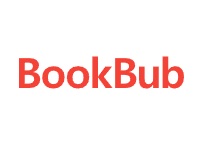 BookBub is a company which states it's service alerts members to limited time free and discounted eBooks that match their personal literary interests and are available for a wide variety of eReaders.
According to their website, this service features only the highest quality books published by top tier publishers and that had received high ratings from critics.
How Does it Work?
User's are asked to submit an email address to BookBub and fill out a short questionnaire regarding their literary interests.
After completing their profile, BookBub will send daily emails regarding what deals are available that users may be interested in. Users can also sign in to their site and look through all the deals they have available.
Cost/Price Plans
The service says that it is completely free; the deals they send you seem to be all either free or for less than $5.00.
Mobile Options
The eBook deals they send you can be accessed from a variety of eReaders, including tablets and certain smartphones.
Refund Policy
The BookBub.com service is free so there is no need for a refund policy. The deals they alert you to will redirect you to the retailer or publisher to purchase them, so you will have to follow their refund policy if necessary.
Customer Service Contact Info
There is currently no published phone number or mailing address, but customers with questions or complaints can submit their questions directly to the website through their "Contact Us" link.
Reputation
In general they seem to have a positive reputation as their service does what it claims to do - alert you to deals and discounts available on eBook.
Is BookBub Safe?
There do not seem to be any complaints about this product regarding safety.
Competitors and Alternatives?
There are does not seem to be very many services similar to BookBub.com, though eBook retailers like Amazon.com often have sections of their online stores dedicated to what books are on special deals on a day-to-day basis.
Another company providing a similar service to BookBub is The Fussy Librarian.

If you have any experience with BookBub or their services, please leave your reviews below.
You may also be interested in
BookBub Customer Reviews

Colin M
DO NOT SIGN UP OR GIVE BOOKBUB YOUR EMAIL ADDRESS, YOU CANNOT UNSUBSCRIBE.
I chose to unsubscribe, having subscribed to see what was on offer & how well it would work. I do not need endless emails & decided to unsubscribe (probably 5 times), I have tried blocking , junking them & they still keep on coming. I will never use them.

Biss
This outfit is a fraud. I had many books downloaded and when I went to retrieve them for reading, I got a message saying the book was just loaned and the loan has expired. Silly me! I thought when you buy something that you loan it...period! Apparently not with BookBub! Beware!!

Carol J
BookBub changed their format and I can't find the books I had in my library to read. They never responded to my many requests as to where I can find it.
Before they changed I could get right into my library and/ or the book I was reading.

Pamela M
I enjoyed this book. The characters were vivid and came alive and the subject matter was very interesting. Looking forward to reading more of L.L. Bartlett's books

Marilyn
What an amazing resource! I get a daily e-mail with books on sale or free. I click the link and it sends me to Amazon where I can read the synopsis, read reviews then decide whether or not to purchase. There are always one or two free books offered. I have not been disappointed with the quality of the books. They have been great reads!

Debbie G
The characters the story line and the fact I thought it was the client till the very end kept me on the edge of my seat throughout the whole book. Didn't want to put it down had to for household chores and sleep. Can't wait to read the next one in the series.

Tim M
Downloaded several of the "free" books from BookBub. They were all just samples, ending in the middle of a chapter. Maybe the one you buy are different, but nowhere does it say the books are not complete.