BLXBuds Reviews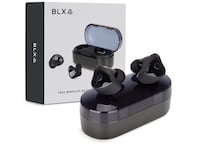 BLXBuds are a brand of earbuds claimed to use the latest technology to bring users unprecedented sound quality combined with long lasting battery life.
The company sells BLXBuds directly to consumers through catchy online ads designed to look like magazine articles.
Below we take a closer look at the product, the company's customer service, and what customers have to say about these new Bluetooth wireless earbuds.
How Do BLXBuds Work?
The company makes a lot of claims about these earbuds, stating that what makes them so unique is that they've combined a variety of high-end features all in one low-cost package.
They state that their engineers have developed BLXBuds to have:
Bluetooth connectivity to any device
One-click noise cancelation
Deep base
16+hr battery life
Case with built in charging
Sweat resistance
Dual Microphones
The BLXBuds have a range of control options when listening to music or answering calls. The user manual explains how to access these features and what pressing the side buttons does.
The company published the full specs on the product. So of the details are as follows:
IOS, Android, PC Compatible
TWS Dual stereo wireless, Dual microphone call
Bluetooth 5.1
Full charge for Earbuds: About 1 hour
Full charge for Case: About 1.5 hours
Play time: 4.5 hours
Customer Service
Phone: 855-219-4892
Email: [email protected]
We found two different addresses for this company:
Quality Performance Limited
377 Valley Rd #1123
Clifton, NJ 07013
COMPLETE PERFORMANCE COMMERCE PTE LTD SINGAPORE
33 Ubi Avenue 3, #08-03
Vertex, Singapore
+65-6347 5958
If you're looking for answers to common questions or are not getting a response form customer service, you can try their FAQ section for help at https://support.blxbuds.com/hc/en-us.
The order page states that BLXBuds have a 30-day guarantee on unused purchases.
To qualify for a refund you will have to return ship the earbuds in the original unopened package for a full refund or replacement.
Their terms and conditions state that "For hygiene reasons, in-ear headphones cannot be returned unless they are faulty."
The company terms also state that you may be charged a fee if you try to cancel your order after submitting it.
Cost and Price Plans
You can buy one set of BLXBuds for $49.99. They website offers discounts if you purchase additional units.
BLXBuds Customer Reviews & Complaints
Customer reviews for BLXBuds are very mixed.
There is a listing for BLX Earbuds on Amazon and it appears to be the same product as found on BLXBuds.com.
Some users have enjoyed the product and feel that for the cheaper price it is acceptable. Others have reported difficulties with their earbuds and would not recommend them.
Customer complaints state that the sound quality is subpar and is especially bad for voice calls.
There is also a consensus that the noise canceling is not as advertised and there is nothing special being done outside of simply blocking your ear canals.
We also found negative reviews for BLXBuds on Reddit, where users complained of long shipping times, extra charges, and poor customer service in addition to the sound quality issues.
You can also find additional customer complaints on other product review sites.
Are BLXBuds Legitimate?
It would be difficult to recommend this brand for users looking for high quality Bluetooth earbuds. Based on online customer reviews it does not seem that BLXBuds is a high quality product and will likely end up having issues.
It may be tempting to take advantage of the lower price when compared to big brand alternatives such as Airpods, but in the end you usually get what you pay for.
The BLXBuds are not manufactured by an established electronics brand and do not provide the type of customer support that those companies do.
This is simply a wholesale off-brand electronics item that marketing companies purchase and advertise online through gimmicky sales websites.
BLXBuds may work for some people and can serve as adequate listening devices, but do not expect them to be on the level of high-end competitors.
Their customer service team does make an effort to reply to online complaints, but it's unclear if buyers end up with a favorable outcome.
The company's refund policy seems deliberately written in a way that allows them to deny refunds based on customers having worn the earbuds.
At this time it just seems like a safer bet to order from an established company such as Apple, Bose, or Beats.
If you have any experience with BLXBuds, please leave your reviews below.
You may also be interested in
BLXBuds Customer Reviews

Sam
Ordered 17 days ago, it's a scam, they will do everything to screw your credit up, it's too bad there are bad companies.

Henrik W
Bought 5 pairs. Two boxes opened. Reasonable hearing quality why the microphones only transmit a garbled non-understandable speech.
Have received a stream of nonsense e-mails from what the call Customer Service, but absolutely no support. BLX will also not provide any return address despite many reminders.
Don't let you be fooled by this product and the company. STAY AS FAR AWAY FROM THEM AS POSSIBLE !!!

Bob
Ordered BLXBuds over a week ago and have not received a shipping notice yet. However, I have been inundated with text messages from there marketing department since my order. Send me the product I ordered then maybe we talk about something else.