Bleame Crystal Hair Eraser
Bleame Crystal Hair Eraser Reviews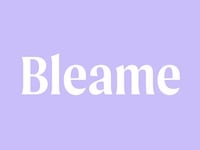 Bleame Crystal Hair Eraser is marketed as a quick and painless alternative to shaving or waxing unwanted body hair.
The product has grown in popularity in part to viral social media videos praising the device. The hashtag #crystalhairremover has over 71 million views on TikTok.
The company claims that tens of thousands of women have tried the product and have overwhelmingly given it 5 star reviews.
We take a closer look at Bleame to find out how it works, examine customer reviews, and see if this tool can really replace traditional shaving methods.
How Does Bleame Work?
The company states that the Bleame uses "Nano-Crystalline Technology" to clump and break the hair at the surface.
According to the website you simply rub the Bleame gently on your skin, focusing on areas with unwanted hair. They go on to say that it will also exfoliate your skin.
Using the Bleame is intended to be less irritating and more cost effective when compared to shaving or waxing and avoids the potential of cuts or razor burn.
Is Bleame Legit?
Since Bleame's growth in popularity there are now many copycat products on the market.
You can find a slew of "Crystal Hair Erasers" on Amazon, some even using Bleame's name in their marketing.
A quick search of the main overseas wholesale website Alibaba shows a lot of manufacturers producing these types of products at wholesale prices of just a few dollars or less.

Some of the wholesale companies use the same images that are found on Bleame's website GetBleame.io.
It's unclear who came up with the images originally and who is plagiarizing them.
Generic version: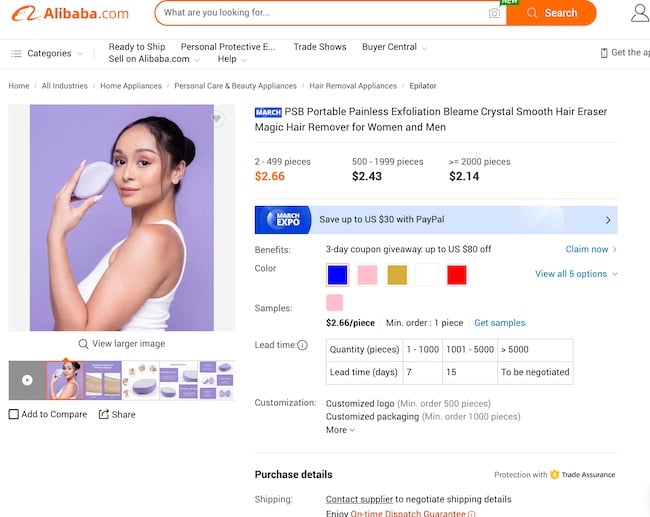 Bleame website: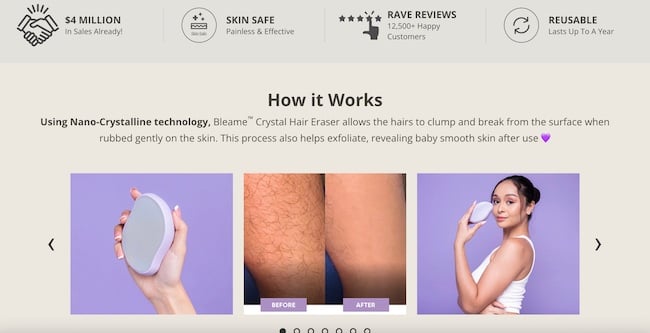 Frequently Asked Questions
Where can you use Bleame?
If you have sensitive skin the company recommends starting with the arms/legs to see how you respond to the treatment before moving on to other areas.

They do not recommend Bleame for underarms or face.
How often should you use Bleame?
The company states that 1-2x per week or less frequently, based on your skin's tolerance of the device.
Customer service
The Bleame Crystal Hair Eraser comes with a 30-day money back guarantee.
If you are unsatisfied with your results contact customer service at [email protected] to initiate a refund.
You will have to ship it back at your own expense.
The company list their physical address as:
Bleame
4 Victoria Rd
North Babylon, NY 11703
Customer Reviews & Complaints
Outside of the promotional reviews and videos found on social media, Bleame gets mixed reviews on consumer reporting.


Pros
Users who had a positive experience with the product mentioned the following:
Easy to use
Liked that they could use it dry or wet (although Bleame recommends using after bathing)
Felt smoother skin after use
Cons
Negative customer reviews mentioned the following issues:
Some users with sensitive skin experienced soreness, rash, or a burning sensation after use
Process took much longer than advertised to remove any hair
Difficulty removing very fine hairs
Did not work well around kneecaps/ankles/bikini area
Delays in receiving refunds

Expert Reviews
A review from Allure magazine discussing generic crystal hair removers stated that they felt it was an abrasive way to remove hair with potential for skin irritation.
They concluded, along with other reviewers, that it's important to use a skin repair/moisturizing cream after using one of these tools.
On Trustpilot Bleame has a rating of 3.3/5 from 1k+ customer reviews. On that platform customer service reps monitor reviews and attempt to resolve issues reported by unsatisfied customers.
This business is not accredited by the BBB and has an F rating with them.
Customers have filed complaints that allege the company stalls the refund process and does not make it easy to get your money back.
The BBB has also issued an alert for the business stating that they reached out to the company to address a rising number of complaints but did not hear back from them.
The generic versions being sold on Amazon have even worse reviews than Bleame.
Is It Worth It?
These types of products do not seem to have the endorsements of beauty/fashion experts and, while they can remove hair, the question is whether it's better than other options.
For some users that answer is yes while for others it is a resounding no. Ultimately, we would recommend holding off on this purchase until the BBB alert is lifted.
Or, if you're curious about this type of product you can order it from Amazon.
That way you'll have a clearer understanding of the return policy, knowing that if it doesn't work you can send it back for a hassle free refund.
If you have tried Bleame, please leave your reviews below.
You may also be interested in
Bleame Crystal Hair Eraser Customer Reviews