Bird Buddy Reviews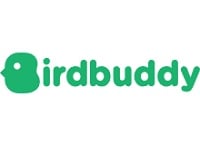 Bird Buddy, found at MyBirdBuddy.com, is a smart bird feeder which comes with a camera and app, allowing users to capture and organize photos of birds.
The Bird Buddy is not currently available in stores or online for anyone to purchase because it is still being crowdfunded, but it is available for pre-order.
How Does Bird Buddy Work
This is a smart bird feeder that features a camera and an app that notifies you when a bird is at the feeder.
The app will take photos of the bird and organize them into a folder for you. Even if you aren't at home, you will get an up-close and personal look at all of the birds that have arrived at the feeder.
The app allows for unique and interesting close-ups of birds. Because the birds are unaware of the camera, you don't have to worry about them becoming startled and flying away.
The app can do more than just take pictures and organize them. It also collects different species of birds on the app, so you know what you've photographed. It could be exciting to realize that you have a rare specimen that has visited your birdhouse.
Even better, the app has the ability to recognize more than 1,000 bird species.
The birdhouse has a built-in microphone, and it can hear the birds approaching when they start to sing. You will receive a notification so you can see the birds if you would like, or you could have the photos collected.
The intelligence of the smart bird feeder doesn't stop there, though. Another nice feature is that it will notify you when you need to add more seeds.
The process of putting the seeds in without making a mess is easy, as well. If you've ever forgotten to top off other feeders in your hard, this feature alone will be a major help.
The Bird Buddy has been designed to ensure the birds that come to feed are safe and comfortable. It also has a pleasant aesthetic that can work well for most yards.
Overall, the Bird Buddy seems easy to see as well whether it's adding seeds, charging the camera with the USB-C cord, or using the app.
An Upgradable Solution
The Bird Buddy is sustainable, thanks to the detachable and upgradable module. This is a nice benefit as it means you will not have to replace the entire birdhouse in a couple of years.
The camera price will be the only thing that you will need to consider when you want to upgrade it later.
What Color Options Are Available?
Currently, there are limited colors available for the Bird Buddy. It is available in either blue or yellow. However, those colors can work well with just about any type of backyard décor and color scheme.
When Will Bird Buddy Be Available?
According to the information on the IndieGoGo campaign, the bird feeder should be ready for shipping in October of 2021. The release date should be around that time.
The company also has a campaign up and running on Kickstarter, which has a delivery date of September of 2021. You can also check Backerkit.com to track the progress on their Kickstarter.
Because the Bird Buddy is not currently available for sale, it is not found on sites like Amazon.
The company has updated it's release date on Kickstarter and IndieGoGo several times. According to the information on the company website, the release date should allow for the first pre-orders to arrive in June 2022.
What Add-Ons Are Available?
In addition to the Bird Buddy house, there are also some add-ons that some buyers who are considering the birdhouse might want to consider.
The solar roof is a way to ensure that the battery has a charge without needing to unplug it and bring it in for a charge. This can be convenient, especially if you aren't going to be home.
There is also the option of a wall mount and a fence mount. The suet ball holder can help to keep the birds happy and in front of the camera.
What is the Price?
On IndieGoGo, the current price for a Bird Buddy is $189, and this is considered the Early Bird price. It's expected to go up to $222 once it hits retail.
You will also find an option for two of the feeders priced at $349. You could opt for three feeders for $499, or even 10 feeders for $1,489.
Those who are interested in the feeder and who have friends or relatives that might want one as well should consider getting one of these larger packages.
Those who have large yards might also want to consider buying more than one while they are still at this price.
The Bottom Line
The Bird Buddy is an interesting and fun device that can put bird lovers closer to the action than ever before.
It can be used as a learning tool for kids, and it can provide some amazing pictures for a collection or that you could share with social media.
Of course, the product is expensive for a birdhouse even though it has all of those extra features.
It's generally best suited to those who want to get as close to the birds in their yard as possible. For those with the interest, it can be a fantastic option.
If you have any experience with Bird Buddy or their products, please leave your reviews below.
You may also be interested in
Bird Buddy Customer Reviews