Bionic Spotlight Reviews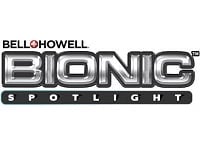 The Bionic Spotlight by Bell and Howell is a weather resistant outdoor light powered by a solar panel and activated with a motion sensor.
How Does it Work?
The Bionic Spotlight is a solar-powered light that clicks on automatically whenever it detects motion. It can sense movement from up to 25 feet away, and since it's powered by the sun, it requires no wiring or batteries.
This is a major win when it comes to saving money while using exterior spotlights. The light is solar powered so it does not draw from your home's electrical supply or use batteries that need to be replaced.
Instead, all you will need to do is place the it somewhere in which its solar panels can absorb the rays of the sun. The panel will collect the energy and charge the built-in battery.
You might assume that, since the Bionic Spotlight is powered by the sun, it's lacking when it comes to output. That's not the case.
This light can cover an area of up to 600 square feet and comes standard with eight high-intensity LED light bulbs. Plus, the light will stay on until there is absolutely no motion detected.
With 200 lumens of light, you'll get light at the maximum end of the brightness spectrum as suggested by lighting professionals for the Path Light category.
If you're setting up one of these lights in a commercial setting, that's a major win - you'll experience longer bulb life and industry standards compliance.
The product is portable and fun. It can easily be attached to any wall, and since it requires no wiring, it's easy to move around. It has a heat-resistant casing so the light won't experience any sun-induced discoloration or warping, either.
A durable home product, the Bionic Spotlight is weather-resistant and can be used year-round in any kind of weather conditions. It's also backed by a five-year warranty.
It looks just like a security camera and will light up as soon as you arrive home. It will detect movement and turn on automatically and then turn off 30 seconds after there is no more movement in the sensor range.
Cost and Price Plans
You can purchase the Bionic Spotlight for the low price of $19.95. This comes with free shipping to most places in the United States and Canada and a 90-day money-back guarantee.
If you want to get a second unit, all you need to do is pay $6.95 more and the company will ship one to you for free. This price does not include sales tax.
Want six lights, either for your own home or give as gifts? You can buy a six-light home value set for a total discount of 25% off. This purchase will cost you $89.78.
Competitors and Alternatives
When it comes to solar powered outdoor spotlights, there are plenty of other alternatives. Some options to consider include the Nekteck solar lights - which come in four-packs and are adjustable to go on a wall or be inserted into the soil - and the Sunlight solar-powered outdoor waterproof light.
Online Customer Reviews & Complaints
Customer reviews of the Bionic Spotlight are largely positive, although it's admittedly easier to find reviews of other Bell and Howell products than it is of this one.
However, most customers claim that the light is bright and functional, offering good lighting even on nights where the sun hasn't shined much during the day.
When it comes to complaints, there are some users who are hesitant about the not-so-accessible nature of the Bionic Spotlight website interface.
If you don't want to order through the seller directly, you can also order from other retailers such as Amazon.
Customer Service
The makers of the Bionic Spotlight recommend that you wait at least 24 hours after placing your order before contacting customer service with any questions. You can then call the customer service phone line at 1-844-475-3582 between the hours of 8 am and 8 pm most days of the week.
If you need to initiate a return, you can contact customer service by going to the customer service website.
Where to Buy the Bionic Spotlight?
Visit the Bionic Spotlight website, and you'll notice that the company remarks that the spotlight can not be purchased in stores.
However, that's not the case as you can also find it for sale on Amazon, at Bed Bath and Beyond, and at other common brick-and-mortar stores like at Walmart. Otherwise, you can purchase this product by visiting their website.
Is the Bionic Spotlight Worth It?
There's no doubt that having good exterior lighting can improve the security and aesthetics of your home.
However, most security lights are expensive and difficult to install. The Bell and Howell Bionic Spotlight does not fall into that category. Instead, this as-seen-on tv product is easy to put together and even easier to use.
While there are other more well-known motion light providers out there, the Bionic Spotlight is one of the cheapest products you can find that will still get the job done.
As is typical in the tech market, you get what you pay for. While the Bionic Spotlight is cheap, easy to use, and portable, it may not hold up as well as it's more expensive competitors.
As stated above, this product does receive largely positive reviews from customers.
If you have any experience with the Bell and Howell Bionic Spotlight, please leave your reviews below.
You may also be interested in
Bionic Spotlight Customer Reviews

KATE
I set this duo solar light up in my garden: full sun at least 8 hours or more. The instructions said nothing more than spike in ground, aim panel toward sun, turn on.... absolutely nothing has happened for weeks. In fact, I left it in the sun and forgot about it until my husband asked about it. I did one of those 2 for 1 sales on tv....regret it! And when I try to find a video for HOW TO MAKE IT WORK, all I can find is SELL...SELL...SELL.... All the videos are selling and not problem-solving.

Pam
Solar light does not work
Does not work at all
DO NOT PURCHASE
WASTE OF MONEY!!

Dennis
Buyer Beware! I bought 2 of the bionic spotlights and it was a waste of money. One didn't last a week and the other made it 4 months before shooting craps. I know they have a return policy, but why put out a product that won't hold up.

William C
I just got 7 of them for placement on my property. The only complaint I have is the solar panel swivels up and down only and this restricts the placement of your light. Otherwise its a great deal and glad I ordered it

patricia m
Bionic Spot light and Tri-Burst light
I bought both of these products and love it! I haven't had any problems. The Spot light works exactly like it should with no lighting problems. The Tri-Burst is amazing. It lights the entire garage!I would definitely recommend. And the prices are great! Well worth it.
Signed,
Satisfied customer

Sheila H
Victor at a customer,(1-844-475-3582) order.As I was taking a phone order for the product, the day before. As I was trying to order the phone system, could not process my order. Switch me to rep of service. ( disconnected)in which I was told the next day customer service did not go through ( Victor,(1-844-475-3582) said he could take my order to progress an order, as I told him the phone was bad . But we got through the process. He took, he took my email to send a confirmation, still awaiting the confirmation, of the process(24 hours)Still awaiting. Nothing was said how long my order would be for shipping. And without a conformation, I am lost.on any information to date... Tried to make contact (the day after), customer service it' busy or disconnect,will keep
trying ( no conformation) with my credit card. Awaiting the answer to some kind of communication that lacks...do like it at this point.

Frank D
Not working as advertised.
Sensor not working as a motion detector. At night, the light comes on approximately every 20 minutes and goes off after about 30 seconds later. This continues throughout the night until sunlight shows. I have turned the sensor switch off and on for a number of times , trying set the unit to operate properly without success. Anyone else has nothin problem?

hugh n
Ordered 2 lights on 4/28. Waited for 3 weeks then called and was told I need to wait 3 more weeks. After 6 weeks checked on customerstatus.com and it still showed temporarily out of stock? Called the customer service number 844-475-3582 and waited for almost an hour and was informed that a delay delivery until end of July? Do not order this if you don't have patience.