Barefoot Student Reviews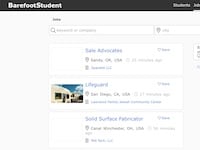 You may also be interested in
Barefoot Student Customer Reviews

Armando G
Barefoot Student are not ethical at all. I signed up in November of 2022 and I'm still getting charged monthly $75. Don't use this platform.

JB
Not worth the Money as an Employer
Lame. Very few applicants. It's almost Craig's List like. Does nothing to link possible employee to employer. No Employer tools either.

Nyomi M
Is Barefoot Student Legitimate For Finding Jobs?
Answer = Yes, jobs exclusively for students from small businesses around the world! Barefoot Student is an online community platform that connects university students and recent grads with employers.