Back to Life System Reviews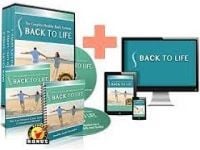 The Back to Life System, found online at EraseMyBackPain.com, is a health and wellness program which promises to help people eliminate their back pain with a simple stretch routine.
How Does It Work?
The creator of the Back to Life Healthy Back System had debilitating back pain but said she was able to avoid life threatening surgery and end years of chronic back pain with one surprising stretch sequence.
According to their website, most people don't realize that often the most serious damage to your body does not come from car accidents or sports injuries, but rather from something called Repetitive Trauma.
Repetitive Trauma comes from living the everyday modern life; activities like driving your car, working at a computer, or texting on your phone is pulling your body out of whack and causing something called Crossed Syndrome.
This syndrome results in areas of vulnerability from muscular imbalances and postural distortions that pull your pelvis and spine out of their natural healthy alignment.
A body that isn't in alignment means that your discs are vulnerable, your nerves are pinched, your joints are battered, and your entire body is under constant stress.
To get your body back into its natural alignment, the Erase My Back Pain program provides a simple ten minute stretch sequence that not only eliminates back pain, but also sciatica, stiffness, weight gain, depression, anxiety, insomnia, and acid reflux.
Cost & Price Plans
This company says that though their program would be priced much higher if it were being sold at gym or other physical therapy center.
They have decided to price it just at a one-time fee of $37 so that the people who really need this kind of health and wellness information will be able to afford it and benefit from it.
Refund Policy
This company says that they are so confident their customers will be able to find relief from their program that they provide a 60 Day Money Back Guarantee.
Customers who are unhappy with their results will be able to contact their Customer Service team and request a refund of their purchase price.
In addition, because this product is sold through the ClickBank Digital Marketplace, customers who attempt to contact the Back to Life Customer Service team and do not receive a timely response will be able to contact ClickBank directly.
In order to request their refund and have that request honored make sure you are still within the first 60 days of the date of purchase.
Customer Service Contact Info
Customers who would like to contact their Customer Service team with questions, concerns, or complaints can do so by email at [email protected].
Reputation
Unfortunately most of the reviews of this company and their program which are available at this time come from affiliate companies that earn money from selling this program, making it difficult to determine how biased or unbiased these reviews may be.
The reality is that most doctors and physical therapists agree that doing a regular sequence of stretches can do wonders to alleviate back and nerve pain, and it is often one of the first things recommended to people who suffer from back conditions.
That being said, customers who are interested in purchasing this program need to keep in mind that there probably isn't one single stretch sequence that will help everyone suffering from back pain within just days of use – those are sales promises more than they are health promises.
But since this program is backed by the sales guarantee from the ClickBank digital marketplace, many customers may feel comfortable trying this program for themselves.
Competitors and Alternatives?
Back pain is a serious and prevalent condition and there are many, many different health and wellness approaches when it comes to helping and alleviating back pain.
Customers who want to find an alternative to this program should have a variety of other options which may work for their needs.
If you have any experience with the Back to Life System or their products, please leave your reviews below.
You may also be interested in
Back to Life System Customer Reviews

Kris F
What a bunch of terrible people
Omg . For god's sake you pity driven people. Only making money not making any difference.

Evelise D
Great exercises for those who don't like to put a lot of effort
I bought the videos online and a day after went to neurosurgeon to find out I had several herniated disc.
I was discouraged and in so much pain. I wanted to return the product since I had o go to physical therapy and wasn't willing to do 2 types of exercise...I was also afraid something could make my herniated discs worse.after several weeks I decide to give it a try and I love it. Effortless relaxing exercises and I was amazed my muscles were a little sore after meaning they had actually worked!!!
I am so glad I did not return this
I am going to go to to the next step which is the longer videos with more exercises.

Linda S
I am post bilateral SIJ fixation and fusion with iFuse but I never got fusion. So my SIJs are still out of place. Your stretch fixes my SIJ pain in a few minutes. Wonderful!