Babylist Registry Reviews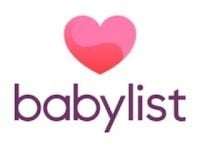 Babylist Registry is a company that states they give customers a chance to register for all their favorite baby products on one single registry, regardless of what store the item comes from.
How Does Babylist Work?
According to their website, the creator of Babylist.com was pregnant with her first child when she realized how limiting and restrictive the traditional baby registry process was.
While she did want to register for a variety of items, they weren't all necessarily from the same store, and she didn't just want to register for things you could buy from the store. She was also interested in registering for things like dog sitting services and some home cooked meals.
Since a registry this eclectic and all-inclusive didn't exist, she decided to create Babylist.com. Since this company first launched, their website says that 1 in 5 first time families use Babylist for their registry and they have more than one million families using their website each month.
Babylist.com allows you to put any item from any store onto your registry, as well as to register for additional items like home-cooked meals, second-hand baby clothes, or help caring for a pet. They also let you register for cash items, like starting a college fund.
This website doesn't only give their customers the ability to register for items from a bunch of different stores, they also provide them with a variety of guides for customers including Best Strollers, Best Car Seats, Best Baby Bottles, and much more.
Mobile Options
Currently Babylist.com can be reached from a desktop computer, as well as on mobile platforms including iOS and Android.
Cost/Price Plans
Because some items will be purchased directly from Babylist, this website does not actually charge their customers any fees for using their service.
The only time fees will be charged is when a cash gift is made using a credit card, and the fee of 2.9% plus $0.90 is intended to cover the cost of card processing.
Refund Policy
Because not all gifts will be purchased directly from Babylist but will instead redirect customers to the original store to purchase, customers will need to first determine if the item they want to return comes from Babylist or another retailer.
If it comes from another retailer, customers will need to go to that retailer's website, find their Return Policy, and follow those instructions in order to successfully return their product.
If the item you are hoping to return was purchased through Babylist, you will need to contact their Customer Service team to return your item. They do ask that you include the Babylist order number in your email to make the process as fast and easy as possible.
All items purchased from Babylist are accepted up to 90 days from date of purchase and items must be in original packaging. Some items may have different restrictions or requirements, but these will be included with your Babylist product at the time of purchase.
Customer Service Contact Info
Customers who would like to contact Customer Service with any questions, concerns, or complaints can do so by submitting them directly to their website through their Contact Us link.
Reputation
This company does not appear to have many traditional customer reviews at this time, but new mothers on baby and pregnancy forums who have used this service appear to be really happy with both its convenience and its flexibility.
Since it is free to create a registry, customers are welcome to try this product for themselves.
Competitors and Alternatives?
There are many different companies that offer customers the ability to create baby registries, including other websites which allow you to compile multiple registries into a single place, including MyRegistry for baby registries and Zola for wedding registries.
If you have any experience with Babylist Registry or their services, please leave your reviews below.
Babylist Registry Customer Reviews