B & H Photo and Video Reviews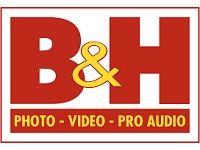 B & H Photo and Video Customer Reviews

Morgan D
Horrible, dishonest retailer
Ordered items that I never received. I tried to work with their customer service department. They are rude and incompetent. Their solution was to not help me in any way. Avoid this retailer at all costs

Arnold
Bought a new item but was sent used worn box without item
I ordered a new holographic sight from them on April 22, 2023. They sent me an empty worn unsealed case with no holographic sight inside and scammed me $714.19. The case had been opened with no seal and the box had visible damage and wear to it. I sent the box back for BH Photo to inspect and filed a complaint. Before they even inspected the box they refused my full refund. Now I'm $714.19 in the hole without ever receiving my item.

Sharon S
No manual. Can't register camera with Canon
The camera I ordered came without an instruction manual. I looked at the manual on Canon's website (over 150 pages, so not practical to print), and they had a place to register a newly purchased camera. When I put in my serial number, it said that this number could not be registered in the US!
When I called customer service to get a manual for the camera, the service person told me that the website description for this camera did not say that a manual was included!
Are they kidding? That's like going to pick up your new car and finding out that tires are not included because tires were not specified on the list of features. What honest dealer sells electronics without a manual? And it's not able to be registered in the US? Something isn't kosher here.
Smells like a counterfeit knockoff to me.
And: They blocked me from submitting a poor review. That is one way to look like all of your reviews are great.

Wander G
They just stole my package, $899 mac mini m1, that I was so glad I could get and made the effort to buy it. They sent the package through fedex and it was signed for buy some random guy and now they refuse to file a claim because it is marked as delivered but not to me.

Hilary
I have never had a problem with B

Jim
Solar Eclipse Glasses Scam
I ordered solar eclipse glasses and they shipped me an empty container. Their customer support is not responding to any of my calls or emails.

fred l
B&H last of reliable electronic stores
I have done business with them for 20 years. There used to be a lot of competitors but they are the only US based reliable one left.
The main value of B%H is the disappearance of knowledgeable salespeople at US brick and mortar electronics stores. They will spend half an hour explaining which product is best suited to your needs.
There is no point in saving a few bucks at another place if you get what you did not want or a grey market camera with no US warranty.
The boxes they ship the item in are gigantic. This runs up the shipping price but it certainly arrives safe.

Shaikh, I
Serious Scam. Never refunded shipping, never delivered.
I already filed a complaint with the BBB NY, and B&H Photo never responded.
I ordered the product online on March 13, 2013. It was never delivered to my address, even as of July 8, 2013. I had paid in full at the time. (Product: + Shipping to Saudi Arabia ). Invoice # 1024717751
I ordered from B&H Photo in the past, and products were delivered to me in Saudi Arabia, and the United States, therefore I assumed my money was safe. On July 8th I asked for a refund for the full amount due to their non delivery, and negligence in handling my order. The Drop Ship rep agreed to the refund. He later said I would get the refund for the product, and NOT for "services & duties". I received my refund for the product to my credit card for JUST the product.
I have complained several times to the refund the full amount Customer Service and Drop Ship Team Head over the phone, but have no further response. Why am I being charged for a service I never received? Delivery was never made. There is no proof that I have received the product, and refused delivery.
B&H Photo simply does not care, once they get their money. Very unethical, avoid like the plague.
My last option is to take them to small claims court, with an easy victory, when I swing by NYC. I am willing to do this even though it will cost me as much as I am owed, but at least I can publicize the scam.

SuzyQ
Great Source for Photo and Video Equipment and Supplies
Shopping at B&H Photo and Video is a photographer's dream. In addition to having a brick and mortar superstore in New York City, it has an even bigger online presence as it has become the premier source for buying anything that has to do with photography or video. Even the most obscure accessories can be purchased at B&H and usually at a very reasonable price.
I have been dealing with B&H for years, having purchased at least three cameras through their online store, as well as dozens of accessory items, including expensive lenses, filters, cases, printers and supplies. Their prices are the same or less expensive than the local stores or other online sources, plus they frequently offer free shipping. And unless you live in New York, you are also able to save money on taxes, so that is another reason to consider making your purchases from B&H.
Another great reason to buy from B&H is their speedy shipping. Even their free shipping has your product in hand within three days at the most. Plus, everything is packed with care. I have never had a problem with anything that I purchased from B&H, and their sales personnel are extremely knowledgeable.
The one minor drawback that is a slight annoyance is that this company is managed by Orthodox Jews who observe the Sabbath. So if you want to speak with someone on a Saturday, you are out of luck, since their New York City store is closed and their online services are limited.
B&H is a great store with a fantastic selection of photo and video supplies. You can save money by purchasing your equipment from these folks. If you can wait three days for delivery, you can save a considerable bundle. This is a highly recommended online store!