Avant Loans Reviews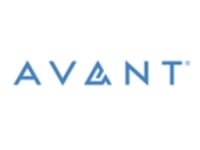 Avant is financial tech company that provides a number of financial services to customers, including personal loans, credit card services, and mobile banking.
How Does It Work?
Avant.com provides Personal Loans. The amount of money you can borrow with one of their Personal Loans depends on a variety of factors which include your credit score and income. Once you submit your personal information, you'll be told up to how much you can borrow.
To apply for the service you must provide them with your information, including your full name, mailing address, income information, and Social Security number to see what loan rates are available to you. Submitting your application will not impact your FICO credit score.
If you are approved and willing to accept their rates, Terms and Conditions, you can e-sign your loan contract and have your money deposited into your bank account as soon as the next business day.
Cost & Price Plans
The website is very clear that all fees, rates, and terms are determined by your personal circumstances and the state in which you live. You will need to submit your information before you can find out what fees and rates are applicable to you.
Refund Policy
Loan lenders do not generally provide or offer traditional refunds. Instead, they sometimes - but not always - provide a short period of time in which the borrower can "cancel" their loan and return all the funds without a financial penalty.
Borrowers who are interested in this possibility should ask Customer Service about this before they accept the loan.
Customer Service Contact Info
Customers who would like to speak to their Customer Service team about their questions, concerns, or complaints can do so by phone at 800-712-5407.
Reputation
Unfortunately Avant.com does have some negative customer reviews, many of which have to do with being denied for reasons they didn't understand.
Some customers even complained that they were approved and when they went to sign their contract and collect their loan were suddenly told they were now denied.
Competitors and Alternatives?
There are many companies that offer to help people either find short term personal loan lenders, payday loan lenders, or are loan lenders themselves, including LendingTree.com, United Cash Loans, Quicken Loans, and more.
If you have any experience with Avant.com or their products, please leave your reviews below.
You may also be interested in
Avant Loans Customer Reviews