Auction.com Reviews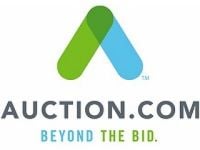 Auction.com describes themselves as the nation's leading online real estate marketplace, and state their goal is to bring together buyers and sellers and in safe, easy, and transparent real estate auction platform.
How Does It Work?
Sellers who have a residential or commercial property that they are interested in listing on Auction.com simply need to start the process by contacting either their commercial or residential sales team, depending on your personal needs.
Buyers can go to their website and search through their listed properties to see if you find any that interest you.
Once you find a property you are interested in trying to purchase, you can register for the auction and submit a credit card deposit which gives you the ability to actively bid in the auction.
Cost & Price Plans
Sellers who choose Auction.com to list their property will pay no fees or costs to do so.
Prospective buyers who have the highest bid and win their property auction will pay the total purchase price plus a percentage. This percentage is called the Buyer's Premium and is typically 5%.
The credit card deposit you place when securing your spot in an online auction will be returned to you once the auction is over. The only time this deposit is kept is if the winner of an auction backs out of a deal.
Refund Policy
Auction.com does not detail any Refund Policy or any Guarantees either, instead saying that they promise "Buyers get a fair last look on each property.
Sellers have confidence that the price they receive reflects the true market value." In addition the website says they work with agents on both sides of the deal to ensure a satisfying experience and optimal outcome.
Customer Service Contact Info
Customers who have questions, concerns, or complaints they would like to direct to their Customer Service team can contact them by phone, at 800-793-6107, or by email at [email protected].
Reputation
Unfortunately this website seems to have many unhappy previous customers that are very vocal online.
The most common customer complaint is that after customers successfully won an auction they had difficulty reaching the Customer Service team or anyone who would answer their questions leading up to the closing process.
Competitors and Alternatives?
There are many other real estate websites that specialize in foreclosures, or that cater to providing buyers with information, or many other aspects of real estate buying and selling. It just depends on your personal needs.

If you have any experience with Auction.com or their services, please leave your reviews below.
You may also be interested in
Auction.com Customer Reviews

Charlie B
Avoid this site at all cost!
Auction.com is a total scam for prospective buyers. I've been watching several properties for many months going back to when they were on the mls. Sellers are allowed to shill their own listings. Why when they're able to set a reserve price? To try and get YOU to pay more, making more for the seller and more in fees to auction dot com. Last time I checked, shilling auctions was illegal. The sellers also set reserve prices ABOVE what the market list price was. I've watched this with multiple homes in multiple states. This site is as shady as they come and after reading reviews of the headaches buyers have after actually bidding high enough, I'm glad I never won any. The ftc needs to shut them down and investigate!

Real I
Beware their remote bidding contract!
Dishonest people in my opinion. Their remote bidding agreement you must sign states that they have no liability, even in the case of intentional fraud or gross negligence, but they want you to send hundreds of thousands of dollars to hold so you can make remote bids. SURE!

Don V
I have been trying to purchase a property for about 6 months and it's seems too be a routine issue of postponing the auction, even through the middle of the live sale. You would think they would have their ducks in row before offering a sale.
After reading many reviews I can understand the unreliability of this company before and after a sale. I called them about their stability of offering a sale that is unreliable and they gave me 101 excuses. So be very leery of your enthusiasm of buying through this auction.com

Shannon
False reviews are misleading
I wanted a house that was unfortunately listed with an auction company, against the advise of the Realtor and others I decided to place my bids for the house. First they set a reserve that is usually the listing price but they do not tell you.
The first auction I bid and bid only to find out the auction company can bid against you to drive the price up and that with every bid they add time to the auction. So it did not sell the first time so I decided to make my max bid the listing price and guess what I got it.
The process was a nightmare, they do not return phone calls or send the paperwork in a timely manner. They push you to set a closing date only to take most of that time not processing paperwork. The house was set to close on the 7th, it is now the 14th and it has still not closed due to auction.com not sending their paperwork to the title company.
They threatened to charge $100 a day if we went over the closing date yet today I found out that the only piece of paper that was holding up the process was an extension request that auction.com wanted us to sign to cover their butts with the seller.
Yes I am getting the house and yes I love it but I will never recommend this company and I will never purchase another home that is listed with an auction company.