Allurez Reviews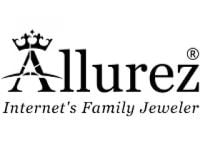 Allurez Jewelry is an online retailer of fine jewelry that promises their customers not only some of the highest quality available jewelry, but also some of the best customer service in the industry.
How Does It Work?
The Allurez website describes their company as a "premier designer and retailer of high quality fine jewelry, with a brand name known to the royals as well as the rich and famous" and are committed to providing their customers with the largest selection of fine jewelry, engagement rings, wedding bands, and certified loose diamonds.
They also want to make sure that their customers make an informed decision when purchasing jewelry, so they have provided an online education center as well as a Jewelry Expert Customer Service Team who is dedicated to helping you find the perfect piece of jewelry.
In addition, they also want their customers to know that all of their jewelry is designed and made in America, and they only work with companies that follow the strict standards and guidelines that are required in the United States jewelry industry, to ensure that their jewelry is only created with "untreated, conflict-free, and natural diamonds of the highest quality."
If you know exactly what it is you would like to buy, you are welcome to go to their website and look through their inventory by category, including Diamonds, Engagement Rings, Wedding, Jewelry, Watches, Designer Collection, Design Your Own, Gifts, and Clearance.
Cost & Price Plans
As a retailer of jewelry, there is no real way to quote a single price range for the products they sell on this site, as it is obvious that a large scale jewelry item like an engagement ring is expected to be significantly more expensive than a smaller scale item like a simple silver bracelet.
In addition, this company often runs sales and promotional opportunities that will cause prices to fluctuate throughout the year, so customers will always be best served simply by looking at the available prices at the time they are considering making a purchase.
Refund Policy
Because this company sells with high quality jewelry, their Return Policy is very specific and must be followed exactly if customers are hoping to secure their refunds.
To begin the return process, customers must contact their Customer Service team by email or by phone in order to receive their Return Merchandise Authorization number.
Returns will not be accepted without this number. Customers must insure their package and ship it back using a trackable return method.
It is important to note that diamonds and all other items that include a certificate of authenticity must be returned with that certificate, otherwise $300 will be deducted from the amount refunded.
Also, engraved items, specialty, custom made, and design-your-own items are all considered non-refundable.
Customers should refer to their full list of return instructions online to ensure that they follow all necessary steps to get their refund.
Customer Service Contact Info
Customers who wish to contact Customer Service with questions, concerns, or complaints can do so by phone at 800-554-3509, by submitting them directly to their website through their Contact Us link, or by using their Live Chat feature when it is available.
Reputation
In general it appears that this company seems to have mostly positive reviews, with customers detailing positive ordering experiences and satisfaction and happiness with the products they eventually received.
Almost all the negative reviews stemmed from a poor Customer Service experience, but there were very few of these types of reviews and it seems fairly unusual for customers to have these kinds of negative experiences.
Competitors and Alternatives?
Certainly there are many other companies both on and off line that sell high quality jewelry, including Gemporia.com, Brilliance.com, and many others.
If you have any experience with Allurez Jewelry or their products, please leave your reviews below.
You may also be interested in
Allurez Customer Reviews