Airmoto Smart Air Pump Reviews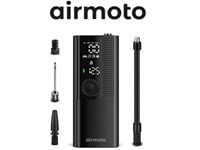 We have all run into the issue where we walk out of our house, get ready to jump in the car to head off to work, and discover that our tire is low. Trying to locate a place with air readily available can be a headache, but what else can you do?
The Airmoto one click smart pump is something the company wants you to keep in your house for moments just like this. With a simple set of directions, they claim you'll have your tire back to normal, and be on your way once again.
How Does Airmoto Work?
Referred to as the "all in one smart pump," the Airmoto helps remedy instances of flat tires and deflated sporting equipment. The process is straightforward and takes four simple steps.
Turn it on and attach the air hose to your Airmoto while selecting the proper connection tip.
Set your desired pressure or select a default setting.
Connect the air hose to your car or item.
Press start
At this point, the device should begin to fill your object with air. Depending on what you are trying to inflate, the approximate time before completion can be between three and 20 minutes.
The website claims that you can use the Airmoto air compressor for the following purposes:
Basketballs
Car Tires
Motorcycle Tires
Bicycle Tires
ATV's
UTV's
Golf Carts
Soccer Balls
Volleyballs
Footballs
In addition to the Airmoto Smart Air Pump, the company sells the following:
Airmoto Power Kit
Airmoto XL Air Pump
Cost and Price Plans
The cost of an Airmoto tire inflator is $69. There is also a significant discount when purchasing in bulk. There is an additional shipping charge.
Airmoto offers a 30-day return policy on all products purchased through their website.
Customer Service
If you want to get more information on Airmoto, you can try contacting the company via their email address: ​​[email protected]
Is the Airmoto Insta Pump Legit or a Hoax?
The first thing you need to know when looking into purchasing an Airmoto tire inflator is that there are many identical products available online but with different brand names. Therefore, you will see Airmoto listed next to names such as Veeape, Lamgool, and Vastar, among many others.
Secondly, Airmoto is owned and operated by a company called Creatunity LLC. This company works explicitly to scale brands globally. However, their company website has minimal information and does not appear to have any background in the mechanical engineering industry.
Airmoto filed for a trademark in July 2021. The application has not yet been approved. Additionally, all of the information available on the product comes from sponsored websites that were paid to display an article about the tire inflation device.
Because of that, it is nearly impossible to get an authentic review of the air pump.
There are high-profile companies that offer products that fulfill the task of inflating tires and household objects. These brands are known in the industry and have been on the market for years. Some of them include:
Ryobi
Black and Decker
Vlair
EP Auto
Hausbell
Makita
Craftsman
AstroAI
Kensun
Time
Further, using the Airmoto is not a quick solution. For most, it would be faster to go to a gas station and take advantage of their air pumps. The estimated times for each item type to inflate by use of the Airmoto are:
Bicycles: 2-4 minutes
Motorcycle: 4-8 minutes
Average Car Tire: 4-10 minutes (low pressure) or 10-15 minutes (flat or nearly flat)
Truck tires: 10-20 minutes
Basketballs and Similar: 1-3 minutes
Charge
Fully charged, the Airmoto can operate for 40 minutes. However, to get a full charge takes two to three hours. As time goes on, the battery naturally loses power.
Therefore, it is not guaranteed that when you use the device, later on, you will have the full amount of time needed in the charge to inflate what you need to.
Online Customer Reviews & Complaints
It is difficult to get accurate reviews and ratings online for the Airmoto due to the lack of information available.
What articles are offered are labeled as sponsored, meaning that the company compensated the website in some way for displaying the information, or the report is part of a press release put out by the company.
While the brand has average ratings on Amazon, it is hard to gauge whether the reviews are authentic or if the company provided the product for free in exchange for positive public feedback.
The company is not listed on or accredited with the Better Business Bureau (BBB), but the address associated with Airmoto comes back to a BBB profile for Modernthingz, which has a C- rating.
Competitors and Alternatives
There are several top-performing products on the market that are highly rated.
The most similar ones include the Makita MP100DZ 12V Max CXT Cordless Inflator, the Ryobi P737D 18-Volt ONE+ Cordless Inflator, and the CRAFTSMAN V20 Inflator.
FAQ
Where to Buy?
You can buy the Airmoto compressor and accessories from their official website. There are also some of the products available on Amazon.
Where is Airmoto made?
The headquarters of Airmoto is in Texas. However, the product is manufactured in China.
How do you charge the Airmoto?
You can charge the Airmoto with a Type-C charger, which you must purchase separately. The charger is available for purchase on the company website.
Is Airmoto Worth It?
There are certain situations where having a personal air compressor can be beneficial. However, what you don't want to run into is having a device that only works for part of the time needed.
This situation is one that you can run into with the Airmoto. It takes over double the amount of time to charge as you get for use when it's charged.
Many high-quality options are available that are sold in stores, come from reputable companies, and have a lower price tag than Airmoto.
Because of the high price tag, the lack of independent reviews, and the alternatives available on the market, we believe that the Airmoto is not worth it.
If you have any experience with the Airmoto Smart Air Pump, please leave your reviews below.
You may also be interested in
Airmoto Smart Air Pump Customer Reviews

Ernest P
After only 2 uses, the electronics went wacky. Display fluctuates through random numbers, and you can't get a tire pressure reading or set the desired tire pressure. Impossible to use the thing to inflate anything. airmoto won't take it back because the order was placed over 60 days ago.