Airmoto Smart Air Pump Reviews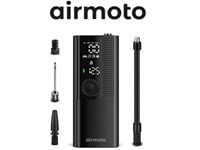 We have all run into the issue where we walk out of our house, get ready to jump in the car to head off to work, and discover that our tire is low. Trying to locate a place with air readily available can be a headache, but what else can you do?
The Airmoto one click smart pump is something the company wants you to keep in your house for moments just like this. With a simple set of directions, they claim you'll have your tire back to normal, and be on your way once again.
How Does Airmoto Work?
Referred to as the "all in one smart pump," the Airmoto helps remedy instances of flat tires and deflated sporting equipment. The process is straightforward and takes four simple steps.
Turn it on and attach the air hose to your Airmoto while selecting the proper connection tip.
Set your desired pressure or select a default setting.
Connect the air hose to your car or item.
Press start
At this point, the device should begin to fill your object with air. Depending on what you are trying to inflate, the approximate time before completion can be between three and 20 minutes.
The website claims that you can use the Airmoto air compressor for the following purposes:
Basketballs
Car Tires
Motorcycle Tires
Bicycle Tires
ATV's
UTV's
Golf Carts
Soccer Balls
Volleyballs
Footballs
In addition to the Airmoto Smart Air Pump, the company sells the following:
Airmoto Power Kit
Airmoto XL Air Pump
Cost and Price Plans
The cost of an Airmoto tire inflator is $69. There is also a significant discount when purchasing in bulk. There is an additional shipping charge.
Airmoto offers a 30-day return policy on all products purchased through their website.
Customer Service
If you want to get more information on Airmoto, you can try contacting the company via their email address: ​​[email protected].
Is the Airmoto Insta Pump Legit or a Hoax?
The first thing you need to know when looking into purchasing an Airmoto tire inflator is that there are many identical products available online but with different brand names. Therefore, you will see Airmoto listed next to names such as Veeape, Lamgool, and Vastar, among many others.
Secondly, Airmoto is owned and operated by a company called Creatunity LLC. This company works explicitly to scale brands globally. However, their company website has minimal information and does not appear to have any background in the mechanical engineering industry.
Airmoto filed for a trademark in July 2021. The application has not yet been approved. Additionally, all of the information available on the product comes from sponsored websites that were paid to display an article about the tire inflation device.
Because of that, it is nearly impossible to get an authentic review of the air pump.
There are high-profile companies that offer products that fulfill the task of inflating tires and household objects. These brands are known in the industry and have been on the market for years. Some of them include:
Ryobi
Black and Decker
Vlair
EP Auto
Hausbell
Makita
Craftsman
AstroAI
Kensun
Time
Further, using the Airmoto is not a quick solution. For most, it would be faster to go to a gas station and take advantage of their air pumps. The estimated times for each item type to inflate by use of the Airmoto are:
Bicycles: 2-4 minutes
Motorcycle: 4-8 minutes
Average Car Tire: 4-10 minutes (low pressure) or 10-15 minutes (flat or nearly flat)
Truck tires: 10-20 minutes
Basketballs and Similar: 1-3 minutes
Charge
Fully charged, the Airmoto can operate for 40 minutes. However, to get a full charge takes two to three hours. As time goes on, the battery naturally loses power.
Therefore, it is not guaranteed that when you use the device, later on, you will have the full amount of time needed in the charge to inflate what you need to.
Online Customer Reviews & Complaints
It is difficult to get accurate reviews and ratings online for the Airmoto due to the lack of information available.
What articles are offered are labeled as sponsored, meaning that the company compensated the website in some way for displaying the information, or the report is part of a press release put out by the company.
While the brand has average ratings on Amazon, it is hard to gauge whether the reviews are authentic or if the company provided the product for free in exchange for positive public feedback.
The company is not listed on or accredited with the Better Business Bureau (BBB), but the address associated with Airmoto comes back to a BBB profile for Modernthingz, which has a C- rating.
Competitors and Alternatives
There are several top-performing products on the market that are highly rated.
The most similar ones include the Makita MP100DZ 12V Max CXT Cordless Inflator, the Ryobi P737D 18-Volt ONE+ Cordless Inflator, and the CRAFTSMAN V20 Inflator.
FAQ
Where to Buy?
You can buy the Airmoto compressor and accessories from their official website. There are also some of the products available on Amazon.
Where is Airmoto made?
The headquarters of Airmoto is in Texas. However, the product is manufactured in China.
How do you charge the Airmoto?
You can charge the Airmoto with a Type-C charger, which you must purchase separately. The charger is available for purchase on the company website.
Is Airmoto Worth It?
There are certain situations where having a personal air compressor can be beneficial. However, what you don't want to run into is having a device that only works for part of the time needed.
This situation is one that you can run into with the Airmoto. It takes over double the amount of time to charge as you get for use when it's charged.
Many high-quality options are available that are sold in stores, come from reputable companies, and have a lower price tag than Airmoto.
Because of the high price tag, the lack of independent reviews, and the alternatives available on the market, we believe that the Airmoto is not worth it.
If you have any experience with the Airmoto Smart Air Pump, please leave your reviews below.
You may also be interested in
Airmoto Smart Air Pump Customer Reviews

Rick.
Doesn't cut it for 4x4 tires
Purchased my air moto a month ago, I fully charged it and placed it in my car for about 3 weeks before its first use.
I own a 4x4 so when I get of the beaten track its tire pressure up and tire pressure down constantly.
My very first use of this product i was inflating from 32psi to 38psi it took about 7 mins to do one tire. I then moved on to my next tire, same psi as above and the battery died at 3.5 mins in. In my opinion this product is not for adventure seeking 4 wheel drivers.
I can't be 100% sure that it died half way through inflating my second tire due to the battery not being fully charged, as mentioned above i did fully charge this product and then placed it in my vehicle for approximately 3 weeks before using it for the first time, regardless of this it took close to 7 mins to infate one tyre and that was only from 32psi to 38 psi so marketing claim that it takes approximately 3 mins to inflate a tire thats absolute bs. If your a 4 wheel driver and you wanted to inflate your tyres after hitting the mud tracks you would need to set aside 30 mins or more to inflate all 4 tyres and hope that the battery doesn't die. I purchased this product in search of a lightweight alternative and it failed miserably, false advertising lead me to believe it could inflate tires quickly and thats just not the case, however the unit is very accurate i tested it against a tyre pressure monitoring unit and the service station air pump and it was spot on. I see this product more for inflating footballs, basketballs, small air mattresses ect ect not massive 4x4 tires it just doesn't cut it.
As per normal false advertising and upscale marketing are there to sell a product which is there role but don't believe the hype its BS. Would not recommend this product for inflating care tyres its just not up to it.
Rick from Australia.

BmoreRMA
Buyer beware! Glitchy product and a Dodgy Company
This pump is inconsistent, unreliable, and glitchy. It appears the pressure sensor is poorly designed resulting in early shutoffs, an inability to properly read the pressure on the tire, and triggers codes requiring routine full resets — a troubleshoot not included in the directions.
I found the few times it did work, I needed to carefully hold the pump steady in place in order to ensure it didn't shut off or trigger a code — not great if you're stuck on a busy street. (Perhaps the hose is also defective or poorly designed.)
I shared these problems under warranty, but was not offered a replacement only troubleshooting. It's now unusable 4 months after the warranty ended. Airmoto is only offering a partial discount to buy another device-not a replacement. I don't plan to throw more money at a poorly designed product.

Franklin B
Satisfied and dissatisfied!
Used maybe twice and worked fine. After the second time the display got a little wonky. It's now extremely hard to read the numbers. It still inflates, but who knows the PSI.
I've sent them two emails and haven't received any reply. Loved it while it worked...now, not so much!
I cannot recommend this item or company due primarily to their customer service.
If I hear from them soon, I'll update this review.

Unhappy c
Never received my refund for returned unit.
Tried to purchase an Airmoto online. During checkout a flash "deal" came up to purchase another for $49. I tried that but message came up that it would not process the order. so I got out of the order page and started over and just purchased one and received a summary and order number. Well I received 2 items was charged twice and could not get any response from service at Airmoto. I rejected the charge with my credit card company contacted Airmoto and got a return authorization number and sent by UPS tracking and received the notice of delivery. All well within the 30 days of shipment. No credit has ever been posted to my credit card. Airmoto is fighting this tooth and nail to keep the money. To bad, but the credit card company is not paying since I have all the documentation including return authorization and notice of delivery. Interesting enough the one unit I kept works pretty well and will top of all four of my tires on my SUV and sports car with one charge. I vote to stay away from this company.

bc
Wasn't even able to test this product charged my checking account $69.00 but claims I never order the product. Been trying to resolve this issue but company won't respond. I'll post update if they ever do.

Gustavo M
Piece of junk and worthless
Do not waste your time and money for this piece of junk. It is worthless and there are well known companies that make a far better product . The customer service is terrible. You will never get a response from them and if something goes wrong with the item, there is nothing you can do about it. Stay away from this company.

gus c
If you buy it, do it directly from the manufacturer in case you need to use the warranty. There is no guarantee Airmoto will honor it, however.
When I purchased this product from Amazon, it carried a 1-year warranty. I didn't use it much, but it worked fine for several months. It developed problems recently and I contacted the manufacturer, who was unable to fix the problem. I was asked to go to Amazon to work out a return/replacement, which I did. The order was over 30 days old, and Amazon advised me they could not help me due to the time issue. I went back to Airmoto who denied the warranty claim stating that since the item was bought from Amazon, they could not honor the warranty. It was stated that they would only honor warranty claims on products purchased from Airmoto's website.

Stavros
Thank you for this honest review. The first thing I noticed that every other so called review was that it was being told as if it was a promo for the company. Every one explained how this was powerful and advanced and explained all the things that would be stated as if it was coming from the actual company.
So I knew something was fishy about it. I had checked like 5 so called reviews, before seeing this one and they all were formatted the same, so I really appreciate an actual honest review about it. Makes you skeptical when so many products that are trying so hard to be legit by paying for so called experts to give them a high rated review when they're really piece of crap products.
Getting tired of this shady and dishonest way of selling products. Again thank you so much for this honest review.

Richie A
I went to a out of town wedding and the next morning my rear tire was flat. I remembered I put my charged Airmoto in my glove box a few weeks ago.
Never trying I used the Airmoto and my surprise it refilled my tire and I had time to drive to a tire shop for fix. Thanks Airmoto.

Ernest P
After only 2 uses, the electronics went wacky. Display fluctuates through random numbers, and you can't get a tire pressure reading or set the desired tire pressure. Impossible to use the thing to inflate anything. airmoto won't take it back because the order was placed over 60 days ago.