35 Below Socks Reviews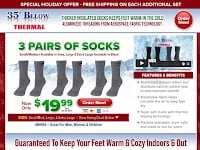 35 Below Socks, found online at 35Below.com, is a socks company with which promises to help customers keep warm in some of the lowest possible temperatures, regardless of what they're doing.
How Do 35 Below Socks Work?
According to their website, 35 Below Socks are made with soft, aluminized threads which have been woven into a breathable nylon knit fabric.
These aluminized threads reflect your own body heat, which stops heat from escaping and uses it to maintain the natural warmth.
This is important, because heat often "escapes" our bodies through the extremities, and often feet and hands are the most susceptible to being injured by extreme cold and low temperatures.
But the website also emphasizes the fact that thee socks are both lightweight and flexible, and thin enough to wear underneath regular socks if you choose, even though they can be worn all by themselves.
In addition, these socks are both machine washable and dryer safe, so customers don't have to worry that they will become less effective over time with traditional care.
Cost & Price Plans
Currently this product is being sold in packs of three pairs of socks for $19.99.
Their website also says that they are offering a promotion at this time which provides customers with free Shipping and Handling, though it is unclear how long this promotion will continue.
Refund Policy
This company does say that customers who are dissatisfied with their purchase for any reason are welcome to return their product within 30 days of the delivery date for a full refund of the purchase price.
To begin the return process you will need to contact their Customer Service team to receive a Return Merchandise Authorization number and instructions for the successful return of their product.
Customers must remember that only your purchase price will be refunded, however, so customers will only be eligible for a refund of $19.99.
Customer Service Contact Info
Customers who would like to contact Customer Service with any questions, concerns, or complaints can do so by phone at 844-484-2097 or by email at [email protected].
Reputation
Online reviews which are available appear to be positive in nature, however some customers have pointed out that these socks may not fit well on people who have wider feet, and the tight fabric designed for warmth may be too uncomfortable.
Competitors and Alternatives?
There are many different products that have been created specifically to help people keep their extremities warm in low temperatures.
If customers are unhappy with the 35 Below Socks for any reason, there are other options available on the market which may better meet your needs.
If you have any experience with 35 Below Socks, please leave your reviews below
You may also be interested in
35 Below Socks Customer Reviews

Don
Sketchy checkout procedure
Haven't received the socks yet, however the 35 below thermal website has a sketchy checkout procedure. It keeps asking you check the yes please button and in doing so do they add socks to your order. Make sure you check the final order before completing your purchase.

Kristen R
They are comfy, yet bulky and slide around. I feel like they make my feet colder.

jeulia j
love it, I always feel cold with my feets and hands, I think it is helpful for relieving it