Zumper Reviews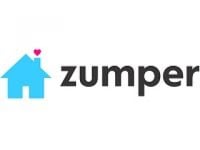 Zumper is a company that states their goal is not only help people use technology to find places that are available for rent, but to also give them an edge over other renters during the application process.
How Does Zumper Work?
Many renters know how frustrating it can be to find a promising property online, only to have it already be off the market when they go to make an appointment to see it.
Another issue is when you can successfully see an apartment, only to realize that there are many other people there waiting for a chance to get an application for the apartment you want.
The goal of Zumper.com is to create a real estate rental website that acts as a one stop shop for both renters and landlords or brokers.
The website allows landlords to upload pictures and information of their properties in real time, all from their smartphone, as well as to instantly take it off the market once a lease has been signed, resulting in a more fluid and satisfying experience for potential renters and landlords.
In addition, renters who create a Zumper.com account will be able to fill out applications in advance and to store their credit score and report information on their Zumper account, so when they see a property they want, they can click submit and have their information be considered before any other competitive potential renters have a chance.
If you are having trouble finding rental properties that meet your needs in a specific area, you can set an alert on Zumper account and be notified whenever a new property is available that meets your specifications, and you can view all the information from your phone.
Mobile Options
Currently the Zumper.com mobile application is available on both iOS and Android operating systems, with no word as of yet if they plan to expand to other operating platforms.
Cost/Price Plans
It doesn't appear that there are any fees applicable for using this service to find available apartments, condos, and homes for rent, or to use their website in order to provide rental managers with their application and recent credit score.
The website is supported by the fees they charge landlords and brokers to post their rentals and to keep them updated in real time, which should alleviate some of the work and stress from their record keeping, in theory.
These fees will vary depending on what kind of subscription you choose, what city you are operating in, what volume of apartments you would like to post, and more.
Refund Policy
Since they do not charge any fees to their standard users, there is no regular Refund Policy available.
The website does generally point out their fees are non-refundable, though if a landlord or broker truly believes circumstances have occurred that would justify a refund, situations can be handled on a case-by-case basis.
Customer Service Contact Info
Customers who would like to contact Customer Service with any questions, concerns, or complaints can do so through their Zumper account.
Reputation
Though there are not many reviews of this website from people who have used this website to successfully find and secure an apartment, there are reviews from third party tech and real estate publications which appear to be excited about the kind of potential this application is offering landlords and brokers.
Being able to process new available rentals and rentals that have recently been taken off the market in real time, from the convenience of their smartphone, will be incredibly valuable to people who work in real estate and are frequently on-the-go.
Competitors and Alternatives?
Certainly there are many websites online which will help you find an apartment to rent, including Zillow.com, Trulia.com, Craigslist, and many others.
If you have any experience with Zumper or their products, please leave your reviews below.
Zumper Customer Reviews