Zumper Reviews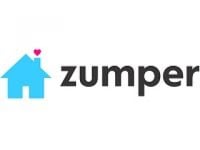 Zumper is a company that states their goal is not only help people use technology to find places that are available for rent, but to also give them an edge over other renters during the application process.
How Does Zumper Work?
Many renters know how frustrating it can be to find a promising property online, only to have it already be off the market when they go to make an appointment to see it.
Another issue is when you can successfully see an apartment, only to realize that there are many other people there waiting for a chance to get an application for the apartment you want.
The goal of Zumper.com is to create a real estate rental website that acts as a one stop shop for both renters and landlords or brokers.
The website allows landlords to upload pictures and information of their properties in real time, all from their smartphone, as well as to instantly take it off the market once a lease has been signed, resulting in a more fluid and satisfying experience for potential renters and landlords.
In addition, renters who create a Zumper.com account will be able to fill out applications in advance and to store their credit score and report information on their Zumper account, so when they see a property they want, they can click submit and have their information be considered before any other competitive potential renters have a chance.
If you are having trouble finding rental properties that meet your needs in a specific area, you can set an alert on Zumper account and be notified whenever a new property is available that meets your specifications, and you can view all the information from your phone.
Mobile Options
Currently the Zumper.com mobile application is available on both iOS and Android operating systems, with no word as of yet if they plan to expand to other operating platforms.
Cost/Price Plans
It doesn't appear that there are any fees applicable for using this service to find available apartments, condos, and homes for rent, or to use their website in order to provide rental managers with their application and recent credit score.
The website is supported by the fees they charge landlords and brokers to post their rentals and to keep them updated in real time, which should alleviate some of the work and stress from their record keeping, in theory.
These fees will vary depending on what kind of subscription you choose, what city you are operating in, what volume of apartments you would like to post, and more.
Refund Policy
Since they do not charge any fees to their standard users, there is no regular Refund Policy available.
The website does generally point out their fees are non-refundable, though if a landlord or broker truly believes circumstances have occurred that would justify a refund, situations can be handled on a case-by-case basis.
Customer Service Contact Info
Customers who would like to contact Customer Service with any questions, concerns, or complaints can do so through their Zumper account.
Reputation
Though there are not many reviews of this website from people who have used this website to successfully find and secure an apartment, there are reviews from third party tech and real estate publications which appear to be excited about the kind of potential this application is offering landlords and brokers.
Being able to process new available rentals and rentals that have recently been taken off the market in real time, from the convenience of their smartphone, will be incredibly valuable to people who work in real estate and are frequently on-the-go.
Competitors and Alternatives?
Certainly there are many websites online which will help you find an apartment to rent, including Zillow.com, Trulia.com, Craigslist, and many others.
If you have any experience with Zumper or their products, please leave your reviews below.
Zumper Customer Reviews

Melissa
I interviewed with this company in 3 stages and after the zoom meeting I was told they were going with another candidate. I am sure it was because I am of brown decent. Sad after the region stated I had the job. I hope they go out of business.

Hal M
ZUMPER CONSPIRES TO COMMIT FRAUD
Zumper is not to be trusted !!! Their website conspires to commit fraud !!! A property I own was fraudulently listed on zumper and through their website, [email protected] and (760) 487 7287 successfully solicited funds from a customer!!
The customer was defrauded out of $1000.00 deposit to rent my property!!! My property was not for rent!! Nor was it ever legitimately listed on zumper.Com. Beware beware beware !!

Wes B
I was relocating from Dallas to NYC and needed help finding an apartment. The broker I dealt with was Gary Goldman, a man not to be trusted wherever he is now. He made verbal promises that he would offer a $1000 rebate of his commission if I used his services.
I arranged to fly in and spend one day locating an apartment. I provided specific criteria and a list of no fee apartments that I was hoping to see. The expectation was that he would do the legwork and send a list of confirmed apartments we had appointments for. He had plenty of time to do this, but the morning of the showings, I was still hounding him for the list. It turned out many of the places I wanted to see were either unavailable or there was some "issue" with the property management company.
What I didn't know at the time was that some places do not share commissions, so his job was to steer me to places that he can get a commission, not necessarily where I preferred. Some he was showed me included a fee which he claimed would be "worked out". In the end, I landed in a building I absolutely hate. When I threatened to walk and find something else, he "sweetened" the deal by offering a $500 Amazon gift card. That, he put in an email. I never received the rebate or the gift card. When I reached out to inquire, he was long gone. When I escalated it to customer service, they told me they cannot honor the rebate but that they would send me the gift card. That never happened.
Lesson learned, trust no one that tries to do business without any signed agreement. And, definitely choose a broker wisely. This place is a complete scam!

Austin T
BEWARE!!! Zumper is a a SCAM- It went bankrupt and now scams people out of app fees.
We own several properties and have used jumper for 45 years with reasonable success and ease-of-use and screening potential tenants.
However, over the last several months there have been significant't glitches and a total lack of customer support to assist with these glitches. Emails and phone calls to customer support go completely unanswered. Many Potential tenants that we have had and have referred to use the site for credit screening were charged money for the application and credit report but these not viewable to me through the Zumper site, to assess applicant't worthiness. Consequently, the money they paid was lost. Additionally these future tenants are not happy when I had to ask them to go thru another site ( more fees) for screening. We have lost potential tenants because they think I am defrauding them. Stay away from Zumper.

Mary A
Zumper looked like a nice option to look for a pet friendly furnished apartment. I am not in a rush, just wanted to explore what is out there. Two looked promising and I asked for more information.
I had no idea what was to come.
I was not ready to deal with all the subsequent emails about unfurnished not pet friendly apartments, and no ability to unsubscribe from emails. Then I got phone calls and emails from agents and owners.
Do not use them unless you are desperate and facing the street.

Stephanie J
Incorrectly advertising properties and Misreprenting information to gain leads is NOT A VIABLE WAY TO DO BUSINESS
I have a rental property located in Colorado. I listed it online a couple of days ago and the rental rate on THIS SITE ONLY (zumper.com) is INCORRECT! It is NOT $850.00/month, it's $1650/month. I don't know where they got this information, but it's NOT reliable or correct!! I have people (prospective tenats) contacting me with the false representation that it's for rent at $850.00!! The other sites all have the correct rental rate and it's never been listed at $850.00. It better be removed completely from this Zamper site OR adjusted/corrected to reflect the correct monthly rental amount of $1650.00/month IMMEDIATELY! If I need to talk to someone or verify anything, I invited them to contact me directly. Does anyone know where this information originated from, so I can get to the source of this technicality?! Thanks
Regards,
Steph J.

Barbara D
They have you fill out what you are looking for and then they keep sending nothing that applied to my filters.
And they send out the same rentals 3 and 4 times a day.
They are just be coming a nuisance.

Tonya A
LEADS DO NOT RETURN CALLS
I have a property listed with Zumper and get lots of leads, however, no one ever returns my texts or emails. I'm beginning to believe this is a hoax.

Kim T
HORRIBLE CUSTOMER SERVICE - Practicing FRAUD
I'm a licensed Real Estate Agent in Texas trying to use Zumper.com 's professional service side to run background, criminal and credit checks on perspective tenants for rental listings I have. A perspective renter paid their fee to Zumper, filled out all the information and submitted it onto my account. Zumper has locked my account saying it's "pending approval" and that "approval will happen within 2-3 hours of my inquirers". That was over 6 hours ago. I'm unable to login to review the information from the tenant. Zumper has not answered my multiple request for help emails to their customer service email box. They do not provide a customer service phone number. And my client is now livid that we are unable to review any perspective tenant information that the prospective tenant ALREADY PAID FOR. I could loose this account because of Zumper.com. They are fake company as far as I can tell.

Linda K
Scam company that steals listings
I'm an owner/operator of a 30 unit building. I, and my manager, place ads on Facebook marketplace. I discovered one of the ads had been appropriated by Zumper. I immediately used their contact button to tell them that I was the owner and that they did not have permission to list my units. I told them that I expected them to pull the ad or my attorney would be contacting them. We'll see if they do.
I would give them zero stars if it were an option.

Su Y
Every property I have contacted listed on this site was a scam.
The homes are either NOT on the rental market; NOT owned by the person attempting to rent them; or for rent in a legit site at a substantially higher price.
Whenever the person listing the property responds to an inquiry, they are 'on vacation with family' and unable to meet.
Of course, they ask for credit info and money (3x rent) up front to "secure the rental pending a credit check".
Im currently 'talking' to someone about a property listed at 6462 Beeman Av in North Hollywood, CA.
The property is listed on real estate sites as Not On The Market and NOT available for rent.
1 site listed this proprety as recently rented for $2500/mo.
Zumper is a SCAM

Justyce
Zumper has NON-EXISTENT CUSTOMER SERVICE!
I contacted Zumper over 5 days ago now to inquire as to the IP/Timestamp of the person who signed up for an account under my email address (Wasn't me). I have yet to receive ANY reply at all. Obviously they do not have any customer service and don't care about their customers. The automated reply I received said a max of 2 days it takes to receive a reply, obviously that's a LIE. I would not give these losers any money, that's for certain!

Virginia
Zumper listing on PadMapper hijacked
Gadzooks-- Posted my rental yesterday with Zumper and woke up this morning to phone-call & text from renters alerting me to a bunch of false listings with my pictures & description but cheap price and different phone.... from PadMapper
What.A.Headache!

Rebecca
This article states that Zumper does not charge for listing services,
Yet Conrad McKinnon from Zumper has deleted all my posts and has also put a lock on my account because I do not want to pay a $325 "Pay per lease" fee for EACH post I had.
The site used to be Padmapper, and was great until Zumper came along.
Don't use this site, they just give you a headache and force you to pay them, or they won't let you post.
Stick with Craigslist and Zillow, less headache.
I would have given a 0 star if I could.