Zenith Labs BP Zone Reviews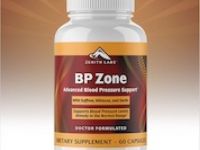 About Zenith Labs BP Zone
High blood pressure is a condition that many individuals face every year. With a wide variety of treatment options out there, many can control it with daily medication.
Many doctors associate high blood pressure with being overweight, having clogged arteries, or eating a large amount of salt. However, Zenith Labs has discovered that some people have high blood pressure due to a malfunction within their kidneys. To remedy this, they have developed a supplement called BP Zone.
Product Claims
The creators of BP Zone utilize a premium Crocus flower extract to develop an advanced high blood pressure support supplement. The capsules provide relief to the blood pressure relief valve of the kidneys.
The blood pressure relief valve is triggered by an uptick of TSC Proteins (Thiazide Sensitive Sodium Chloride Cotransporter Proteins). These proteins monitor the liquid in your kidneys and alert your body when necessary to excrete fluid out through urine. However, as people age, their TSC proteins can become out of whack, causing the body to hold on to too much liquid.&nbsp
&nbsp
BP Zone triggers the blood pressure relief valve that is holding in the liquid to release. The release effectively lowers your blood pressure rate as a result.
What Ingredients Are In BP Zone?
The creators at Zenith Labs have modeled the ingredients contained in BP Zone after studies conducted by Harvard. Common ingredients that they include in their pills include:
Premium Crocus Flower Extract
Hibiscus Extract
CoQ10
Garlic
Magnesium
Black Seed
How Does It Work?
To get the full effect of BP Zone, they recommend taking one capsule each morning and two before bed. Zenith Labs claims that the extracts and ingredients within the pill allow the blood pressure relief valve to open and release the accumulated liquid naturally.
The creators of BP Zone compare the effects of their supplement to the Harvard study on the stress that firefighters face every day. The BP Zone website states that by ingesting the same ingredients in the BP Zone capsule, firefighter's blood pressure levels decreased in just a few days.
Additionally, you need to take the supplement for at least 30 days to heed the benefits. The company suggests purchasing the supplement in bulk due to claims that the longer it is used, the more beneficial it is to your blood pressure levels.
What Does It Cost?
To purchase one bottle of BP Zone from Zenith Labs is $79. They estimate that to buy all the ingredients separately; consumers would pay on average $158.
As you purchase a higher quantity, the price per bottle decreases.
One month - $79 per bottle
Three months - $45 per bottle
Six months - $39 per bottle
Zenith Labs offers free shipping for customers, as well as a 100% money-back guarantee.
How Are The Customer Reviews?
Zenith Labs offers many positive reviews and customer testimonials on their website. Additionally, they offer several methods of communication between consumers and the company.
However, the website reviews and testimonials are very highly regulated. It is difficult to get any feedback on the company's availability to answer questions or respond to issues due to the lack of third-party reviews.
Neither the company, Zenith Labs, nor the product, BP Zone, is listed on feedback websites like Trustpilot or Google Reviews. Due to product sales only being through the company's website, customers cannot leave reviews and feedback through Amazon or Walmart's websites.
Most online databases and websites, such as Quora and Reddit, point to a press release created and distributed by the company itself. This information is not backed by any credentialed scientists or publicly known physicians.
Online Customer Reviews/Complaints
Vitals' online medical professional database does not have Dr. Ryan Shelton, the face behind the BP Zone supplement, listed on their database.
Health Grades, another medical practitioner database, does not have Dr. Ryan Shelton listed either.
Zenith Labs, the owner of BP Zone, has a D- rating and is unaccredited through the BBB. The BBB has closed four complaints in regards to the company over the past 12 months. Most of the documented complaints were in regards to purchases made but never received.
Where To Buy?
The only avenue for purchasing BP Zone supplements is through the official website. The company explicitly states that it is not feasible for them to sell their products in stores or on other websites due to hard to obtain ingredients that are in high demand.
Is It Worth It?
The website for BP Zone is quite lengthy and forces you to read copious amounts of narrative before having the ability to order a product. There are no links available to navigate to different portions of the website.
BP Zone is not approved for use by the FDA, but they mention their official website that their ingredients are. There are no side effects specified for the capsule supplement, and finding verification through actual usage is non-existent due to the limited amount of third-party reviews and testimonials.
With the lack of unbiased information, it is difficult to know if the pill is good or even to determine if it is legit in helping people reduce their blood pressure levels.
However, the lack of presence on critical medical professional sites by the creator of BP Zone and the unprofessional nature of their website and social media accounts leads us to determine that BP Zone is not a product worth having. Additionally, BP Zone cannot be defined as safe with the lack of independent research.
You may also be interested in
0 'Zenith Labs BP Zone ' Reviews