X Chair Reviews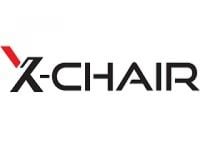 X Chair, is a company marketing a line of office and massage chairs, as well as a height adjustable desk, and a number of other office accessories.
How Does It Work?
According to their website, the aim of X Chair creators was to provide customers with a chair that was stylish yet budget friendly, and utilized innovative technology to make sure that their users are as comfortable as possible.
Their "comfort technology" allows the X Chair to mold to the user's body using ten different ergonomic adjustments:
Seat with adjustable height and depth
Height-adjustable backrest
Headrest with adjustable height and angle
4-dimensional armrests with adjustable height, width, depth and angle
Sdjustable tilt tension
Tilt lock.
But, X Chair says that their greatest achievement is that they have created a lumbar support which needs no adjusting.
Instead, their Dynamic Variable Lumbar Support adjusts itself to the user's shape in order to provide perfect lumbar support whenever you sit down.
This type of ergonomic support is incredibly important in an office chair, as the website says that people who sit for long periods of time are susceptible to different injuries and health concerns, which are alleviated by a chair that offers the kind of high quality support provided by the X Chair.
Cost/Price Plans
All X Chairs have the ability to be customized to the needs and specifications of the individual buyer, so the website does not provide a set price for each item, as the choices you make will ultimately impact the price of your chair.
They do provide the base price for each model, however, so you know where you will begin.
The X1 model begins at $649.99, the X2 model begins at $749.99, and the X4 model begins at $1,049.99.
Refund Policy
Their website does say that all X Chair purchases come with the reassurance of a 30 Day Money Back Guarantee, unless stated otherwise at the time of your purchase.
This policy states that any customer who is not satisfied with their purchase is welcome to return their product within the first 30 days of the date of delivery for a full refund of the price, less $99 to cover a "white glove" pick up.
All products are also eligible for exchanges during this time period as well, though the $99 return shipment fee still applies.
All items must be returned in like new condition, with all paperwork, parts, and accessories to ensure full credit minus the return charge.
Customer Service Contact Info
Customers who would like to contact Customer Service with any questions, concerns, or complaints can do so by phone at 844-492-4247 or by email at [email protected].
Reputation
Currently this chair is only being sold through their website, so it is difficult to find reviews which aren't posted by affiliate or partner websites that are promoting this chair in some way.
The fact that this chair appears only to be sold through their website is frustrating because it means there is no way to try this chair for yourself to see if it meets all of the promises it is making to its customers.
And though they do have a decent Return Policy, customers will always be responsible for a $99 return fee if they are unhappy with their purchase, which is a high price to pay simply to try a chair out.
Competitors and Alternatives?
There are many other office chairs which are considered high quality and use innovation to help promote comfort, including the Aeron Chair, as well as a vast variety of office chairs which can be tried and purchased at local retailers like Office Max.
If you have any experience with the X Chair or their products, please leave your reviews below.
X Chair Customer Reviews