Wolf & Shepherd Reviews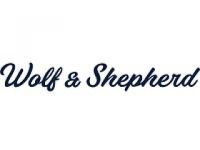 Wolf & Shepherd is a footwear company that specializes in dress shoes with performance design.
The company states it combines high-performance materials like memory foam with stylish design using Italian leather.
How Does It Work?
Wolf & Shepherd shoes are made out of instant-forming memory foam and handcrafted Italian leather.
Each pair is backed by a manufacturer's guarantee. You'll get a high-grade wax finish and a running shoes technology that was designed and perfected in the US.
The cost of these shoes varies depending on which pair you select. The Gunner Driver shoes, for example, are about $209. The Breakaway Boot is $305 while the Crossover Longwing is $249.
And if you're wondering, "does Wolf & Shepherd ever go on sale?" the answer is yes. The shoes frequently go on sale.
In fact, the company offers a regular "seconds" collection that features shoes with minor exterior imperfections, many of which can be treated with waxes and creams.
You'll get free shipping and returns with every order as well.
Customer Reviews
Customers generally give Wolf & Shepherd Shoes positive reviews, saying the shoes are comfortable and feel like sneakers even though they are dress shoes.
There are few complaints about Wolf & Shepherd. One of the most common one is that the sizes are somewhat limited because wide sizing is not available.
The manufacturer frequently recommends that people size up by half a size to make sure they are comfortable in all styles. The shoes do, however, stretch with regular wear.
Customer Service
When you buy shoes from Wolf & Shepherd, you'll take comfort in the fact that all pairs are guaranteed to be free from defects up to 100 days after purchase.
Since leather and suede are both natural materials, you may find that slight scratches or changes in texture or discoloration can occur.
The company has a generous returns policy allowing for a full refund for up to 30 days and an exchange for up to 60 days. You can initiate a return by emailing [email protected].
Otherwise, you can get in touch with someone by dropping customer service a line at their headquarters in El Segundo, CA. You can also email [email protected] or call (310) 254-9491.
Where to Buy?
You can purchase a pair by visiting the manufacturer's website. These shoes are also available at several select clothing retailers in certain US cities, such as Andrew Davis Clothiers, Bauman's, and Bespoke Apparel.
Competitors and Alternatives
When you're looking for shoes that look as good as they feel, it can be a challenge to find the perfect fit. You'll have plenty of options besides this company, including Allen Edmonds, Paul Evans, and Thursday Boots.
Wolf & Shepherd vs Allen Edmonds - You're going to pay quite a bit more for Allen Edmonds shoes. These dress shoes are undeniably attractive, but pricier than those offered by Wolf & Shepherd.
Wolf & Shepherd vs. Paul Evans - Paul Evans is another premier footwear brand that offers loafers and other dress shoes in all kinds of styles and designs. These shoes run a bit large but come in all kinds of colors.
Wolf & Shepherd vs. Thursday Boots - Like Wolf & Shepherd, Thursday Boots offers free shipping and returns. However, this company offers shoes for women in addition to a long line of products for men.
These shoes are highly affordable so you won't pay a fortune for comfortable footwear. Some users report that they aren't quite as comfortable as the shoes offered by Wolf & Shepherd, however.
Are Wolf & Shepherd Shoes Worth It?
If you're looking for dress shoes that look as good as they feel, Wolf & Shepherd shoes are the ones to consider.
The price tag is a bit high, but once you feel these shoes on your feet, you'll understand why.
The shoes are long lasting and have excellent customer reviews - and with free returns, they're definitely worth your consideration.
If you have any experience with Wolf & Shepherd Shoes, please leave your reviews below.
You may also be interested in
Wolf & Shepherd Customer Reviews

Suz
Horrible and Incompetent Customer Service
This was going to be the fourth pair of shoes that I was going to buy within a year. However, their customer service is getting worse and worse. They are unable to deliver and to handle exceptions. When looking for brands, I value 1) quality of product 2) ability to execute /deliver and resolve exceptions, and 3) excellent customer service. From the experience I had with W&S for the last order, I give them an "F" for 2 and 3 and they have lost a customer for this reason.

jackson
Wow! Be careful. On-sale purchase not returnable nor even eligible for exchange!
Not well defined. I'll stay away.

MJNewport
Be Sure of Your Size Before Buying
While the shoes look great and should fit well, they are tight for wide-footed individuals and seem to run a 1/2 size small. I was unimpressed by their lack of willingness to exchange an unused pair of shoes, despite them being bought on sale. You trust that a shoe fits as it should.
My caution is NEVER buy a Wolf & Shepherd shoe on sale unless you are absolutely certain the shoe will fit. My mistake, as this was my first experience with W&S. I will NEVER buy a W&S shoe again due to their horribly unfavorable exchange policy on sale-priced shoes. They lost a potentially good and loyal customer. I'll stick with Cole Haan & Santoni.

Pamela S
Very Poor Customer Service
Originally, I was quite pleased with this company. However, my opinion has been greatly damaged. I had a problem with the fit and return 2 pairs if shoes. 1st return...no problem. 2nd return a different story. I have proof they received the shoes yet they have not issued my credit nor will they return my emails or any one of my 8 phone calls. Very Poor Customer Service!

Philip H
I think I have to say that these are the most comfortable shoes I have ever owned. I bought 2 pairs and am very excited about them. Highly recommend!

bcurley
Wolf & Shepherd is incomptent and unprofessional
Wolf & Shepherd had a sale where I purchased a pair of shoes over in late May and made payment in full. On June 23rd, Wolf & Shepherd cancelled the order and claimed they are now out of the style. You don't get to unilaterally cancel an order. They made no effort to contact me to negotiate a compromise. Unprofessional and incompetent are the best way to describe these idiots.

Nabil
Don't buy these shoes if you have wide feet E or EEE. Agents try to persuade you to upsize. I followed reco and shoe was very tight. They would not accept a return because it was last call. I would not have risked if agent didn't persuade me.

Marco
I purchased pair of shoes for 250 dollars
- very uncomfortable
- overpriced with average quality
Actually I got similar shoes but way more comfortable from a famous brand just for 150 dollars
- unreliable return service ; they rejected the return