WifiBlast Reviews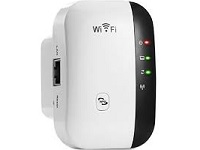 WifiBlast is a Wi-Fi range extender being marketed at a number of different websites, who's creators state is an easy-to-setup compact device that can improve and extend Wi-Fi coverage in larger homes.
How Does WifiBlast Work?
WifiBlast creators claim their device will help improve the Wi-Fi coverage in large homes or in homes prone to dead spots, and that the WifiBlast will maintain transfer speeds of up to 300 Mbps, and it's easy to set up with a plug - and - play design.
The WifiBlast booster claims to cover all of the dead spots in your home while also creating a stronger signal in harder-to-reach areas.
Wondering how to connect/install your WifiBlast Range Extender? The process is simple. You start by plugging it straight into the wall, a step that's similar to that required by comparable Wi-Fi extenders. Then, you can set the extender up through your phone, tablet, or desktop computer.
To connect, you must open your Wi-Fi settings and connect to Wi-Fi Repeater. You'll type in a code and then click on "repeater mode" before completing a customized name and password.
The WifiBlast Range Extender may not always speed up your Internet, depending on how fast your Internet already is, but it might make it possible for you to receive Internet in all areas of your home.
Cost and Price Plans
When you log on to the WifiBlast Shop, you will be greeted with several different purchasing options.
You can purchase one WifiBlast Extender for $39.95 or you can purchase two for a total of $69.95, offering a significant discount.
Purchase three extenders for $99.95 or four for $129.95. The company also offers regular discounts, such as $10 off with select coupon codes.
Does WifiBlast Really Work?
Some customer reviews claim that the WifiBlast Range Extender is easy to set up right out of the box and that there is minimal work and effort required.
And if you're wondering - does it increase internet speed? Some reviews claimed that it could improve your mobile WiFi speeds.
However, there were just as many negative reviews for the product claiming a variety of issues ranging from performance to getting proper technical support.
Customer Service
The company has a 90-day money-back guarantee which states that if you don't like the product you can return it for a full refund, according to the no-hassle returns policy.
WifiBlast has headquarters in San Bruno, CA.
Customers can contact the company by email at [email protected] or by phone (833) 394-6516 or (844) 889-3468.
Is WifiBlast a Scam?
Call your Internet provider, and they might tell you that the WifiBlast is a scam or hoax.
However, the truth is that some Internet providers use the split-channel method because they also offer wireless hotspots.
This method is the one behind the theory that you can access more Internet "channels" with a Wi-Fi Range Extender.
Therefore, we believe that the WifiBlast is not a total hoax. That being said, there are some negative customer reviews that state the device didn't work well and that it can be tough to get a refund.
Where to Buy?
Currently, the WifiBlast Range Extender is only available for purchase via the manufacturer's website. It can also be found on Amazon.
The Bottom Line
There are several serious advantages involved in purchasing a Wi-Fi extender. It will allow you to reach more secluded areas of your home with the Internet, allowing you to complete the work you need to do in a more timely fashion.
However you might first want to consider working with your internet provider to see what can be done to improve Wi-Fi speeds and coverage issues, many are now offering improved networks and offering mesh networks to fully cover your property.
Further, you can try updating your router, and then consider one of the previously mentioned extenders from reputable companies.
If you have any experience with the WifiBlast, please leave your reviews below.
You may also be interested in
WifiBlast Customer Reviews

Geoff
Yes I also know now it is a scam. I purchased mine 2 years ago and found it did not really help my WIFI issues, so I boxed it up and put it away. About 6 months later I got a phone call from a blocked number with and Indian or Pakistani accent stating that I had not set up the Wi Fi blast properly and that they would help me set it up. I was away at the time and said that I would not be able to do any setting up until next week and to ring me back... they never did.
I have just had another call today from an Indian person, again no caller id (this is now 2 years after I purchased it) stating that it was not set up properly and that they would help me set it up again. I said sorry I do not want to use it and he said that they would give me a full refund.
He passed me to his supervisor, also Indian who asked me to plug in the WiFi blast. I said no that it was not here so then he said that he wanted to send me some paperwork for me to fill out then they would arrange for it to be collected and a refund of $136.00AUD given. I said I would give him an email to send the paperwork to, he said no I would need to download TeamViewer and he would send the paperwork that way......RED FLAGS.
It is now going in the bin.

Deonte
It's a Scam Full Stop, Do Not Purchase
Having purchased the wifiblast over 1 year ago and no success setting up or configuring even with guided instructions I just removed it completely and put it down to a wasted investment.
However earlier this week I was called out of the blue by someone purporting to be from wifiblast saying that my unit had not been configured as yet which was accurate. I was not able to take this call so instead advised the bloke to call on the next day. I forgot this appointment and asked to return call the following day when I was home.
He initially confirmed purchase details, model number, etc but was advised to download teamviewer which I have used previously. I was skeptical with this but proceeded, during this guided instruction to configure properly it then said unit no longer working or similar and said we can order a refund of your purchase to credit card which was relayed to me and was accurate.
Was then forwarded to a lady for refund that then requested I open my bank account for the refund to proceed, WHILST TEAM VIEWER was also open. This immediately raised an alarm as they could see all of my bank details but she pushed me further to say that this is how its done. I said that they can send this paperwork to my email instead. She said ok we will send you the email without confirming the address and tried hanging up the call. I tried to ask her for to wait whilst I retrieve this email and to this time nothing has arrived in my email account so I don't believe these people are actually from the web store I purchased from and have only one intention to scam whoever will accept this method of returning funds for something that does not work.
MY RECOMMENDATION, DO NOT UNDER ANY CIRCUMSTANCES PURCHASE THIS PRODUCT, IT DOES NOT WORK AT ALL. YOU'LL ONLY GET SCAMMED FURTHER WHEN THEY CAN SEE THE UNIT IS NOT OPERATING.
YOU HAVE BEEN WARNED !!!

John S
Total scam and they are still claiming to need access to yourcomputer in order to reconfigure the device. Law enforcement need to shut them down - but simply aren't interested

Tom C
Ask for access to my computer?
Having purchased a wifi blast I did not experience the claimed advantages. Acquired about June 2020. What bothers and concerns me more was the phone call from supposedly Wifi Blast, about reconfiguring the unit or the need to, and the person on the phone(which was on No Caller ID) firstly inferred to a refund but needed my card number? To which I replied that he didn't need my card number as he should be able to do a reversal as he / the company would already have it upon purchase!
Then he insisted that he needed access to my computer to do the reconfigure, stating that I only had 4 days to do it, to which my reply was "There is no way you're getting access to my computer." This seemed to aggravate him by his tone. Then a quick down hill from there as I was told the refund would be forfeited/ unit would be useless.
I thanked him for his **** product and service and hung up. (About February 2021). Only to receive another phone call today 23/4/2021 from a lady this time, after going through my product Id spiel I informed her about the call already received !!
By the time I finished, she had hung up. So make of it what you may, but glad to lose $40 bucks then everything? Still no one likes to be ripped off, this is the electronic age in which we live. Buyer beware! Make up your own mind? As I chose unwisely

Mike M
Terrible product if not computer suavy. Have to create more passwords and usernames
Wasted $40 or more on this product which was delivered promptly. Never was told that there would be a need for new passwords and usernames and also unsaid that our current network would be discarded for this new device. I do not know what information this company would be taking from ones device. I have already had more than one instance of ID Theft and who knows what confidential information they are taking from you. NO one indicates how secure your information is. Now I lost some cord to this thing and probably wouldn't get a refund anyway since no return address nor warranty was provided. No website was provided to get further product information and no chat, email, or phone technical assistance is provided anywhere whether in print with the product or online. Very suspicious indeed. Lost money with no benefit whatsoever. All I was told was that just plugging it in would yield results without any other process. If anyone knows anything write me at
[email protected]
. Thank you.

Luis B
I purchased this devise on July 10, 2020. As of today, July 23, 2020 I haven't received it. The shipping service is awful! I contacted customer service but they didn't provide me with any specific information. Below please find the shipping history with no end! Shipping started with UPS and now is with USPS.
07/22/2020 12:26 P.M. Hollywood, FL, United States Shipment Acceptance at Post Office
07/20/2020 12:09 P.M. Orlando, FL, United States Package departed UPS Mail Innovations facility enroute to USPS for induction
07/19/2020 3:46 P.M. Orlando, FL, United States Package received for sort by destination UPS Mail Innovations facility
07/14/2020 4:40 A.M. Fife, WA, United States Package transferred to destination UPS Mail Innovations facility
07/14/2020 1:06 A.M. Fife, WA, United States Package processed by UPS Mail Innovations origin facility
07/13/2020 10:06 P.M. Fife, WA, United States Package received for processing by UPS Mail Innovations
07/13/2020 6:00 P.M. Hayden, ID, United States Shipment tendered to UPS Mail Innovations
07/12/2020 8:11 P.M. Hayden, ID, United States Order Shipped
07/12/2020 8:08 P.M. Hayden, ID, United States Shipment information received by UPS Mail Innovations

Martin B
I tried wifiblast, when it came, it didn't even power up, I wiggled it the light came on for a second then went off, tried other outlets and the same, it was clear that it had an internal open circuit issue.
I contacted customer service via email, she didn't offer a replacement, or even a proper return, instead her first email response was an offer for me to keep the item for a 65% refund, when I told her that it doesn't work 100% of the time, she got an attitude, and told me to return it but would still be partial refund.
After returning the item with a tracking number and signature receipt, it took me two months to get a refund and even had to get the credit card company involved.

Joe R
Won't give you better speeds like they suggest
The problem isn't that it won't extend your range as you suggest or that it isn't a good way to make your wifi go farther, that's exactly what it is and there are lots of them. It's that they make it sound like it will give you better internet. They prey on people who don't know any better. Your internet company doesn't give a damn how fast your wifi is. It doesn't change the speed of your connection. What you should remember when choosing a provider is that what you are paying for is more upload speed than download.