Westminster Mint Reviews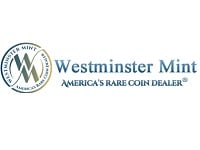 Westminster Mint is a precious metals company established in 2001 and stating it's aim is to offer customers a dependable service for buying gold and silver bullion.
How Does It Work?
According to their website, Westminster Mint is an online platform that wants to help their customers find a wide selection of bullion items in the form of coins, bars, and rounds at some of the lowest prices with fast physical delivery.
Their website also says that they work in all sectors of collectible coins including ancient and modern issue, foreign issue, coins from hoards and shipwrecks, certified coins, and banknotes.
Unlike bullion, collectible coins are not priced according to their precious metal content but rather according to factors like condition, scarcity, date, mint mark, and provenance.
Westminster Mint also sells that they are well-known for their proprietary silver bars, which are among their best-selling commodities.
These bars are minted in .999 pure silver, hallmark stamped with their weight and purity, and then sealed in a clear plastic protective wrap before they are shipped to their customers.
Cost & Price Plans
This company sells such a wide variety of products at this time that customers will need to refer directly to their website and the specific product they are considering purchasing in order to get accurate pricing information.
Customers should also be aware that prices of precious metals will vary from day to day as market pricing changes, so they shouldn't be surprised if they see different prices for the same item on different days.
Refund Policy
This website says that though they are confident that their customers will be satisfied with their purchases, if you are not you will have 30 calendar days in which to return your product for a refund, as long as the return is complete and in sellable condition.
A customer's return will include the full purchase price and the cost of any taxes, but will not include any Shipping and Handling charges including the cost of shipping your product back fully insured.
It is important that customers understand that return privileges are not available for gold and silver bullion bars, coins, ingots, rounds and wafers.
Instead, this company will buy them back at the current market price, which may be higher or lower than your original purchase price. But certified coins, numismatic coins, and collectible coins will not be eligible for buy back after the 30 day inspection period.
To expedite the return process, their website asks that customers contact them by email at [email protected] to receive a return authorization number which will need to be clearly written on the return package.
Customer Service Contact Info
Customers who would like to contact Customer Service with any questions, concerns, or complaints can do so by phone at 888-336-9825 or by submitting them directly to their website through their Contact Us link.
Reputation
Because this company sells such a wide variety of products, customers may want to look for reviews regarding their sales of individual items to see what kind of reputation they have when dealing with that specific product.
That being said, it does appear that this company is considered a reputable precious metals dealer.
Competitors and Alternatives?
Buying and selling precious metals is a very popular investment opportunity and hobby, so customers who feel as though they aren't finding what they want or need at Westminster Mint will have many other options that might better suit their needs.
If you have any experience with Westminster Mint or their services, please leave your reviews below.
You may also be interested in
Westminster Mint Customer Reviews

John R
Up-sale Up-sale Up-sale.....
The guy I dealt with was very nice but did really try to push the over priced up-sales & finally he did take my order for the one grade 70 slabbed U.S Eagle with one ounce of silver for 2045? & a 3% credit card charge that I was willing to pay, with free shipping. But then they did not charge my card...
So a few days later I was going to call them back & ask what was up with my order. But he called me first & claimed my credit card had something bad about it indicating it was unsafe for them??? That's crazy, I've had the same card acc. for around 40 years, never even been late paying it off each month. Anyways he said he needed a bank wire. Well I would be willing to do that but I'm also afraid he will not send me the coin & I would have a real hard time getting my money back if they did not send it.
So now I have to ask myself if it's worth the risk, to get a deal that is worth around 150 bucks less than I would pay at the other sites I deal with that I trust a lot. :) Greed, it will get you.

James A
Don't advertise product if you're not going to carry product
Received a flyer in the mail, had a 4 oz. coin for 99.00 w free shipping. Contacted the company, salesman says sold out. Just got the flyer in the mail ,sorry, are you goin to have anymore? Not in the future. Didn't like the attitude. Why send it to my address and not have it available?

Larry L
I purchased a rare coin off their website and the purchase went thru as they took my money. Days later they canceled the order. When I asked why they said they did not even have that coin or any record of it and tried to upsell my a less graded coin for twice what I paid for the coin I originally purchased. Rip off company. Stay away.

Scott
They're going to try to sell you everything except for what they advertise!
Completely agree with previous 1 star rating. I called today, (March 25th 2021) about a 2021 $50 American Gold Eagle. (Advertised on Fox Business) I had to listen to this guy try to up-sell me on all these other coins and when I continued to say, all I wanted to do is buy this coin at their advertised price, he put me on hold twice and then, when he got back on the line, continued with his spiel about other coins.
He got my address, but I thank the GOOD LORD, that I didn't give him my credit card information. If you want to hear a used car salesman do a song and dance about everything they want to sell you except for what they have advertised then give them a call. Otherwise, do yourself a favor and hang on to your wallet and call a reputable company.
Total "Bait and Switch" the only thing that was missing was, "wait a minute, I have to check with my manager".

Dan D
I saw an ad on Fox Business channel offering gold eagle coin for new customers at a fair rate of $1,995; included with the offer was a generic and random silver American Eagle coin.
However, after the customer rep took all of my information (address, credit card, phone, email, etc.) he tried to up sell me to a $6,000 gold coin, then tried another coin, and another, and another; you get the idea. When I told the rep that I didn't have any more time he continued his sales pitch. A very aggressive sales person but I understand that they are entitled to try to sell to prospective customers. The problem is that when I repeatedly said no and insisted he finalize the transaction he rudely stated "if I didn't want to listen then why did I call?" Really? I called to transact business for an offer that they offered. In reality their promotion for the gold was only about 2% cheaper than another mint company that I typically do business (APMEX is the company and I highly recommend).
The final result was that he stated "well if you don't want to listen then should I cancel your order?" I'm not sure many people would continue doing business with a company that has nefarious tactics so I agreed to cancel which, apparently, is exactly what they want if you don't purchase the much higher priced products.
This is clearly a bait and switch tactic which is illegal. DO NOT EVEN CALL THEM UNLESS YOU WANT TO BE BULLIED INTO A PURCHASE