WeBuyAnyCar.com Reviews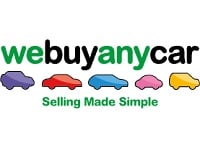 WeBuyAnyCar is a company that buys and sells vehicles through a simple three-step system and states they make a realistic evaluation of your car's value in an effort to sell it quickly at the best possible price.
The company was founded by Noel and Darren McKee in 2006. The initial launch happened at the company's current headquarters - Farnham, Surrey, United Kingdom.
Today, the company has more than 200 branches and has expanded its business to the USA as well, with the corporate office located in Media, Pennsylvania.
In 2013, the company was bought by the British Car Auctions (BCA).
Products
The company offers to buy any car as well as give a free evaluation of its current value. Once you make an appointment with them, they guarantee to keep the same price up to seven days and secure your quote during that time.
There is no obligation for you to sell the car though, so the company doesn't use the usual car dealer tactics to hassle the assessment and push sales. In addition to that, they can settle any type of finance.
The average selling time is claimed to be around 35 minutes. With this car selling service, you can avoid complicated and lengthy private sales and have cash on your bank account within 30 minutes from the successful sale.
How Does It Work?
Use the online feature on the company's website through your Internet browser to assess your car's value.
Alternatively, you can use their smartphone app as well. You simply enter your registration license number in the specified field and hit the "Value My Car" button.
If they fail to find your vehicle for some reason, you will have access to another window. There, you will provide valuable information such as vehicle type, make or the brand, model, fuel type, year it was manufactured, its color and type of metallic paint.
Once you complete your online valuation, you browse through the company's branches to find one that is located closest to you.
If you wish to reach out to the branch, you can find their contact number using the branch locator feature on the company's website.
Then, you choose a day and time of the appointment and they will confirm your reservation by sending you an email.
On the appointment day, bring your car, its V5 logbook or registration certificate, two forms of identification with a picture and proof of your address and bank details.
If available, also bring all service history as well as the MOT certificate, two sets of car keys, the finance settlement letter and any other documentation, security codes and other details that the company and the new owner might need.
You will be greeted by the employee who is a trained vehicle purchaser and he or she will conduct an inspection on your vehicle as well as a short test drive.
Then, the vehicle purchaser will offer you the final price, which can differ from the amount given in the online valuation.
This is due to various factors, such as the vehicle history, customizations and other features that could not be assessed before the up-close inspection. You can then agree or walk away from the sell.
If you decide to agree to the price they offer, you will complete some more paperwork and the money should be deposited to your account soon.
Make sure you have made arrangements for your safe return home, as your car will stay in their premises.
Cost and Price Plans
The valuation process of your car is completely free as well as the appointment. If you back off from the sale, then there are no fees.
If you do agree to the price as well as the other terms and conditions of the transaction and decide to sell with them, then the transaction fee depends on the final price your vehicle will have.
The minimum valuation is £50 and if your car is valued below £99.99, then there are no transaction fees applicable.
If the vehicle is valued between £100 and £4,999.99, there is a transaction fee of £49.99. If your price is above £5,000, the transaction fee is fixed to £74.99.
Online Reviews & Complaints
Although this company offers a hassle-free transaction where you receive the money right away, you must be prepared of the fact that you won't get the best price on your vehicle.
As they need to make some money on their purchase, the price of your vehicle may be substantially lower than the online valuation.
Also, according to the online complaints, you should have in mind that sometimes they will schedule a meeting before the previous online appointment.
Therefore, you could find yourself in a situation where you will have to wait, although you have arrived on time.
Competitors and Alternatives
If you are looking to sell your car, you should check out some options other than We Buy Any Car before you make a final decision.
If you compare the company vs Carmax, Autonation, or WeBuyYourCar, you may have a wider picture of the fluctuations in the market.
As a result, you might manage to get the best possible offer on your vehicle.
Where to Buy?
For an online valuation of your vehicle and more details on the negotiation and transaction process, visit the company's website at www.webuyanycar.com/.
The Bottom Line
If you are looking to sell your car, WeBuyAnyCar can be a great place to check out. They offer an online valuation and complete the offer upon closer inspection.
There is no obligation to sell, but if your appointment goes well, you should expect to receive the money in the next half hour or so.
If you have any experience with WeBuyAnyCar or their services, please leave your reviews below.
You may also be interested in
WeBuyAnyCar.com Customer Reviews

Vito V
This was my third time using webuyanycar. Pete Sciarrotta was the branch manager who helped us . He was truthful, straight, forward, Honest, and a pleasure to due business with. He answered all questions without hesitation. Tremendous experience.

Kathy
Charlatans! Not to be trusted! Just don't! Give these as wide berth as you can. They are not a level playing field
Well.... from my experience and I was actually going by the reviews they receive (how, I do not know!) My car was valued by them at just yonder £11,000 which was light but acceptable, however on finding 2 very minor scuffs they offered £700 below there initial quotation. I think that's shady!
Don't believe what they say and give yourself time to research an alternative. They aren't credible so don't trust them. Just my advice.

Zachary L
trade for a 99 ford ranger xlt sc
Lowballers! f grade! lying !

STEVE
BAIT AND SWITCH MARKETING MODEL
Classic "bait and switch" marketing model.
How is a new exhaust, radiator and water pump not part of service history just because it is not stamped in the book. Failed appointment times ..valuations not adhered to even though the effort to declare them was made...nothing hidden SHARKS!

F U
Just Stop With This Business Plan!!!
Don't waste your time or anyone who you love. Scum! and Jason in Orlando is the worst!

Mr W
Complete scam. When we arrived they offered us 20% less than the online quote and they couldn't even explain why. They even admitted the car was in great condition.
Do not believe the quote they give you online. It's just a scam to get you to turn up to what will no doubt be a rented car park in a dodgy industrial estate.
You've been warned!