VarageSale Reviews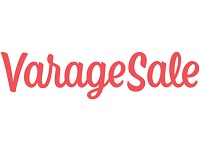 VarageSale is a digital marketplace and mobile application which says that they want to be the place where families buy and sell pre-loved items in their own neighborhoods.
How Does VarageSale Work?
According to their website, the creator of VarageSale.com came up with the idea while trying to survive being on bed rest during pregnancy, and she discovered all the buying and selling boards available on the social media website Facebook.
Unfortunately Facebook wasn't actually made to facilitate large scale buying and selling, and the process was usually complicated and even "painful."
She wanted to use the benefits of a platform like Facebook, but with the improvements of a website designed specifically for buying and selling.
To do this, they created boards that were designed with specific communities, where you might even know the people who are selling and who are buying, and they arranged the boards so that all users had to be verified using their Facebook profile, so everyone knows they are truly working with real people in their nearby neighborhoods.
Once you have complete a transaction using VarageSale.com, you're always encouraged to return to the boards and leave the seller a "praise" if they were pleasant to do business with and their items were sold as described.
Mobile Options
Currently this application is only available for iOS and Android smartphones and tablets; and as always, people will be able to get access to these buying and selling boards through their computer.
Cost/Price Plans
Unfortunately this website provides very little information about the fees that are related to their services.
It's probable that they don't actually charge fees to their users. Instead, it is most likely that all the fees paid will be paid directly to the seller of the items that are purchased.
Refund Policy
Because this service does not appear to charge their users any direct fees, they also do not provide any kind of a Refund Policy.
Any refunds or issues that occur after you purchase your item must be handled directly with the seller; VarageSale.com does not have any option for assisting you with this.
Customer Service Contact Info
Customers who wish to contact Customer Service with questions, concerns, or complaints can do so by email at [email protected] or by submitting them directly to the website through their Contact Us link.
Reputation
In general it appears that VarageSale is very well-liked, and this seems to come from its close knit ties to the communities in which it operates.
The people who are both buying and selling on the boards are just looking for quick and easy transactions, all done within their own neighborhoods and at places they are comfortable with.
Competitors and Alternatives?
There are other mobile applications that work to provide people with alternative marketplaces for buying and selling used or pre-owned items, including Wallapop, LetGo App, OfferUp, and many others.
If you have any experience with VarageSale or their services, please leave your reviews below.
You may also be interested in
VarageSale Customer Reviews

Arlene D
Varage sale permits those that denigrate and take advantage of the disabled.
in 2019 I purchased a ladies purse from a seller claiming the item was authentic. I had someone complete the transaction therefore didn't see the item at time of purchase.
When it was received I didn't hesitate to contact seller and tell her I wanted my $ back. to which she refused and told me she didn't know why I was disabled but Karma is a b*** .
I complained to Management and was told. to send screen shots which I did and was told there's nothing they can do. Sadly varagesale doesn't care about the disadvantaged.

Patricia B
Great Platform For Selling
Our group was on FB and we swithched to Varage Sell. It is a user friendly platform. There are lots of sites for selling items but no one has a platform as good as VS or at least not that I have found.

Cassandra W
Nutty Sellers. Varage sale not on the Buyers Side.
Awful. Wanted to buy from someone. She got scared and backed out and varagesale let her get away with it. Nutty sellers. Stay away.