Upstep Orthotics Reviews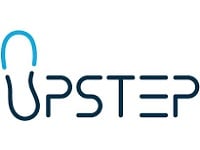 Upstep is a company marketing a a line of custom orthotics insoles designed by in-house podiatrists.
The Upstep team is lead by Phillip Wells, a chief medical office with over 20 years of experience, who has led the design and production of over 50,000 orthotics for the public as well as for athletes.
How Does Upstep Work?
These orthotics are designed to fit your unique shape perfectly. Podiatrists create them based on your lifestyle and your unique foot impression, covering all kinds of foot pains related to your daily wear and build.
The materials and technology involved in making these orthotics are offered at the highest level, resulting in a high-quality product that costs 50% less than those produced by other foot specialists.
Over 56 material combinations are used to give the optimal level of comfort and support, relieving your pain and make your day a bit easier.
The Upstep team has over 17 years of experience in making over 50,000 custom orthotics. The company uses the best materials and technology backed by research-based medicine.
The company offers two major product lines - Upstep Everyday, designed for daily activities, and Upstep Sports, uniquely designed for athletes.
All orthotics, regardless of the purpose, are perfectly sized and shaped to your individual foot. They offer moisture control to reduce odors and improve your foot health, along with unique foot support that conform to the shape of your foot.
These orthotics are guaranteed to last as long as your shoes and they're not only functional, but they're attractive, too.
Upstep's insoles are made out of EVA Comfort copolymer foam and include plastic for stability. They can improve a wide variety of knee and foot problems as well as generalized aches and pains.
Cost and Price Plans
Upstep orthotics don't just offer the perfect fit - they're also affordable, coming in at 40 to 50% less than other foot specialists. Because teach orthotic is designed by a top podiatrist in the field, you don't have to worry about a cut-rate product, either.
Prices vary when it comes to ordering your orthotics, with most starting at $189 and going no higher than $239. This is much less expensive than the standard cost of orthotics from a podiatrist's clinic, which can be over fifty percent more.
The best part about ordering Upstep custom orthotics is that they come with a 100-day money-back guarantee.
The plastic shells are guaranteed against breakage for 12 months, and when you get your insoles, you'll also get information about special exercises you can do to improve the health of your feet.
Upstep Customer Reviews
Upstep is satisfying massive amounts of customers all over the world. Customers claim that these orthotics are high quality and are just as good as those made at the doctor's office.
Customers also gave nods of approval to Upstep's affordability. In addition to offering affordable prices across the board, year-round, Upstep offers countless discounts and promotional codes.
For example, for National Grandparents Day, the organization offered two pairs for $335. When you sign up for the email newsletter, you can get an additional $15 off, too.
In addition to these promotions, Upstep offers a 100-day risk-free guarantee. You can try out your new custom orthotics during this time without any commitment required.
If you aren't satisfied with your custom orthotics, you can return them within 100 days of purchase.
All you need to do is call or email the company and you will get a prepaid stamp to use in your return.
Customer Service
Upstep prides itself on superior, industry-leading customer service and support.
From start to finish, you will be supported by top professionals who care about your comfort and happiness.
Need to contact someone? You can write to anybody using the email contact form on the website, or you can email directly at [email protected]
Another alternative is to call the customer service phone number at (800) 945-4770. You can generally reach someone between 10am to 11pm on Monday through Thursday, as well as select business hours on Friday and Sunday, too.
The organization even has active social media channels on Twitter, Facebook, Instagram, and YouTube.
Where to Buy?
Ordering is easy. It only takes a few minutes and a computer or smartphone. Go online to the Upstep website, where you will answer several questions about your lifestyle and medical needs before processing your order.
Within one to three business days, you will receive an impression kit in the mail. You will make your footprint and send it back at no additional charge.
Once Upstep receives your impression, their exports will analyze, design, and create your new custom orthotics.
Each pair is based on your unique footprint as well as the information you provided in the initial survey. You'll receive your brand-new orthotics within 21 days after the company receives your footprint.
Competitors and Alternatives
There are plenty of alternatives to Upstep, but Upstep is one of the few companies that offer insoles that are custom-made, affordable, and made out of high-quality materials.
Your product won't be designed in an assembly-line - it will be designed by skilled and experienced medical professionals and then constructed by equally experienced professionals in manufacturing.
If you choose not to go with Upstep, your alternatives are limited.
You can go to a podiatrist and be fitted for insoles there, or you can incorporate low-cost or free home remedies like stretching, icing, and wearing larger shoes to ease your pain.
However if you're looking for custom orthotics you can also turn to Hammacher Schlemmer Custom Fit Insoles. These aren't necessarily orthotics, but they're much cheaper.
You receive an impression box just as you do with Upstep, but the purpose of these insoles isn't quite the same as those of Upstep.
Another company you might consider is Orthotic Shop. This company offers orthotics with color customizations for a little bit less than what Upstep charges, but you may not be able to get a pair that is as well-designed as those offered by Upstep.
The Bottom Line
Stop putting up with aching, uncomfortable feet. You don't have to live another day in discomfort, because Upstep is here to help.
When you order Upstep insoles, you don't receive a one-size-fits-all solution - you receive insoles that perfectly match the shape and size of your unique feet.
Every foot is different, but every foot can be helped by Upstep's one-of-a-kind orthotics approach.
If you have any experience with Upstep Orthotics or their products, please leave your reviews below.
You may also be interested in
Upstep Orthotics Customer Reviews

SJ
Scam company, never ships final product.
Order placed in October, imprint kits returned in November. Feb 2nd I still have not received the insoles I ordered, nor any communication from the company since 12/28/22. Now my order number is "not found" by their order system. DO NOT BUY FROM THIS COMPANY. They are apparently a scam.

Star
cannot say enough good things about this company! Although it did take 2 1/2 months to get my orthotics when they did come, they were off a little bit and so I contacted the company via chat…. I explained the issue ( one arch was a little high)…. The next day I was contacted by the manufacturing department that explained yes indeed they were off, and a new manufactured pair Would be sent to me. Today (it took about a week)I received my new pair and they are perfect! I understand people being upset about having to wait so long all I can say is to be patient and you will be very satisfied. Thank you Upstep!

Joanne G
Do Not Buy - Take Money - Never Get Product
Charged my credit card in October, again in November. They have yet to send any products as of 12/25/2022. I believe this company is a scam.

james e
I have not bought from them just yet but was just a little bit concerned about the privacy and unending reading, etc. I received no particular help when I went to "chat."