Uforia Science Reviews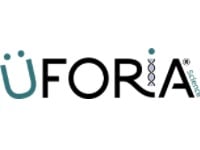 Uforia Science is a multi-level marketing company that claims to offer personalized nutrition based on a customer's unique DNA profile.
How Does Uforia Science Work?
Uforia uses DNA profiles to determine how you can optimize your nutrition for maximum health.
It includes exclusive and "proprietary" software and technology - along with more than 400 million unique formulas - to give you your own customized nutrition plan.
You'll submit a noninvasive saliva sample to the lab when you first begin. After producing your Start DNA test kit, you'll register and pay a lab fee, then set up the order for your personalized "Triton" formula.
Then, you'll get a 30-day mild Precleanse PRETrition program that is included in the collection kit. This consists of 180 veggie caps that are designed to jumpstart your weight loss and health-boosting efforts.
Your nutrition plan will take into account your personalized genetics to tell you what prebiotics, superfoods, raw foods, minerals, and vitamins you should be consuming.
You can also purchase products directly from Uforia Science, such as non-GMO supplements like broccoli juice powder, beetroot juice powder, and dong quai extract, along with vegan ingredients like garlic powder and quercetin.
There are also gluten-free supplements like selenium and spinach juice powder.
When you receive your nutrition plan, you'll also get a supplement that includes all of the ingredients mentioned above, plus whichever ones you need specifically to boost your health.
You can reorder your special supplement formula each and every month. There is also a Uforia Science app that you can download that will keep track of everything for you.
Cost and Price Plans
To get your own personalized nutrition plan, you will need to send a DNA sample to the lab and pay a one-time lab fee of $99. You'll pay an additional fee for the plan, with everything coming to a total of $159.95.
Uforia Science also has a compensation plan that will allow you to earn points for customer referrals. For every customer with an active order referred by another customer, the referrer will get 25%.
If you refer four or more customers, you will get 100% off, minus shipping and handling.
While this seems like a unique and advantageous business opportunity, it is thought to get paid as the customer referral program depends on a monthly ranking that can be difficult to score highly on.
Competitors and Alternatives
Uforia Science isn't the only company that harnesses the unique components of your DNA to come up with a customized nutrition plan. Another one is DNA Diet Plan.
The 'DNA Diet Plan' also takes your DNA and conducts several tests to tell you what you need to do for long lasting weight loss.
Founder Scott Penn claims that this program looks at more than 100 aspects of your DNA before giving you customized diet plans.
This subscription-based program gives you actual meal plans and diet suggestions, which is more helpful to some people than taking supplements.
Online Customer Reviews & Complaints
There are some people who argue that Uforia Science is a pyramid scheme rather than an MLM company.
The difference between a pyramid scheme and an MLM, is that while in a legitimate MLM company, most of an associates sales efforts go to promoting the products.
In a pyramid scheme, however, associates are more focused on recruiting other people under them, and the product itself is secondary to the recruitment aspect.
Pyramid schemes are considered illegal, while there are many legitimate companies with real products that choose an MLM marketing strategy.
The accusation that Uforia Science is a pyrimad scheme is rather common because an argument can be made that company associates make a majority of their money by recruiting others.
Customer Service
The company has an address in Washington, UT, and a customer service email address at [email protected]
There is also a customer service phone number you can contact at +425 954 3578.
Where to Buy?
You can only sign up for a Uforia Science nutrition plan by visiting their official website.
The Bottom Line
Although there is evidence that your unique DNA and genetics play a role in weight loss and overall health, it's unclear whether the approach Uforia Science takes actually has lasting impact.
It's difficult to find reviews from health professionals that admit to the benefits of this program.
While you can certainly adjust your diet and lifestyle to help improve your odds of overcoming certain genetic predispositions, if you're trying to treat a specific medical condition, you should consult with a medical professional regarding the type of treatment that would be best for you.
If you have any experience with Uforia Science or their products, please leave your reviews below.
You may also be interested in
Uforia Science Customer Reviews

Roz
Purchased product onsite and had DNA test done onsite at a conference two weeks ago. Received second kit. Never could contact anyone even the live chat gave me no return address. Too much money to be charged twice and no live customer service agent. No follow up.