Hello Tushy Bidet Reviews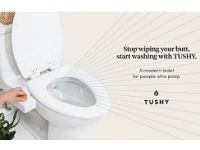 The Tushy, found online at HelloTushy.com, is a bidet attachment for standard American toilets which provides people with an alternative to traditional toilet paper use that is both healthier and eco-friendly.
How Does It Work?
According to their website, the average American goes through 57 sheets of toilet paper per day, and producing enough toilet paper for one year requires more than 470 billion gallons of water; 253,000 tons of bleach; and 15 million trees worth of pulp. The Tushy bidet attachment, on the other hand, only requires one pint of water for each time you use it to clean your tushy.
In addition, the website says that the use of toilet paper is a less clean and sanitary practice and contributes to more than 3 million cases of hemorrhoids each year and more than 10 million cases of urinary tract infections each year, all of which could have been avoided using a bidet.
Many people think they are solving these problems by using the new wet wipes which have recently become very popular, but Tushy says that these wipes can actually dry out your skin and have been known to clog sewer pipes and negatively impact the environment.&nbsp
&nbsp
Customers who choose to make the switch to the Tushy attachment are told that it can be installed on the average standardized American toilet within just ten minutes and with no serious plumbing or electrical work.
Cost/Price Plans
The Cool Tushy is considered the classic bidet attachment, and offers a cool spray, one touch pressure control, installs in minutes, and is currently priced at just $57.00.
The second option is their Warm & Cool Tushy, which allows customers to connect their warm water hose to their nearby sink pipe so they can use both warm and cold water. This bidet attachment offers a temperature control dial, one touch pressure control, installs in minutes, and is priced at $74.00.
Refund Policy
Unfortunately this website does not appear to offer any information regarding refunds at this time, either on their website or within their Terms & Conditions. Concerned customers should speak to their Customer Service team in advance of making a purchase to see what kind of policy is in place to protect unhappy or dissatisfied customers.
Customer Service Contact Info
Customers who would like to speak to their Customer Service team about their questions, concerns, or complaints can do so by email at [email protected] or by submitting them directly to their website through their Contact Us link.
Reputation
Though this product does not appear to have many customer reviews, it does have a selection of reviews provided by environmental and health blogs and websites, all of which appear to be very positive.
Unfortunately because this company does not publically publish their Return and Refund Policy – or they have chosen to not offer a Return and Refund Policy – customers may want to think twice before purchasing this product, unless they choose to contact Customer Service in advance, as mentioned above.
Competitors and Alternatives?
There are actual toilets sold with bidet features built directly into them for customers who are interested in this option, though of course this will require the purchase of a new toilet and some plumbing work.
If you have experience with this company or their products, please leave your HelloTushy.com reviews below.
You may also be interested in
Hello Tushy Bidet Customer Reviews

Simon A
I purchased a Tushy this last Christmas, and it is great. It installs in just a few minutes, and it really is effective at cleaning your butt hole after a poo. Only a little toilet paper is required to dry yourself off, which is clean enough that it can go in the trash, instead of down the toilet. This is also a great thing, because I have a septic tank, and keeping toilet paper out of it will greatly reduce the need for pumping. Once you start using the Tushy, you'll wonder how you ever got by without it. Honestly, just wiping your bum with dry paper is gross.
S. Avery
California