Thuma Bed Reviews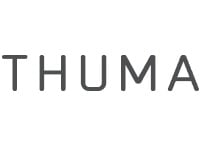 The Thuma Bed is created by Thuma, a company focused on minimalist and environmentally conscious furniture design using local wood from upcycled and repurposed rubber trees.
The company states they minimize their carbon footprint by using wood from rubber trees that have reached the end of the latex production life cycles, and also partner with a tree planting NGO so that a tree is planted for every bed sold.
Using beautiful and creative craftsmanship, they have come up with a bed on which you can sleep peacefully and enjoy quality time at the comfort of your home.
Though with a simple, modern design their beds provide a luxurious appeal to your bedroom making you sleep better.
The materials they use are friendly to the environment and at the same time offer a steady support. For those looking for storage, the beds are well designed to fit any home. Their assemblage is also quick and simple.
Thuma has partnered with the best craftsmen and factories to ensure that they provide the highest quality products using ethical standards. They work hand in hand with them to develop the perfect beds for their customers.
Thuma Products
Thuma makes upcycled beds made from repurposed rubberwood. The rubberwood is from rubber tree plantations.
The beds are made from trees that have already reached the end of their latex-producing life-cycles which are environmentally-friendly since it reduces the carbon footprint by reducing transportation emissions.
Thuma Bed
The Thuma bed is uniquely crafted from natural handicrafts, wood grains, knots, and repurposed wood. It does not include MDF or Veneers.
When looking at the body from the bed frame to the legs, it's perfect and well-crafted for your comfort. Its design is also a great addition to your bedroom with beautiful natural walnut colored frames, a pillow board, and cushion-coated slats.
The slats have double strength since it's made from recycled plastics reducing sound and making it durable. They easily lock into place, making the bed firm and strong as well as prevent the mattress from slipping. The space in between the slats allows support and breathability.
The pillow board which is made of 100% polyester pebbled linen-weave cover on top of a premium tapered foam fill is designed to function as a base to lie on when sitting on the bed.
Because of the foam, the pillow board creates more comfort. The linen-weave material of the cover is also interchangeable & washable, making it simple to maintain a clean, neat looking bed.
The bottom of the bed legs is cork-padded to protect your floor and for extra cushioning. The beds are available in full, king and Cali sizes and you can either choose from the dark charcoal or light linen colors.
By using the Japanese Joinery technique, the bed produces less to no noise. The technique also allows easy assembly and disassembly within a few minutes without the need of buying extra hardware.
You do not require any tools to set up. You can also disassemble it fast without any tools. Being spacious you are left with extra spacing for your bags and shoes.
How Does It Work?
Visit the Thuma official website to purchase the bed. After deciding which size you want, add to cart and complete the payment.
They have a quick and simple buying process where you enter a few pieces of information for a real-time decision. They then check your eligibility, which does not affect your credit score.
By selecting Affirm at checkout, you can make easy monthly payments over 3, 6, or 12 months at $74.77/mo. based on a purchase price of $850.00 at 10% APR for 12 months.
The rates are from 10-30% APR. There are no hidden fees and you will know up front exactly what you owe them without any hidden additional costs.
Having made the order and filled in payment details, they will ship immediately and receive your bed within in 1-5 business days.
But you will have to buy the mattress separately since it's not included. They ship the bed in three boxes which are well designed to fit upstairs and through hallways.
The bed is well packaged without using Styrofoam for protection purposes. They use products from recycled cardboard in the packaging to ensure a smooth delivery. Its assembly is simple since includes two hand-tightened screws.
Cost and Price Plans
The bed sells at $850 queen size and $995 king size. Once you purchase from them, you are eligible for free shipping if you are located anywhere within the continental United States.
They also have a 100-day Return and Lifetime Warranty.
Customer Service
You can get in touch with them by emailing them at [email protected] When it comes to returns, they offer a 100-night risk-free trial. Get in touch with them with your original packaging if you want a return and they'll make plans for the return.
They will send you prepaid shipping labels. Once they receive the product and checked it, they will issue your full refund.
Customer Reviews & Complaints
Most customers were happy about their customer service which was helpful in making purchases as well as guiding them through the order process. The easy assembly was also a plus for the company since you could have a bed standing in your bedroom within a few minutes.
The provision of an under-bed storage helped solve small space issues. The strength and modern style of the bed gave the bedrooms an elegant appearance.
Where to Buy?
You can buy the Thuma bed and products from the official Thuma website.
The Bottom Line
For those who are looking for comfort with unique and eco-friendly designs, a Thuma bed may be for you. It's not just about the materials, but their way of packaging and the style of their products.
If you have any experience with the Thuma Bed, please leave your reviews below.
You may also be interested in
Thuma Bed Customer Reviews

Robby
Terrible Customer Service
I am just like many others on here and I am sick of the run around by Thuma. I paid for our frame over a month ago and today we still don't have it. I continue to get the same computer generated response and endless promises of a delivery. Maybe they should give any potential customers the choice if they want to wait for an endless back order before taking their money. I am calling my credit company on Monday and make them aware of this continuing issue and get our money back. My wife and I have been sleeping on a mattress on the floor like college students in a brand new house due to this company.

James J
TERRIBLE CUSTOMER SERVICE
unfortunately I have to agree...horrible customer service. Ordered the bed July 18th...heard nothing..sent email July 27th inquiring about shipping. was told should be shipped mid August. Sent additional email August 15th..inquiring about shipping again and if it was going to be much longer..refund options as I needed the bed..response was ok about the refund but shipping information was never even addressed. today is August 24th and I've received no information and no bed

Unhappy S
TERRIBLE CUSTOMER SERVICE!
We received only 2 out of 3 boxes. Of course we are trying to get help from FEDEX (they deny there ever were 3 parts to the order). Have sent 3 emails to THUMA; have received charming automated replies. Seriously worried that we won't be able to get a refund if we return the 2 boxes we have.

Cathy K
Product is as expected. Customer service is horrible - more focused on upselling their products than assisting the customer - no phone number and computer generated responses.

Teff
Poor Customer Service & frustrating shipping issues
The bed frame itself seems fine, but the pillow board is severely dented in one corner. I have been waiting for 3 days for an email response from Thuma about a replacement, and I continue to wait (they apparently do not have a phone number to call).
The pillow board itself arrived a week after the other two boxes. According to FedEx tracking, it was apparently about to be delivered to us in the San Francisco Bay Area, but then was sent to Houston and finally back to us.
Shipping is such a major issue for Thuma that they blame FedEx for any delivery issues right from the get-go on the order confirmation.

SR
customer service non- existent. It has taken 2-3 days for an answer to emails, and then they do not answer the question.
We ordered based on reviews, and the king size frame has a pillow board 10 inches smaller than the frame-did they send the wrong one?
Also, boxes were opened and dented and damaged, looks like we have someone's return. Still no response via email, and they do not call you. Boxes sitting in the way we need to be sure we have the correct bed and it is not used before assembly.
Second pillow board cover delayed in shipment, so we have to make another trip to pick that up-ordered from Canada.

Gregory H
Customer service terrible
Agree with others their customer service is terrible. The "daybed" is also a twin w out head or side boards. I wanted to return and just get the twin (no cushions needed) and I would have to pay to return the ENTIRE bed, not just the padding. They say they're green but said "we will just recycle these so you can do the same". This company is shady.

Alexis T
They suck and just like everyone said their customer service is horrible. It takes them a few days to reply to my simple email. It's like they only have one employee to answer emails. Also my bed frame is all scratched and can't even get a person to help to make an exchange.

Frustrated &
Horrendous Customer Service!
One of three boxes never arrived. It's been two weeks, and it was supposed to ship within 3-5 days.
There's no phone support. I've gotten mostly automatic responses to my emails. Last Friday, I finally got a message that the box would be replaced and I would received shipping details soon.
It's now Tuesday night and nothing. Very disappointed. The bed looks gorgeous online. If it would actually arrive, it would probably be great. Customer service is a serious issue.

Cleo
Disgusted with lack of Communication
This is truly upsetting reading the other negative experiences because mine is truly the same and I am at a loss on what to do other than dispute with my credit card company.
I initially placed the order for the bed frame and when checking out the address from a previous online order two months prior with another company was prefilled which I was completely unaware of until it fulfilled the order without providing a confirmation page before submitting.
The address was an incorrect address with the incorrect city and zip. Turns out it was a closed down coffee shop when it needed to be sent to Arizona. I immediately reached out to the help email and explained and the shipping label was already printed; no opportunity to correct it when I had just placed the order moments before.
They said I needed to resolve with FedEX. Come to find out FedEx said that the shipping address has to be corrected by the sender. Apparently they have a major issue with their website pre-filling information that is incorrect and then submitting it right away.
It is very much a scam and feel like the item will be lost in the abyss. I submitted a claim to my credit card company to assist with the concern.

Andrea S
Wood Finish is Inaccurate // Customer Service Poor
I ordered the bed in walnut, in order to match the furniture in my room, but what arrived is closer a cherry swatch. I ordered the bed in walnut, in order to match the furniture in my room, but what arrived is closer to the cherry swatch.
I live in the Bahamas, and had to pay both a courier, as well as duty, to get the bed into the country. These costs totaled to an additional nearly $700. I reached out to ask for a refund, as the product I received is not that pictured nor described on the website & social media. I have attached photos for reference.
The customer service team responded in a completely dismissive manner, telling me I should "expect and embrace" differences in wood coloring, and chalked it up to lighting, when the product that I received was obviously drastically different from that that they described and advertised.
I was hoping to come to a resolution with this company, but due to the absolute lack of interest or value in their customer/customer satisfaction, I will never be doing business with this company again.

joejoe z
Received a damaged product
Zero customer service and a nightmare to return

Del
Good product; poor communication
The bed is good. Shipping and customer service not so good. Back ordered the nightstand and received conflicting messages about delivery through FedEx (a whole different story in apathetic service). Bottom line: no customer call line so you are out of luck with trying to time delivery to suit your own schedule. Thuma simply blames FedEx.

Josh
If I could give less than 0 stars I would...
Ordering from Thuma has been an expensive mistake that I regret. After over a month I still have not received it and their customer service and communication are horrible. They refuse to refund me even though they admit that the bed has been lost while refusing to accept any responsibility.