Thread.com Reviews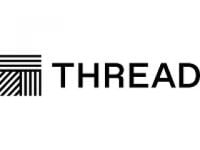 Thread.com is the online home of Thread, a company who states that their goal is to make shopping for new clothing simpler, more convenient, and more enjoyable for both men and women.
How Does Thread Work?
According to their website, Thread.com wants to help people "dress well without trying." To do this, they provide a personal stylist service which help you find clothing that matches both your needs and your personal style preferences.
To get started, this company will ask you a variety of questions about how you like your clothes to fit, how adventurous you are willing to be with trying new fashions, and how much money do normally feel comfortable spending on clothing.
Once they have these answers, your stylist will provide you with personal recommendations in your account's home page, as well as suggestions for outfits they think you will like.
In order to improve your recommendations, you can click on items to indicate whether you like or dislike them, and you order items which you can then give your stylist specific feedback on so, as time goes on, they begin to get a better and better understanding of the pieces you will like and those that will best meet your needs.
Eventually Thread.com wants to expand this service to women as well, but that part of their website simply isn't up and running yet. Customers can submit their email address in order to be alerted with updates on this service availability.
Cost/Price Plans
The service that Thread.com provides – having a stylist select personal wardrobe pieces based your style preferences and choices – is completely free of charge.
Their website says that they work just like any other online retailer, in that the brands they partner with and represent will pay them a commission whenever a customer chooses to purchase one of their clothing items from Thread.
But the website is very clear that the prices that you will find on their website are the same prices that you will find at any other retailer selling those clothing brands – they do not upcharge their products at all. In addition, they will email you periodically when any of your pieces have gone on sale.
Refund Policy
The website says that their customers will have a 14 day period from the date of delivery in which to return anything they don't like for a full refund, except for underwear and swimwear, which cannot be returned unless they were damaged or defected when you received them.
Thread.com does provide all customers with a free return label to quickly and easily expedite the return process if their customers are unhappy with anything in their order.
Customer Service Contact Info
Customers who would like to contact Customer Service with any questions, concerns, or complaints can do so by email at [email protected], or – if you are already a member – by logging into your account and submitting them there.
Reputation
This company appears to still be fairly new so there are not that many customer reviews available, but those that are seem to be very positive and enthusiastic about their service and what they can offer to people.
A few reviewers did say that their setup for customer feedback was a little frustrating, because they only provide customers with pre-selected multiple choice answers for why you did or didn't like an item, otherwise you will need to direct message your stylist with more specific feedback.
However, taking the time to do this is important, because your stylist's success is based entirely on how much they understand about what you are looking for in your wardrobe choices.
Competitors and Alternatives?
Personal shopping services are becoming more and more popular and operate in a few different formats, including those that ship clothes chosen by a stylist directly to your home, or those like Thread.com that just provide you with suggestions and recommendations that you can choose to purchase.
Customers will want to consider which service will work best for their needs, and which region of the country/world they live in before they can choose the right service for their needs.
If you have any experience with Thread.com or their products, please leave your reviews below.
You may also be interested in
Thread.com Customer Reviews

nick
Can not stack up to processing your orders
Delayed my shipment. It still has not shipped but they will not cancel it. I had to dispute with my credit card company to get my money back. They can not seem fulfill the product they are selling.

Tanay
Good styling but bad buying
I was happy with the style suggestions and it helped keep one abreast of latest offerings etc. But when I tried to take advantage of the £10 discount voucher the order failed to materialise. It was on an item which was on discount so now it's £50 more expensive to buy. I could have bought it elsewhere but made the mistake of buying via Thread.com and here I am with no merchandise and looking at an inflated price.
Stay way away from doing any transactions with this site. They have no idea how e-commerce works.