Theradome Reviews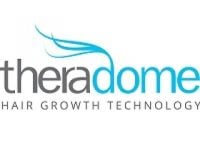 The Theradome Laser Cap, found online at Theradome.com, is an FDA approved light therapy device which promises people an effective treatment for genetically caused hair loss.
How Does Theradome Work?
According to their website, the Theradome Laser Cap says that their product uses laser hair growth treatment, also known as Laser Phototherapy or LPT, which they describe as "the most powerful and effective treatment for hair loss."
This type of treatment used to only be available in medical clinics, but Theradome has given people a way to safely get this type of treatment in their own home.
Their website says that their product has been FDA cleared for at home use for 20 minute, twice-a-week sessions, and that the Theradome is recommended by 4 out of 5 hair loss experts including Bosley and the Hair Club.
Before you decide to purchase the Theradome Laser Cap, their website does ask that you have a consultation with a physician to identify your hair loss cause before you order one of their products.
It's important that you are able to successfully identify any underlying health causes that may be affecting your hair loss, as this will impact the effectiveness of the Theradome Cap.
Is Theradome Safe?
The Theradome website does not really fully address concerns regarding any potential side effects of using this product, instead simply choosing to say that the majority of their customers are able to use this product twice a week without side effects.
Their website does not list any of these possible side effects – they simply say that this is one of the issues that you will need to speak with the physician you consult.
Cost & Price Plans
Their website does say that their Laser Cap is currently priced at $895 which includes the Theradome LH80 PRO, Foam Fitting Pads, Protective Bag, AC Adapter, User Instructional Manual, and a convenient Carrying Case for the helmet.
Refund Policy
This company says that purchases made directly through their website are covered by a 7 day refund window which begins on the date that your product was delivered.
Customers will need to contact their Customer Service team within this 7 day period and arrange the return of their product.
All products will need to be in the physical custody of the company before a return will be issued.
Customer Service Contact Info
Customers who would like to contact Customer Service with any questions, concerns, or complaints can do so by phone at 855-549-6757, by using their website's Live Chat feature when it is available, or by submitting them directly to their website through their Contact Form link.
Reputation
Unfortunately this product appears to have very mixed reviews at this time, with some customers promising that this is an effective product that has made a significant difference in their appearance, while other customers have reported that they have used this product for six months or longer without any benefits whatsoever.
The problem with this hit-or-miss situation is that this company doesn't provide any kind of beneficial Return Policy for their customers, which means that customers have to be willing to spend nearly $1000 with no guarantee that this product will work for them and no way to return this product if it does not.
Obviously, this will need to be a choice by individual customers whether or not they feel that it is worth the risk.
Competitors and Alternatives?
There are an unbelievable number of hair loss treatment options for sale these days, whether they are actual medical treatments or over the counter, home remedy style treatments.
When it comes to light therapy laser caps, there are more than one option as well, with products like the Capillus Laser Caps and the Follicle Laser Cap also on the market.
If you have any experience with the Theradome or their products, please leave your reviews below.
You may also be interested in
Theradome Customer Reviews