The Wand Wine Filter by Pure Wine
The Wand Wine Filter by Pure Wine Reviews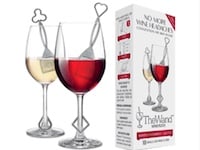 The Wand Wine Filter by Pure Wine claims to allow individuals to enjoy a glass of wine without the side effects of headache, stuffy nose, and skin flush.
The company believes that with their purification technology the sulfites and histamines found in wine can be removed.
Having these components taken out may allow people to enjoy wine without many of the negative effects.
How Does The Pure Wine Wand Work?
The Wand was created by a father and son duo, David and Derek Meadows. Both of them suffered from headaches and allergic reactions to most varieties of wine and desired to have a solution to the issue.
As a result of their work, they were able to drink pure wine from the use of a silver polypropylene wine filter. These filters are dipped into a glass of wine, and they act as a histamine and sulfite remover, leading to a more enjoyable wine experience.
According to the Pure Wine company website, the wine filter comprises "resin beads that are specifically formulated to attract and absorb sulfites and histamines like a magnet." The wine purifier comes individually packaged in amounts of 10, 30, 50, and 80 filters.
To use the Wine Wand, you remove it from its individual packaging and dip the filter end into your glass of wine. You can immerse the filter for as long as you like. The longer you utilize the filter, the more sulfites and histamines you will remove from your drink.
Once you are done with your filter, discard it in the trash.
Cost and Price Plans
As previously mentioned, the Pure Wine Wands are sold in packages of 10, 30, 50, and 80 filters. If you purchase them in larger quantities, you receive a more significant discount.
10 Filters - $24.99 + shipping and handling
30 Filters - $59.98 and free shipping
50 Filters - $89.97 and free shipping
80 Filters - $119.96 and free shipping
Pure Wine offers a 30-day money-back guarantee on its products. If you don't like the product, you can return it for a full refund by contacting the customer service department.
Customer Service
Pure Wine offers several contact methods to get in touch with customer service with any questions or issues.
Email: [email protected]
Phone Number: 817-933-5151
Address:
P.O. Box 100
Grapevine, Texas 76099
Where To Buy?
The Wand Wine Filter by Pure Wine is available for purchase on their company website as well as on Amazon and at Walmart and Bed, Bath, and Beyond.
Online Customer Reviews & Complaints
Pure Wine is owned by the parent company GiddyUp, which is based out of California. GiddyUp is accredited by the Better Business Bureau (BBB) with a grade of A+. However, they are only rated 1-star by consumers on the platform.
Many customers have issues with the service aspect of the company. There are several complaints regarding turnaround time for problems and receiving prompt replies.
With the Wine Wand product selling on major retailers' websites, there are independent reviews and feedback provided. The majority of the reviews are positive, with customers stating the product worked perfectly and as advertised by the company.
FAQ
Is the Wine Wand Reusable?
No, the Wine Wand is intended to be for single use only and accommodates six ounces of wine at a time.
Can I Recycle My Wine Wand?
All of the components of the Wine Wand are recyclable except for the filter itself. Additionally, the shapes at the top of the Wand serve as removable wine charms to help identify your glass.
Is Wine Wand Safe to Use?
According to the company website, Wine Wand is FDA compliant and 100% non-toxic. It does not leave anything behind in your wine and is safe to use.
Competitors and Alternatives
In addition to Wine Wand, there are other similar options available, including:
Wine Wand vs. Drop It: While Drop It performs the same actions as Wine Wand, it is done with drops that you put in your glass of wine. The drops activate within 20 seconds and break down the harmful additives.
Wine Wand vs. Trobing Wine Filters: Trobing offers a wine filter that can sit inside your wine glass like a sachet of tea. While consuming your drink, the filter actively attracts the unnecessary components and traps them into the sachet.
Wine Wand vs. Kifiray: Both Wine Wand and Kifiray have the same design and look. However, Kifiray is only designed for red wine, while Wine Wand works with all types.
Is The Wine Wand Worth It?
Many people enjoy the addition of a glass of wine to their evening, or to celebrate special occasions. However, they don't appreciate the side effects that can come later on, including headaches, nasal issues, and flushed cheeks.
While Sulfites have become the popular culprit for these negative effects, keep in mind that there is no consensus for this. Sulfites are a naturally occurring byproduct of wine fermentation, so even if the vintner hasn't added them in some amount will still be found.
This is why some believe that negative wine reactions are simply the cause of dehydration brought on by consuming alcohol.
However, due to the high praise that customers have given the Wine Wand and the money-back guarantee, we feel that Wine Wands may still be worth a try.
If you have any experience with the Wand Wine Filter, please leave your reviews below.
You may also be interested in
The Wand Wine Filter by Pure Wine Customer Reviews