The Nomadik Reviews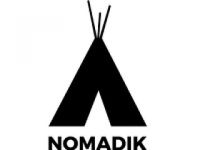 You may also be interested in
The Nomadik Customer Reviews

JOHN M
Read the VERY, VERY Fine print. You are gonna get billed!
*****WARNING****** if you buy a 6 or 12 subscription you will get endless emails except for the one to tell you that you are being automatically renewed and billed hundreds of dollars. That email is one they don't send. Just how they do business.
Watch your cancellation deadlines and renewal date, or your card will be charged hundreds and there is nothing you can do. Heck you probably can't even read the ultra fine print saying they are gonna renew you for another 6 or 12 months automatically. *******

Catherine L
Terrible. 3 items in a box, a very small semi-waterproof laundry bag, travel size bottle of soap, and very small skin cream that has 3 ingredients. No fancy filled paper or signs of care about presentation. The "challenge" is to take a photo with your box of crap and post it on their Instagram page. Scam.

Mackenzie N
Terrible customer service and communication products are weak do not waste your money !

Lisa L
Sub-par products and deliberately vague languge regarding subscription, which will automatically re-enroll you without a heads-up. No phone number on their website. Avoid at all costs.