The Keto40 Reviews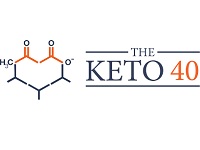 About The Keto40
The Keto40 is a virtually guided health course that will walk you through 40 days of living the Keto way of life. Led by the creators of the Keto Summit, Kate Bay Jaramillo and Louise Hendon.
The pair rely on the success they've had coaching small groups of people to incredible results. Under the guidance people have lost weight, improved their health, and learned how to maintain this way of eating without the ups and downs associated with traditional diets.
The skills and knowledge that they share can set you on a healthy path for the rest of your life.\\
How Does The Keto40 Work?
The underlying basis of the program is to use a combination of online tools and group support to keep people accountable and on track.&nbsp
&nbsp
The creators of The Keto40 program claim a keto diet has many health benefits, including the following:
Increased Energy
Greater Mental Clarity
Clearer, Smoother Skin
More Stable Moods
Healing of Digestive Issues
Less Cravings
Fat Loss
Blood Sugar Stability
Decreased Inflammation
Low carb diets are becoming more prevalent in mainstream society with the Keto diet being amongst the most googled in the last few years.
This means that there is a lot of information available online regarding the diet and you can pretty easily google the basic concepts: Bring your carbs down, get the majority of your calories from healthy fats and proteins and fill in the rest with low sugar vegetables.
However this way of eating is much more nuanced and requires a deeper understanding of how to succeed with the diet. When you get the green light on fats and protein it is very easy to do Keto the wrong way and end up harming your health.
The Keto40 claims they offer explanations and suggestions for troubleshooting the diet based on your personal needs and on what's worked for the hundreds of customers who've already gone through the course.
What's Included?
The company states you will receive a quick start guide that acts as an intro to the next 40 days, as well as:
Daily emails with videos, motivation, and tips to motivate you.
Strategies for how to succeed beyond the 40 days and how to make this work for life
a 6-week meal plan that includes shopping lists and recipes
a Pantry List
a Keto 'Eating-Out' Guide.
Several Q&A sessions to clarify concerns
Lifetime Membership - You can download all materials and have access to the membership portal beyond the 40 day program.
The Keto40 Program comes with several bonuses.
Keto Breakfast Cookbook
Two Extra Months of Keto Meal Plans
Workout Videos
Keto Bonus Videos
Keto Food List
The Keto40 program is done in groups of 300 people at a time to ensure they can provide you with the personal attention you need.
Cost
The price of enrollment is $99
Customer Service
The Keto40 comes with a 100% Satisfaction Guarantee which gives you upto 30 days to cancel. If you feel like you're not getting your money's worth you can request a full refund.

If you have any additional questions or issues you can email a representative at [email protected]
Online Reviews/Complaints:
There are many positive testimonials of the program on their website, with customers reporting weight loss and overall improvements in health. In general if you do any online research or browse some Keto Facebook groups you will see a lot of satisfied people with incredible before and after photos.
That being said Keto is not for everyone and for some people can be taxing on the liver or kidneys. If you have any concerns consult with a doctor before starting. Keep in mind this diet has been around for hundreds of years and has been used to treat various ailments like epilepsy.
Competitors and Alternatives
As with any new popular diet there are a lot of fly by night marketers trying to take advantage of the trend. If you are interested in other sources of information regarding Keto some other options are The Keto Reset by Mark Sisson, Ruled.me, and Healthful Pursuit.
If you have any experience with The Keto40 program or their products, please leave your reviews below.
You may also be interested in
5 'The Keto40 ' Reviews

Katie N
I bought this program last October, but then delayed starting until 30 days ago. I followed all of the steps to get registered and start last October, and saved all of the daily emails, so had all of the info to begin whenever I was ready. The last 30 days have been great! I really appreciated having the meals and recipes already planned out for me - this helped me to see what kinds of things I can/should be eating and wonderful recipes that opened my eyes to simple delicious preparations that my husband enjoys as well.
I have often wished I could find out exactly what folks that have had great success with Keto ate every day. Before this I really struggled with meals that would get me to the right macros, so just doing what is directed for this 40 days has been very helpful to me. I feel great - not hungry, very satisfied with meals, and losing some weight (not as fast as I would like, of course) and lots of inches! Also, there are exercises suggested and demonstration of how to do them.
I have started to wonder how I proceed after the 40 days and just learned additional weeks of menus will be provided. So I will have a lot of choices to build my own weekly menus to proceed. This really gives me hope I can succeed this time when other efforts have failed. I think this was $99 well spent!

Anj346
Poor Service NOT suitable for pescatarians or vegies
This program does not cater for vegetarians or pescatarians and are not willing to probably any info except substitute your meat for fish. Really!!!!
Don't subscribe!!

Sandy
I'm disappointed. One week in and this is a $99 scam! I've filed for that guaranteed refund.

Linda
This company advertises a 30 day money back guarantee. I tried to cancel same day and I have yet to receive confirmation. I too get kicked out of the
[email protected]
site. Email does not work for replying or responding. I am now forced to call my cc company and refuse to pay fee.

Glendia B
I don't really know how to review you
I have not yet received my free cook book, nor have I been refunded for my shipping and handling. I was told to send a copy of my receipt and email address. I did this on line and did not save receipt. The email address I used is
[email protected]
l put this comment here because I don't know what else to do. The email address I was given
[email protected]
doesn't let me in.