The Barefoot Writer Reviews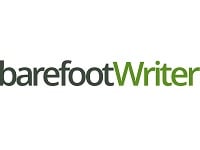 The Barefoot Writer is a magazine created for people who not only like and enjoy writing, but who would also like to do it for a living and make decent money doing it.
According to their website, The Barefoot Writer thinks that it's unfair that too many people have accepted this idea of the "starving artist" and that people who have writing talent believe there is no way to make good money with their writing skills.
Because of this, the three founders of the magazine got together and decided to put out a product for people who like to write, want to paid well for their writing, and want to use their writing skills to build the life of your dreams.
The mission of The Barefoot Writer is to help people write smarter, get paid faster, and build the lifestyle you've only dreamed about. They say anyone can make an excellent living as writer, as long they have someone who has already done it to show them how.
Their magazine has over fifteen years of experience helping people in the freelance writing industry to determine and meet their personal life and career goals. The two main ways they do this is to help people discover all the different venues toward paid opportunities and teach you how to be a better writer so companies will fight for you.
They promise that subscribing to their magazine and free email newsletter help you learn which writing path is best for you, how to streamline your writing ability so you can write more in less time, and how to connect with industry experts who will teach you where to find the best products and what you should charge.
Subscribing to The Barefoot Writer costs $108 per year and comes with a free report which will help you discover nine ways to make a very good living as a writer, as well as eight different free bonus reports to get you started.
If you have any experience with The Barefoot Writer or their services, please leave reviews below.
You may also be interested in
The Barefoot Writer Customer Reviews

Denise H
CHEAPER EDUCATION ELSEWHERE
If you have endless cash and time, it is up to you. If you are pressured to get up and running in a hurry, there are other sites that are inexpensive, or completely free. www.sharethis.com is one. Another is Udemy.com. These are a good place to start! AWAI seems to have a lot of "clubs", but in all honesty, I don't think you will have much success with AWAI on it's own. There is not a truly linked community; some of their posts are several years old. That doesn't help anyone!

Chris C
Save your money....and time
This is designed to fleece the people online all day who think they have talent because they get 49 thumbs up.You would be better off taking a legitimate writing course,where they are brutally frank about your, talents.If you have some,they will let you know before stealing your money.