That Tutor Guy Reviews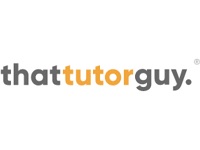 That Tutor Guy is a website that offers students of all ages access to math and science tutoring lectures and videos so that they can successfully supplement their traditional classroom learning.
Chris, the website's creator, is a Stanford University graduate in mechanical engineer who eventually began tutoring kids in math and science in his part time.
Unfortunately he realized that in person tutoring was something that most people could not afford, so he recorded these videos and created his website in order to help as many students as possible.
How Does That Tutor Guy Work?
Customers can go to his website and choose what level of membership they are interested in, or which they can best afford.
Once you have signed up and created an account, you can choose from his selection of Science classes, which include Chemistry and Physics, or Math classes, which include Middle School, Pre Algebra, Algebra, College Algebra, Algebra 2, Trigonometry, Pre-Calculus, Calculus, and other courses.
Students are encouraged to learn at their own pace and to re-watch the videos whenever they need.
Cost/Price Plans
New users can pay $7 for a 7 day trial of everything that is available on the website. Once you are ready to commit to a full time membership, you can subscribe to a 6 month membership for which you pay $97 upfront ($16 per month) and then $16 per month thereafter.
Refund Policy
Unfortunately this website does not detail any potential Refund Policy for members. Likely this is because users have the option of purchasing both a trial and month-to-month service which can be cancelled at any time.
Customer Service Contact Info
Customers who would like to speak to their Customer Service team about their questions, concerns, or complaints can do so by submitting them directly to their website through the Contact Us link.
Reputation
That Tutor Guy has actually begun to grow in popularity and to gain positive reviews, both from users themselves and from independent reviews who have looked at the materials he offers.
Competitors and Alternatives?
Websites that offer students and adults the ability to learn things online, both for free and for affordable prices, are growing in popularity and are starting to be very well known, including Skillshare, Quizlet.com, Khan Academy, and many more.
If you have any experience with That Tutor Guy or their services, please leave your reviews below.
That Tutor Guy Customer Reviews

Hannah W
Good videos, the auto payments will screw you over
I like That Tutor Guy. Chris is super great at teaching and getting the point across in a simple manner. I had used them before and cancellation at the end of the semester was a breeze. I tried using them again last year and after the $7 trial I realized it wasn't going to help for the class I thought it would help with. So I cancelled. And received the email that says "don't worry. We won't charge you anymore". So I went on with my life and then realized a YEAR later after logging on to tutor guy to change my password that Google said was compromised, that I was STILL being charged. You can't change your password by the way. At least not in any way I saw. So if your password is compromised that's a bummer. I somehow never noticed the charges while skimming through online statements occasionally. They got over $300 from me, an already struggling student but oh well. My advice, cancel after the $7 trial has passed. I know it sucks but their system won't stop charging you until they've got a good $30 from you. I think their system didn't recognize the cancellation because it happened so quickly. And really thoroughly check your bank statements. I know we all wish we could trust technology and online tutors but you can't.

Nicole D
That Tutor Guy was so helpful! Easy to use and made a hard class understandable!

Rita K
I am a 50 year old dental hygienist diving back into college to become a teacher. Math is HARD after all these years! Fortunately, I stumbled upon this site when I learned I had to take a math placement test.
I love how the tutor gives so many examples and walks us through several scenarios. He is very clear and funny and easy to follow. AND at such a reasonable price. Where can you pay $1 a day for a service that can save you hundreds of hours of studying and thousands of dollars by not having to repeat classes and potentially skip a few! Thank you!!!! Rita K, Washington State

Julian S
I used this site to pass my college Statistics class. He explains everything in a clear and practical way. The only reason I give it 4 stars is the price, I understand people need to make a living but as a student it is pricey.
I will gladly pay for it again in the future but on an as needed basis and not as a subscription.

Mitch G
Super helpful for getting my grades up
I usually just look up videos on YouTube to get through my math classes but they never gave me the complete picture of how to do a problem or a way to understand the concepts.
I gave in and did the 7-day trial offer and was pleasantly surprised with how easy it was to find the right video and understand the material in a way that I couldn't find on YouTube. I seriously recommend this site to those struggling college students! Trust me it will save you all that time and homework gets done so much quicker!!

Tommy B
Thattutorguy has helped me for the last two years. I struggled a lot with my math and physics courses.This site definitely filled the gaps from what my professor taught. The way the tutor teaches a topic, makes me understand the much better. He goes over a lot of examples that I've found on my exams. Which makes me happy that I watched a video on it. The tutor also refers to different videos on the site to watch if you forgot how to do something that was needed in the video. I think that's one of the best parts. You don't get that with YouTube.

Soir S
I purchased the 7 day trial to get gelp with statistics and it didn't like it so i decided to cancel it. I couldn't and i got charged $30. I tried contacting customer service. After 5 emails that i sent 4 months latet and i still have no response from them.

Devin V
Tutor guy cost too much for what it is... glorified youtube videos on a playlist

Andrew M
He is a good tutor. Does tons of examples. Kind of expensive

Derek P
I am very pleased by the depth of details that this site goes into. Covering a multitude of mathematical topics, thattutorguy assisted in refreshing a number of topics very quickly and also assisted with learning newer topics on a short time constraint. I only used the website for 30 days, and it was money well spent. I did not have any glitches with the videos, nor issues with playback. And I believe I went through at least 75 different videos, beginning to end. If you are able to learn via videos then I highly recommend at least trying out the 7 day trial. I did it that way, did an additional 30 days then canceled. No issues!!

Brian C
Every 2nd video, the video pauses for about 15 minutes. And yes, I have tried with other computers, other browsers etc. It always pauses. I would recommend that nobody uses this. Such a ripoff